Inside Kate Hudson's Relationship With Matthew McConaughey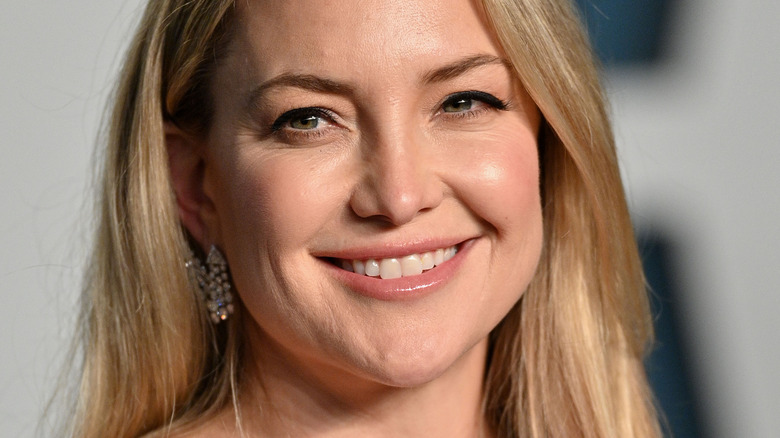 Lionel Hahn/Getty Images
Die hard fans of rom-com would know that there are only a few pairs in Hollywood who can compare to what Kate Hudson and Matthew McConaughey offer as an on-screen couple. Hudson and McConaughey appeared together in the 2003 classic "How To Lose a Guy in 10 Days," playing the role of Andie and Ben respectively. Five years later, the twosome came together again to work on "Fool's Gold," taking up the role of a married couple Ben and Tess in search of treasure. With the film garnering a little over $100 million, per Box Office Mojo, it was no doubt a success. 
And given the heat they bring to the big screen when paired together, it is barely a surprise that fans have over the years clamored for these two to get together in real life. "I think it's fun [for audiences] to see us [on the big screen]," McConaughey said in a 2008 interview with Glamour. "They want us to hook up, but they don't want us to. Still, despite this, the actors have actually never been together — at least not in the way we'd have liked. "We've never had any kind of relationship romantically and there's an element of that you can feel when we're working together," Hudson said in the same interview.
So if Hudson and McConaughey have actually never dated, what is their real life relationship like? Not to worry, it's all love on this side!
Matthew McConaughey thinks Kate Hudson is 'fun'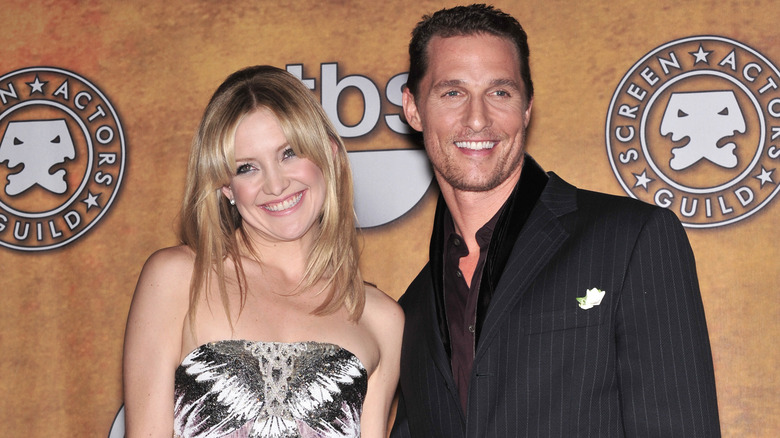 Featureflash Photo Agency/Shutterstock
Kate Hudson might be a lot of things to different people but to Matthew McConaughey, she is literally one of the best co-stars he could ask for. "She's fun to work with!" McConaughey told ET in December 2021. "She's fun, she's rock and roll." The "Interstellar" star favors romantic comedy lead characters having the right chemistry, which he and Hudson clearly seem to have no problem with. "We pulled that off a few times," he told the outlet. "And that's why we like working with each other."
However, even though they are not lacking in the chemistry department, McConaughey and Hudson have had their share of awkward moments on set — like a certain kiss they shared in "Fool's Gold". Recounting her experience on Gwyneth Paltrow's "Goop" podcast in October 2020, Hudson admitted that she did not enjoy kissing McConaughey in movies. "Like when we were kissing, like in the end of 'Fool's Gold,' we're like in the ocean, we had the plane crash ... he just had snot all over his face," the "Almost Famous' star said. Definitely not very memorable if you ask us.
Kate Hudson is supportive of Matthew McConaughey's political career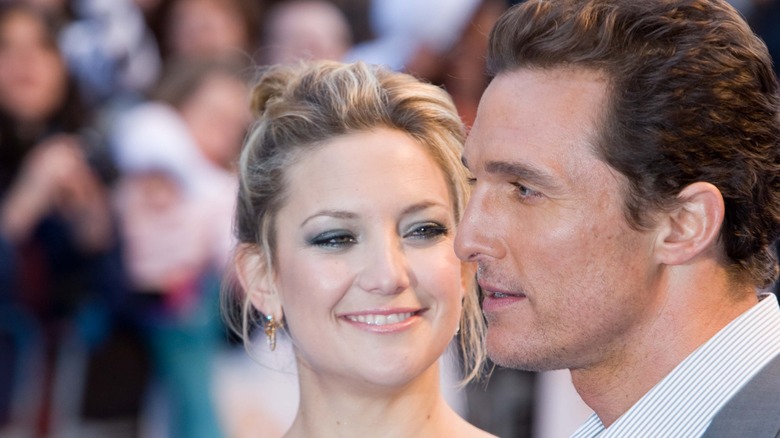 Entertainment Press/Shutterstock
Matthew McConaughey's kissing game might not be the strongest, but he might just make a great politician — at least that what Kate Hudson thinks. "He's a really interesting guy," Hudson told Rob Lowe during a May 2021 interview (via Yahoo!). "I, honestly, if he does want to get into politics, I believe that Matthew, you probably wouldn't get a politician who would care as much as he does, you know? I think he's very authentic."
But even though Hudson thinks McConaughey would make a great leader, she believes he just might be bringing his famous "alright, alright, alright," line to his political journey. "I think he'd encourage that," she quipped. "But I actually feel like he'd have a real chance." McConaughey has previously revealed in November 2021 that he was nursing an interest in politics and running for governor in Texas. "For past two years, I've been working on the answer to the question of how I can be most useful in this life," the actor shared on Twitter. "One category service I've been exploring is politics, considering a run for governor in Texas."
McConaughey described his interest as "humbling and inspiring," but added that it was not a path he was willing to walk on. Still, we have no doubt that if he does decide to run, Hudson will be on the sidelines cheering on her buddy!