How Lily-Rose Depp Feels About Growing Up In Two Different Countries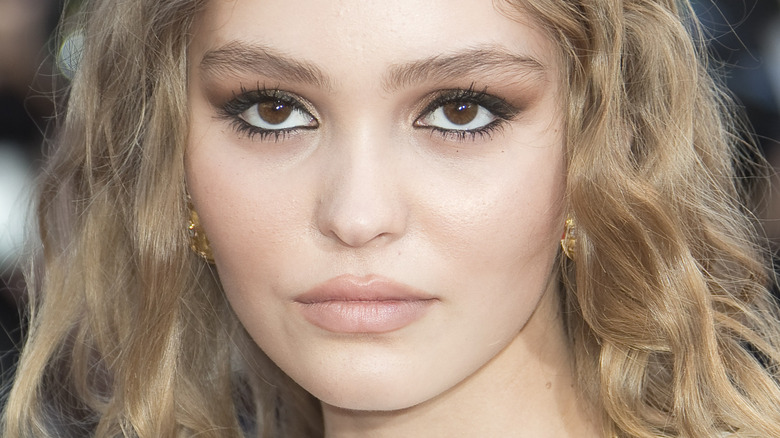 BAKOUNINE/Shutterstock
Lily-Rose Depp did not have what many would consider a typical childhood and that's not just because her parents happen to be Johnny Depp and Vanessa Paradis. But growing up with her famous parents did afford her some perks that other kids her age could only dream about. For instance, Chanel's head designer Karl Lagerfeld made Lily-Rose his muse back in 2015, which even prompted her father Johnny to raise an eyebrow. He told the Daily Mail at the time, "What's happening to Lily-Rose is something that I didn't expect to happen this early, that's for sure. She's been snatched up by Karl Lagerfeld — which is a coincidence, as he spotted her mother when she was the same age, too." Not only that, but Lily-Rose also got to star in the 2016 teen comedy "Yoga Hosers" along with her mom and dad. And to think, she did all of this before she even turned 18.
While a lot of celebrity children get to live the sweet life in sunny Southern California, Lily-Rose and her brother Jack split their time between the U.S. and their mother's native France. And needless to say, she certainly has a lot to say about spending her formative years on both sides of the ocean.
Lily-Rose Depp feels just as American as she does French
magicinfoto/Shutterstock
With her father Johnny Depp born in Kentucky and her mother Vanessa Paradis born and raised near Paris, Lily-Rose Depp admits that she feels just as American as she does French. While speaking to Interview with Keira Knightley back in 2021, Lily-Rose said that she identifies both as American and French equally. She explained, "My dad is very American and my mom is very French, and I grew up in both places. I don't know if I feel like I have different personalities. But I think that I'm able to tap into a more American sense of humor than a French sense of humor, depending on where I'm at. What I've heard, more than the personality thing, is that my voice is deeper in English and higher in French."
Lily-Rose and her brother Jack Depp still split their time between France and the United States as they are often spotted on running errands on the streets of Paris as much as they do in L.A. That said, Lily-Rose did make some very interesting comments about the French way of life compared to the American way of doing things back in 2017.
Lily-Rose Depp believes the French keep things more real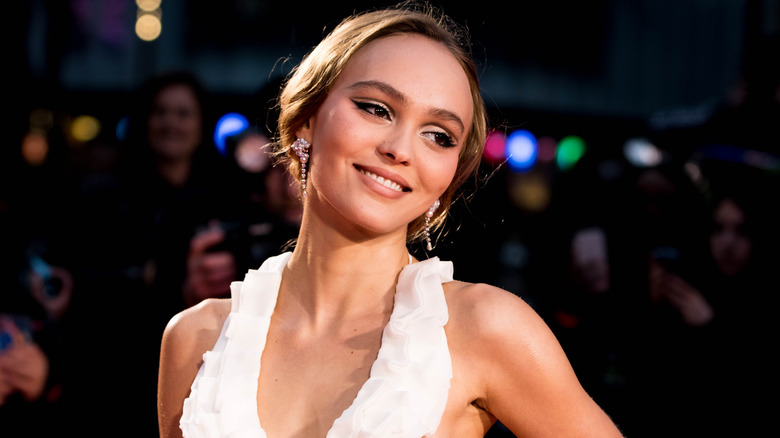 Tom Rose/Shutterstock
In an interview with CR Fashion Book in 2017, Lily-Rose Depp hinted that she preferred to work more on French projects than Hollywood ones. That's because she feels as though the French do a better job of keeping it more real compared to their American filmmaking counterparts. Lily-Rose explained, "I like movies that spark your imagination and your curiosity and I find that the kind of depth that French scripts and characters have often leads to that." She also added, "There's something more personable in Europe than there is here. In the States, there's more of a façade that I see people putting on. For me, the French culture is richer."
Lily-Rose's comments should not really surprise anyone as her father Johnny Depp also had some rather critical words about his home country back in 2003. He told German magazine Stern that year that the U.S. was like a "dumb puppy" and "broken toy" and was critical of the war in Iraq. He said (via People): "My daughter is four, my boy is one. I'd like them to see America as a toy, a broken toy. Investigate it a little, check it out, get this feeling and then get out." It seems like his kids have certainly been "checking out" the U.S. so much so that they still prefer to live and work there, too.