Who Is Dorinda Medley's Daughter, Hannah Lynch?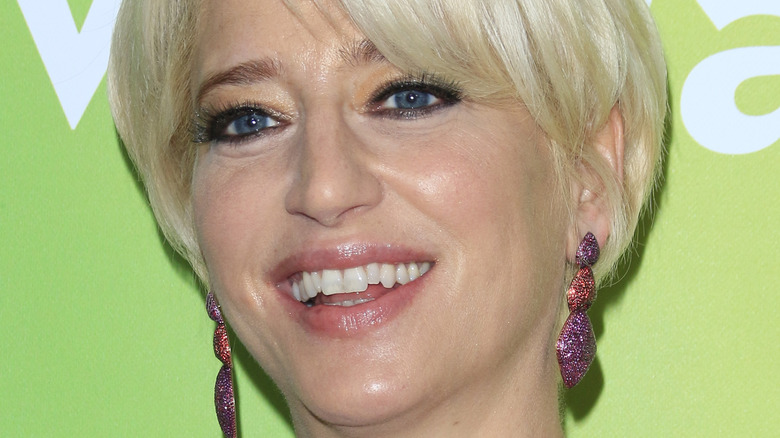 Kathy Hutchins/Shutterstock
Dorinda Medley brought the nice and the spice to "The Real Housewives of New York" when she joined its cast in Season 7. But the entrepreneur's attitude soured during Season 12, and Bravo decided to press pause on her reality TV career.
"I'm not upset about it anymore," Medley said in an August 2021 interview with Entertainment Tonight. "I was sad about it in the beginning, but I didn't personally fully understand it." The exit meant that viewers also lost access to their window into the life of Medley's adult daughter, Hannah Lynch. While Lynch appeared in over a dozen episodes of "RHONY" over the years, she doesn't put herself out there like her mother does. At the time of this writing, her Instagram is private, but there's evidence of her special bond with her mom on Medley's page. There, fans can watch the two women cracking up in the kitchen as they throw together a salad using a questionable measurement system. "I love being with my mom. She's my best friend," Lynch told The Daily Dish.
Medley's relationship with her daughter has shaped her life in some major ways. According to the former "RHONY" star, she stayed in her NYC apartment for two decades because of Lynch. "Hannah is living on her own now, and she said to me the other day, 'Mom, why are you all the way up here?'" Medley told People in February 2022. Before Medley ditched her digs, she and her daughter worked together on a big project.
How Hannah Lynch's literary skills came in handy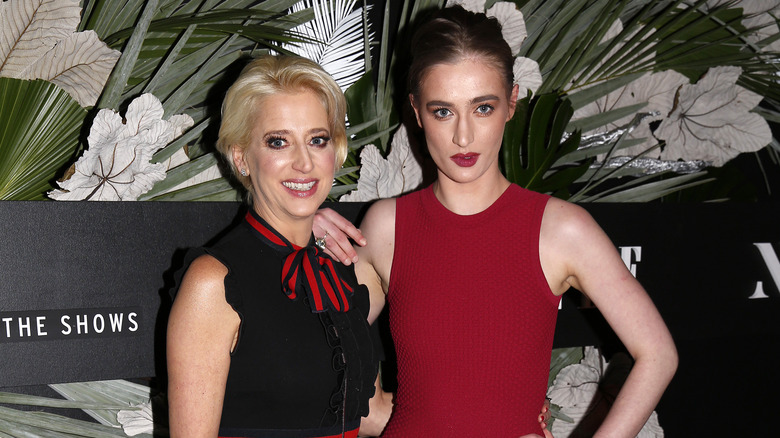 Thos Robinson/Getty Images
Hannah Lynch was born in London, where Dorinda Medley and her first husband, Ralph Lynch, resided after they got married. The couple eventually divorced, and Medley settled in NYC with her daughter, per Saratoga Living. Medley worked in fashion and real estate before Bravo invited her to join its reality TV family, and her brief break from the network provided an opportunity to pursue another potentially lucrative endeavor: writing her memoir, "Make It Nice." This is where Hannah Lynch's expertise came in handy.
"Hannah helped me edit it 'cause Hannah's an incredible writer," Medley told The Daily Dish. Hannah studied at Columbia University, and in 2016, she spoke to The Daily Dish about her goal of becoming a published author. "I'm an essayist. It's very Nora Ephron-y, David Sedaris," she said. "But I've realized I've experienced a lot in my life, and I've grown up in an environment, especially with my mom, that I've seen a lot of things, I've experienced a lot of things, I have one hell of a voice." Even though she's witnessed a lifetime's worth of drama, Hannah said that her writing has a comedic slant.
In addition to learning a lot about her mom by editing her book, Hannah gained valuable experience in a field that seems more well-suited for her personality than a reality TV career. "Hannah was never really a big part of the show," Medley told The Daily Dish. "She doesn't like the limelight."
Hannah Lynch looks forward to living with her mom again
Hannah Lynch is so spotlight-shy that she turned down a career opportunity that other daughters of "Real Housewives'" cast members have jumped at: becoming a model. "She got approached by IMG because they scout people at Columbia [University]," Dorinda Medley told Fashionista in 2017. "But Hannah's never been good at the cattle call, 'masses of a***s' kind of thing."
Lynch's discomfort with her mom's high-profile lifestyle didn't prevent her from living with "The Real Housewives Ultimate Girls Trip" star for years after Dorinda's second husband, Richard Medley, died in 2011. Lynch also had to endure having her disapproval of one of her mom's boyfriends, John Mahdessian, being turned into a "RHONY" storyline. Dorinda addressed the situation in a Bravo blog post, writing, "Let me be very clear about this and get right to the point: Hannah will always be first."
Dorinda loves her daughter so much that she even lets her get away with stealing handbags from her closet, per Fashionista. The two women have similar tastes in clothing and accessories, and if Lynch gets her wish, they will share closet space again, when the Bravo cameras will presumably be long gone. Dorinda told The Daily Dish that Lynch wants them to reside together at her famed estate in the Berkshires, Blue Stone Manor, in her golden years. "She says I'll take care of you, and you can stay up here. I'm like, 'Oh, that's nice of you,'" Dorinda recalled.