Inside Jennifer Aniston's Friendship With Dolly Parton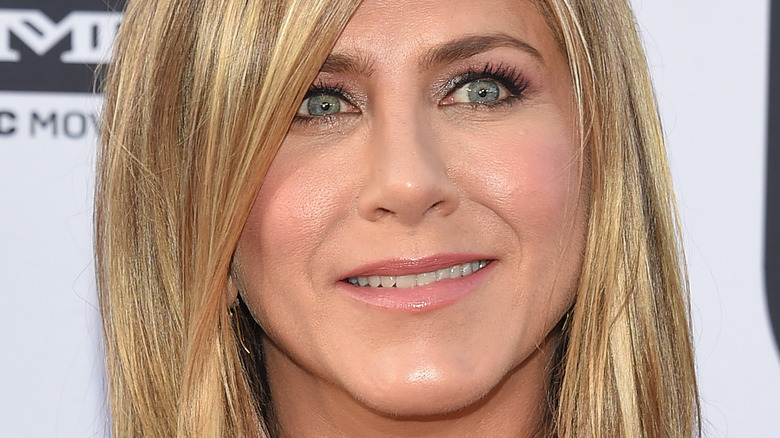 DFree/Shutterstock
Jennifer Aniston has a lot of friends, and not just the fictional kind. Aniston, along with her "Friends" co-stars Courteney Cox and Lisa Kudrow, have seemingly gotten along pretty well over the years both on- and off-screen. She's also someone who has made long-lasting friendships with some of her childhood friends, including Andrea Bendewald, who she got matching '11 11' wrist tattoos with back in 2021, per People. That, and she's also managed to maintain friendships with her ex-husbands Brad Pitt and Justin Theroux. Speaking about her relationship with Pitt, Aniston told "The Howard Stern Show" back in June 2021 (via Us Weekly): "Brad and I are buddies. We're friends. We speak, and there's no oddness at all."
That said, Aniston has another famous, yet unlikely friend that probably has her number stored on her phone, too: country music star Dolly Parton. In fact, the two got to know one another both professionally and personally, so much so that the "Jolene" singer got Aniston to do something she's rarely done in front of the cameras before.
Dolly Parton managed to get Jennifer Aniston to sing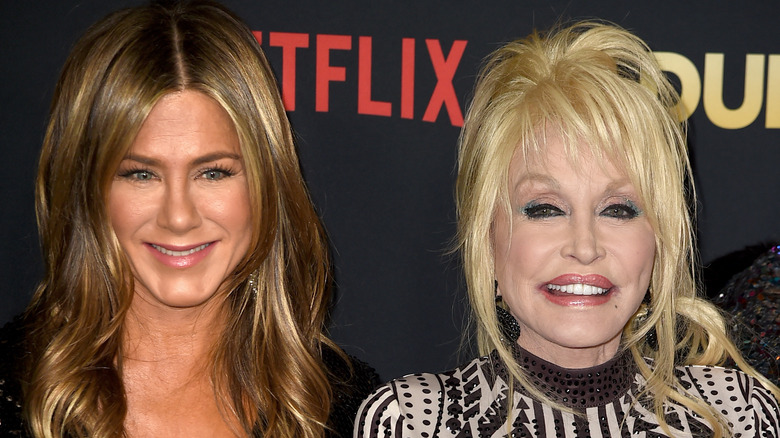 Kevin Winter/Getty Images
Jennifer Aniston and Dolly Parton worked together on the Netflix film "Dumplin'" back in 2018. While Aniston certainly has a lot of film credits under her belt, working with Parton made her step outside of her comfort zone. That's because Parton got both Aniston and her "Dumplin'" co-star Danielle MacDonald to do something that they don't do very often in front of the cameras, and that's sing. In an interview with Elle, Parton explained that she had to give both Aniston and MacDonald more than just a gentle push to get them into the recording studio. She recalled, "I told 'em, 'Look, we want you to sing.' And they said, 'We can't sing!' And we said, "We don't care, we'll make you sound good. You've gotta be on this record."
Parton went on to say that both Aniston and MacDonald's vocals came out pretty good. She added, "They don't claim to be singers. You can always make it sound better if there's a little note that's not necessarily right on pitch or whatever." That said, Aniston and Parton's time in the studio wasn't the only thing that might or might not have gotten the actor out of her comfort zone. In fact, Parton made one eyebrow-raising statement about Aniston and the reason why her husband Carl Thomas Dean was so excited about them working together.
Dolly Parton's husband wanted to get to know Jennifer Aniston a little more personally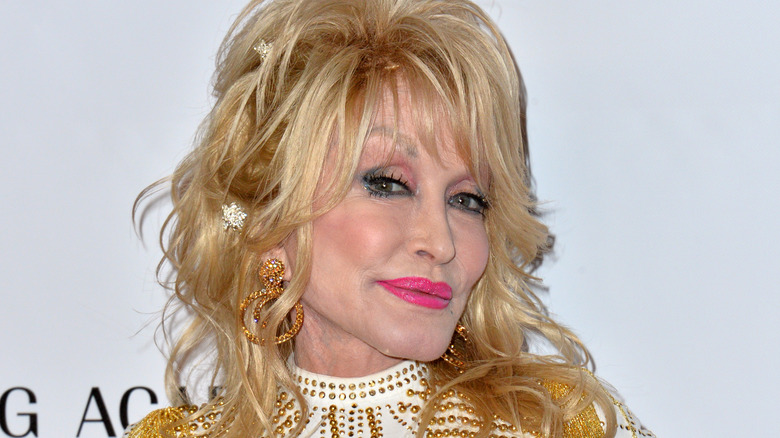 Featureflash Photo Agency/Shutterstock
Dolly Parton revealed on "The Tonight Show Starring Jimmy Fallon" in December 2018 that her husband Carl Thomas Dean was most excited about her working with Jennifer Aniston because he apparently wanted a "threesome." She told the late night host, "I love her to death. My husband is crazy about her, and he was more excited that I was going to do a movie with her than he was that I got the chance to write all this music. I think he fantasizes, like, a threesome."
Of course, it didn't take very long for Aniston to react to Parton's comments. Upon hearing that her husband wanted a threesome with her, Aniston told USA Today, "My mouth just dropped. And then I laughed my (butt) off. That's Dolly. No one in the world can get away with saying anything like that about their partner on live television, except Dolly. I mean, that is a quote." Thankfully, Parton did add that the threesome was very unlikely because her husband "can't get it out to pee, much less get it up for three!" Maybe the two of them can write a song with those lyrics? If anything, that should get Aniston back singing in the studio again.