Kendall Jenner And Devin Booker Keep Fans Guessing Amid Their Reported Split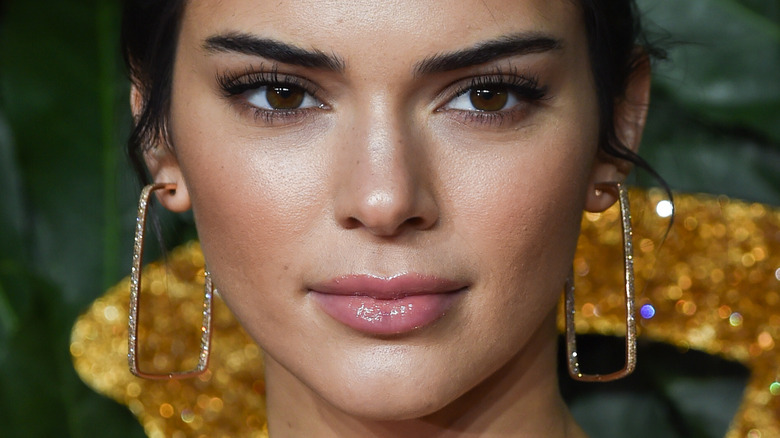 Featureflash Photo Agency/Shutterstock
In what has been a whirlwind of a year for the Kardashian women — relationship-wise, anyway — attention has finally turned to Kendall Jenner. Unlike her sisters, who have made storylines out of their various romantic entanglements on their reality series (think: Kravis' passionate relationship), Jenner has long opted to keep her relationship with NBA star Devin Booker off the show and out of the headlines.
"Kylie and I have had the opportunity to watch our older sisters go through marriages and relationships and breakups and all these things, and do them pretty publicly," Jenner said during the 2021 "Keeping Up with the Kardashians" reunion, per Bustle. "No offense to you guys at all, but I think it was personal preference from a really young age that I didn't want to [do that]," she explained. Jenner claimed that it made her relationship with Booker "a lot better." She said, "I just feel like it's a private matter, it's not really for anybody else to judge or know." 
After two years together, Booker and Jenner called it quits in June. Numerous outlets confirmed the split, but within days, the stars' social media habits had fans wondering if they were really done for good.
Kendall and Devin are moving on
If Kendall Jenner and Devin Booker are really broken up, it seems like there are no hard feelings between them. Less than a week after splitting, the pair caused a stir by liking each other's most recent Instagram posts. Jenner posted a photo of herself sunbathing in her birthday suit, which Booker liked. Hours later when Booker posted a photo of himself at a baseball stadium, Jenner threw him a like as well, per Page Six.
If you were a fan of Booker and Jenner's relationship, as many were, the fact that they're back to liking each other's steamy posts might seem like a hint that a reconciliation is on the way. Before you get too excited, though, there's also a good chance that Booker and Jenner split amicably, and that's why they're supporting each other on social media. Speaking to Us Weekly when the news broke, a source close to the stars claimed that "Kourtney's wedding really put things into perspective" for Jenner, prompting the couple to "take time to focus on themselves."
The pressure to commit to each other in a more substantial way reportedly deteriorated the relationship. "After two years they had the 'where is this going' talk," a confidant told Page Six. "While they care for each other, Devin was not going to propose marriage and his priority is his career," the source explained, noting that their hectic lifestyles made navigating a relationship tricky. "Kendall's career also dominates her life."