Megan Fox Isn't Letting Margot Robbie Be The Only Star With A Barbie-Inspired Look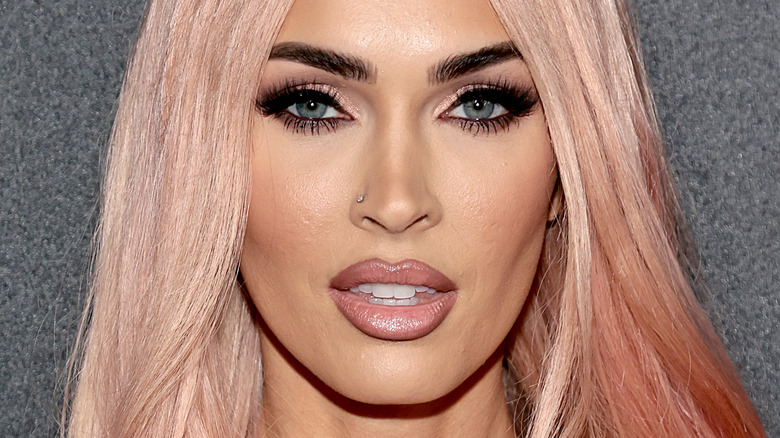 Jamie Mccarthy/Getty Images
Megan Fox has been considered a fashion icon for decades. Ever since she flew into mainstream attention for playing the role of Mikaela Banes in Michael Bay's 2007 film, "Transformers," the brunette beauty has been a go-to when it comes to red carpet inspiration and trends. Women's Wear Daily notes that some of the actor's best looks have featured clothing from designers like Mugler, Peter Dundas, David Koma, Alex Perry, and Mach & Mach. If one thing is clear, it's that there's little she can't pull off. 
As has been the case for the past few months, Fox has often been accompanied by her fiancé, Machine Gun Kelly, born Colson Baker, who has similarly strutted his stuff in high-end designs from the runway. Typically, Fox boasts dark brunette locks and bright blue eyes when it comes to her glam. But on June 27, she abandoned her typical dark curls for a lighter look, and it looked as though Fox got inspired by a highly-anticipated movie.
Megan Fox lives life in pink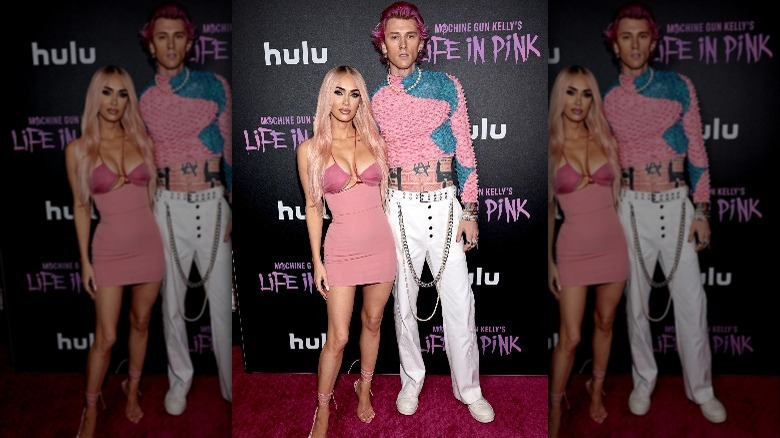 Jamie Mccarthy/Getty Images
On June 27, Fox stepped out in New York City alongside her man Machine Gun Kelly donning pink-blonde hair and a matching dress. Her fiancé did the same, wearing a skin-tight pink shirt and bright rosy hair. Even Fox's shoes were strappy, high, and blush-pink. The event they attended that night was the premiere of Kelly's latest Hulu documentary, "Machine Gun Kelly's Life in Pink," per the Daily Mail, which explains the matching pink outfits! According to the outlet, in the documentary, fans will get a glimpse into the pair's life together. 
But Fox isn't the only blonde beauty sporting pink these days. Fellow actor Margot Robbie will be playing Barbie in an upcoming film directed by Greta Gerwig. On-set photos of Barbie-fied Robbie and her co-star Ryan Gosling as Ken have made the rounds on social media and their Mattel-inspired looks have fans of pink giving praise. According to Elle, the plot for the film is unknown at this stage. In a recent interview with The Hollywood Reporter, however, Robbie shared, "Whatever you're thinking, we're going to give you something totally different — the thing you didn't know you wanted." 
But while Robbie may be poised to appear in the role of Barbie, Fox's pink look is certainly giving Robbie a run for her money.