The Machine Gun Kelly Cheating Controversy Explained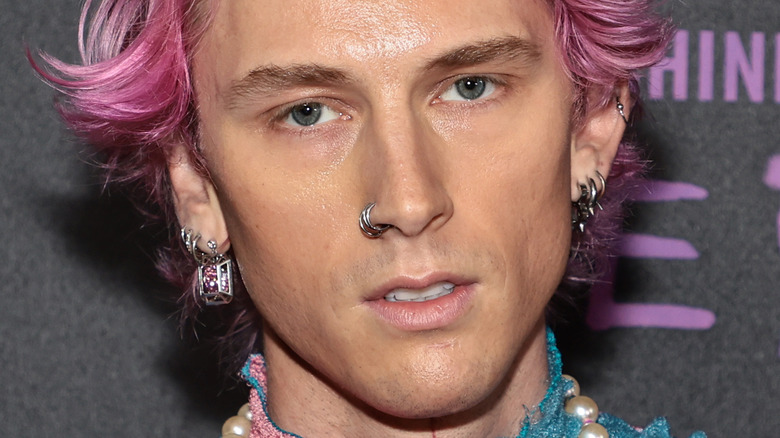 Jamie Mccarthy/Getty Images
Megan Fox and Machine Gun Kelly's relationship has truly been something out of a fairy tale ... sort of. For one, the couple has the whole cosmic love thing going for them. Fox — who met Kelly on the set of their 2020 film "Midnight in the Switchgrass" — has spoken about how she knew immediately that he was the one. "The first time I looked into his eyes, I was like ... I know you. I have known you so many times, in so many different forms, in so many different lives," the actor told The Washington Post. Fox further noted that their electric chemistry was surprising, adding that she "wasn't expecting it'd be like, 'God, you are my soulmate' instantly."
Fox and Kelly haven't been shy about sharing their love with the world, either. From exchanging tongue kisses on the red carpet at the 2021 Billboard Music Awards, to drinking vials of each other's blood to celebrate their engagement, they might just be the one pairing to give Kravis a run for their money, PDA-wise. And while some fans have celebrated their other-worldly love connection, Fox and Kelly certainly haven't been without their controversies. For example, Fox was technically still married to her then-husband Brian Austin Green when she first connected with Kelly. Green has since gone on to find love with dancer Shana Burgess, so there's no ill-will between the former couple, but it seems that Kelly also wasn't single when he fell for Fox.
Did MGK cheat on his girlfriend with Megan Fox?
Kevin Mazur/Getty Images
Machine Gun Kelly and Megan Fox went Instagram official in July 2020, but that timing was misleading, according to the rapper's ex, Sommer Ray. On a 2021 episode of Logan Paul's "Impaulsive" podcast, the influencer revealed that she was dating Kelly when he hit it off with Fox. "I never had sex with [Kelly]. I make you wait at least three months," Ray explained, adding, "He did kind of cheat on me with Megan Fox if you look at the timeline." From Ray's perspective, she never viewed his "Midnight in the Switchgrass" co-star as a threat because Ray "thought she was older and had kids and was married." 
Later, when Kelly blamed his inability to see Ray during his "Bloody Valentine" music video shoot on "COVID restrictions," Ray realized he was really filming with Fox. Still, Rays' feelings weren't too hurt. "I think that even if I was having sex with him, he would still do that with Megan," she reflected.
However, Ray was upset about how Kelly put the end of their relationship on blast. In April 2021, he tweeted, "She came and picked up all her stuff on my birthday. Nice." Ray shot back with, "Oh really? I thought she came to bring you your birthday gifts. #fakenews." The whole thing led Kelly to issue an apology on Twitter, writing that he "shouldn't have tweeted personal business."
MGK's shady behavior with Sommer Ray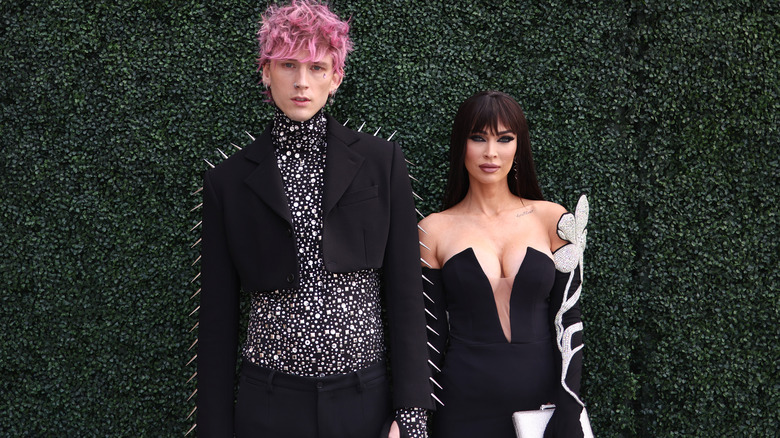 Matt Winkelmeyer/Getty Images
Prior to getting involved with Megan Fox, Machine Gun Kelly was linked to several other celebs, including Amber Rose, Halsey, Kate Beckinsale, and Sommer Ray, per Us Weekly. As for Ray, Kelly reportedly began seeing the influencer shortly before making things official with Fox. In March 2020, he retweeted pictures that showed him cuddling up to Ray, which is why people were suspicious when the rapper announced he was dating Fox in June. 
This timing tracks with Ray's claim that she typically waits three months before getting intimate with someone. If Ray and Kelly started dating prior to March, then Ray would have been ready to take that step in May, by which time Kelly connected with Fox. In hindsight, Ray said that she can look back on her time with Kelly and see all the red flags. "He started turning off his phone before bed, and I would be like, 'Why are you doing that?' and he'd say, 'Oh I've heard that the vibrations from your phone hurt your ...' and no, it's because Megan wasn't gonna call," she said on "Impaulsive." 
Despite the way Ray claimed that her relationship ended, she doesn't hold a grudge. "I think they're a cute couple," she said on the "Impaulsive" podcast. "I'm not mad about it. I want them [to have] the best." Now that Fox and Kelly are happily engaged, perhaps Ray can find closure in the fact she and the musician weren't meant to be.