Johnny Depp Looks Happy As Ever Debuting New Clean Shaven Look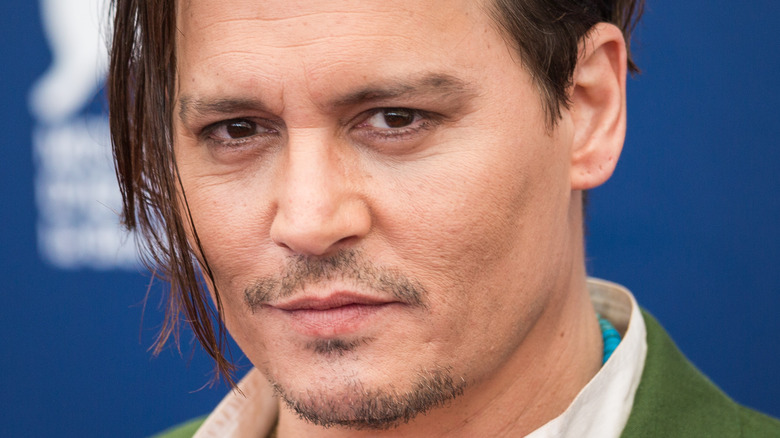 taniavolobueva/Shutterstock
Johnny Depp is putting his courtroom drama even further behind him by debuting a new look. When he faced off against his ex Amber Heard during their defamation trial, his facial hair was still intact; he rocked a pared-down version of his "Pirates of the Caribbean" whiskers, complete with a manicured mustache, soul patch, and chin puff. But now he's bare-faced, and he has a good reason for ditching his face fuzz.
With the goatee went the hope that Depp would be reprising his role as the forked-bearded rogue Captain Jack Sparrow anytime soon. The Aussie website PopTopic got Depp fans' hopes up with a report claiming that Disney had offered him over $300 million to return to the "Pirates of the Caribbean" franchise, but a rep for Depp told NBC News (via E! News) that there is no truth to this rumor. The actor himself said during his trial testimony that he's done playing the Disney character for good.
When the verdict of Depp's defamation trial came in, he was proving that he's still in-demand as a musician by rocking out with his good pal Jeff Beck in England, per People. But while he and Heard were both found guilty of defamation, The Guardian predicted that Depp's movie career isn't over yet; he might just end up relegated to starring in indie flicks instead of blockbusters. In fact, he's started prepping for a regal role, which explains his beardless visage.
Johnny Depp will play a French king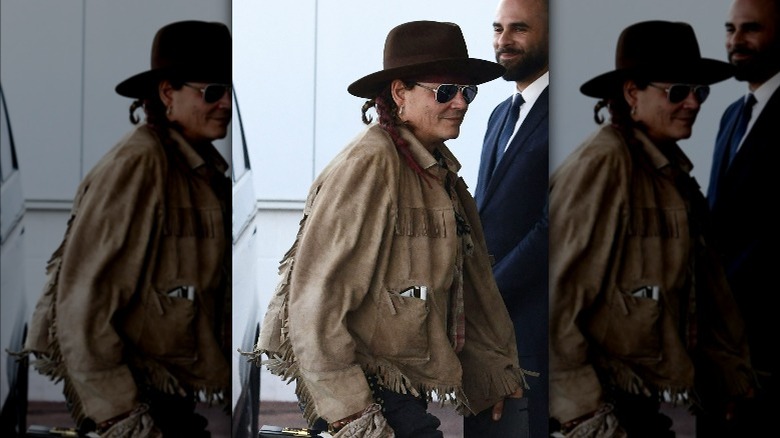 Best Image / BACKGRID
On June 27, the Daily Mail published photos of Johnny Depp looking pleased as punch at the Paris airport. The smiling actor was spotted sans chin hair, but what he lacked in facial hair, he made up for with the long braids he was rocking. Depp looked the part of a troubadour in a fringe-trimmed suede jacket, fedora, and aviators. However, he was in the City of Lights to prepare for his role as a king.
Depp reportedly tried on some of the costumes for "Jeanne Du Barry," a movie about one of King Louis XV's mistresses, per Deadline. Depp will play the French monarch once known as Louis the Well-Beloved. However, he was a feckless ruler whose subjects eventually soured on him, per Britannica. Deadline reports the movie is being directed by French filmmaker Maiwenn, who will also play the titular role of the king's paramour. According to The Hollywood Reporter, Depp can speak French, but it remains to be seen if he will put that particular skill to use in the film.
It does look like the actor won't have to utilize his limited ability to grow facial hair, as paintings of King Louis XV show him with a bare chin. While Depp is known for his killer goatees, past attempts at sprouting a full beard were futile. "I grew about seven or eight hairs on this side and maybe about five over here," he said in a 2017 appearance on "The Graham Norton Show."