How Emily Blunt Really Feels About Husband John Krasinski's Show The Office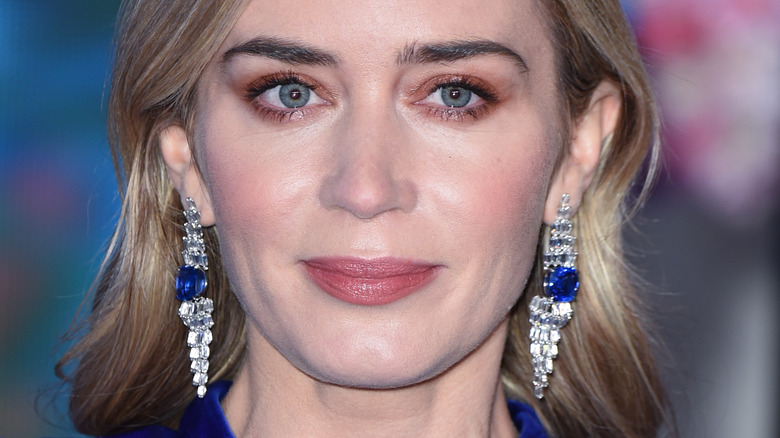 Featureflash Photo Agency/Shutterstock
Emily Blunt and John Krasinski are one of Hollywood's most recognizable and talented power couples. While Blunt's career took off with parts in films like "The Devil Wears Prada" and "The Young Victoria," Krasinski's stardom emerged from playing Jim Halpert on the long-running U.S. version of the comedy series, "The Office." In a 2016 appearance on "Larry King Now," Krasinski explained that he did his best to keep his cool when he was first introduced to Blunt. This meeting took place while Krasinski was dining with a friend of his at a restaurant. "I was incredibly nervous because I was a big fan, and probably too big a fan of 'The Devil Wears Prada,'" Krasinski said. "So I tried to contain my excitement when I met [Blunt]."
Following this encounter, the couple dated for nearly two years before marrying in 2010, per Brides. Krasinski has been vocal about complimenting his wife's exceptional acting talents. "The air changes in the room when [Blunt] starts doing what she does," Krasinski said to Vanity Fair in 2018, via Harper's Bazaar. "For me, I love acting, and I'm so lucky to be doing it. But she's on another plane." Blunt has likewise expressed her admiration for Krasinski's impact as a cast member of "The Office."
Emily Blunt has praised The Office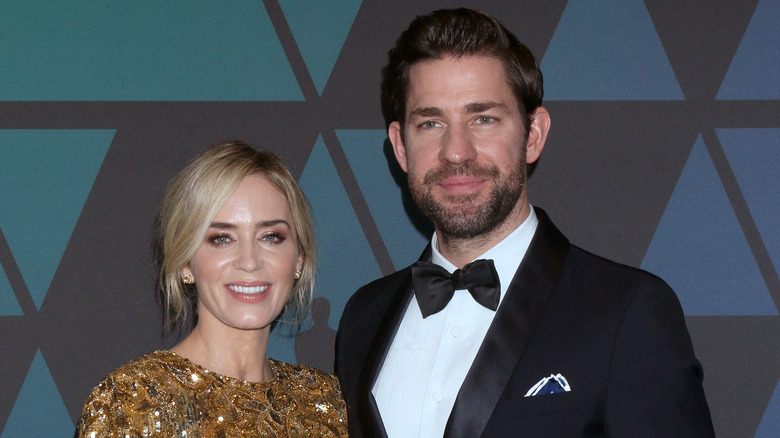 Kathy Hutchins/Shutterstock
Emily Blunt has revealed that she is a big fan of her husband John Krasinski's show, "The Office." In a 2018 interview on "Late Night with Seth Meyers," Blunt described the first time she met Krasinski and said that she wasn't extremely familiar with his work at the time. "I was sort of aware that he was vaguely recognizable," Blunt said. "But I was a big fan of the British 'Office.'" After meeting Krasinski, however, Blunt took the time to watch the U.S. version of the comedy series. "And then I sort of binge-watched the American 'Office' and loved it," she added.
For a 2018 cover story with Vanity Fair, Blunt further opened up about how "The Office" has helped her realize the impact acting can have on an audience. "I am always under the impression that I have a silly job for a living. But occasionally you will run into someone who deepens your feeling about it," Blunt said. "Sometimes people will say they had cancer and 'The Office' was the only thing that made their family laugh during that time. You realize when you are in something that really touches people that it does offer an escape." Not only have Blunt and Krasinski done impressive projects individually, but they've also teamed up to create some memorable films together.
Emily Blunt and John Krasinski have combined their acting talents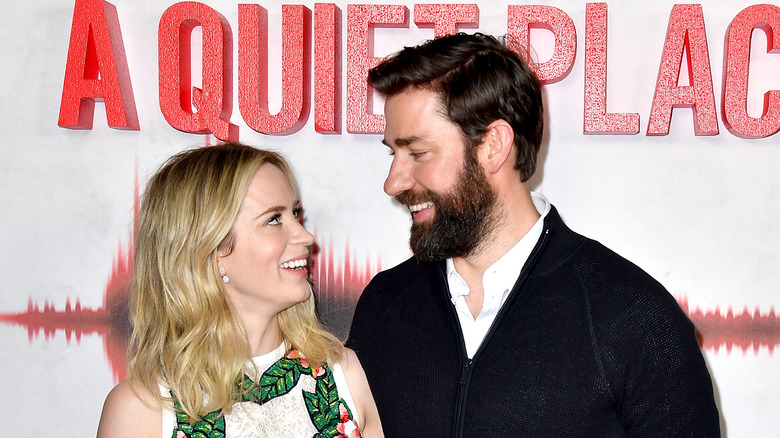 Gareth Cattermole/Getty Images
Following the pair meeting and falling in love, Emily Blunt and John Krasinski have chosen to collaborate professionally in recent years. The couple, who has been married for over a decade and has two children together, first starred alongside each other in "A Quiet Place" in 2018. The horror film would go on to be a massive hit (via Rotten Tomatoes). Krasinski also co-wrote, directed, and executive produced the film. When she and Krasinski chatted with Deadline in 2018, Blunt said she initially didn't think she would take on a lead role. After reading the script Blunt changed her mind.
"I think all of my protection went out the window because I realized that, of all the projects we've been sent to do together—and there've been many—it would really serve this film that we were married in real life," Blunt said. The actor added that the "secret language" she and Krasinski share ended up serving their performances on screen. Her acting later earned Blunt a Screen Actors Guild Award for Outstanding Performance by a Female Actor in a Supporting Role in 2019, per Metro. In 2020, the duo returned to their roles of Evelyn and Lee as they appeared in "A Quiet Place 2." Krasinski also announced the third installment in February 2022, via the Hollywood Reporter. Fingers crossed that these two talented stars will star together one more time!