Dakota Johnson Finally Opens Up About What Went Wrong On The Fifty Shades Of Grey Set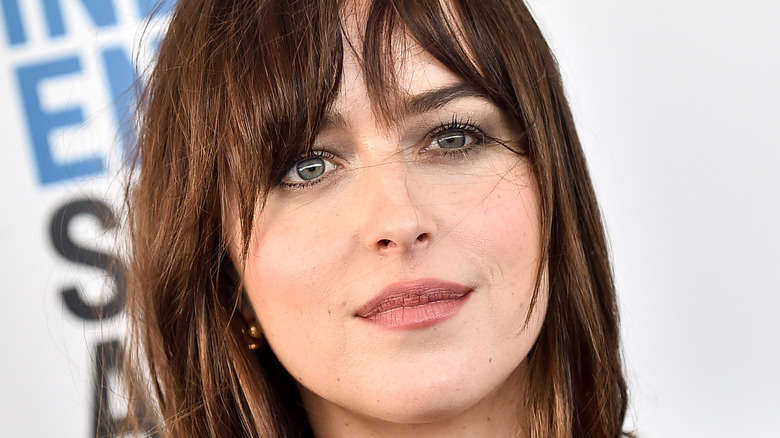 DFree/Shutterstock
When "Fifty Shades of Grey" was published in 2011, E.L. James had no idea how massive it would be. "I'm constantly overwhelmed and shocked by the success of this book," James, whose real name is Erika Mitchell, told Today. Mitchell admitted that after a Hollywood bidding war began, she'd worried about a film adaptation. "I wanted it to be tasteful," she said.
The movie ultimately scored a 25% rating on Rotten Tomatoes. "Certainly there is an audience out there for this kind of story, and with any luck neither you nor I will ever have to interact with it," Cinemaphile snarked. "The most anticipated release of the year is not much more than a spanking great bore," the Daily Mail commented. The New Yorker was a tad kinder: "Largely well acted, not too long, [it had] to be better than the novel... It could hardly be worse."
But haters gonna hate. Per The Guardian, the movie was a box office smash hit, raking in over $500 million globally, making it Universal's highest grossing "R" rated release in history. However, the movie set was plagued by reports of onset difficulties, drama, sabotage, fights, feuds, ego clashes, and tensions from the get-go. "With the benefit of hindsight, would I go through it again?" Sam Taylor-Johnson told The Times about directing the first movie. "Of course, I wouldn't. I'd be mad!" Now, another person is finally opening up about what went wrong on the Fifty Shades of Grey set: Dakota Johnson.
Dakota Johnson says it was more Fifty Shades of 'psychotic' than grey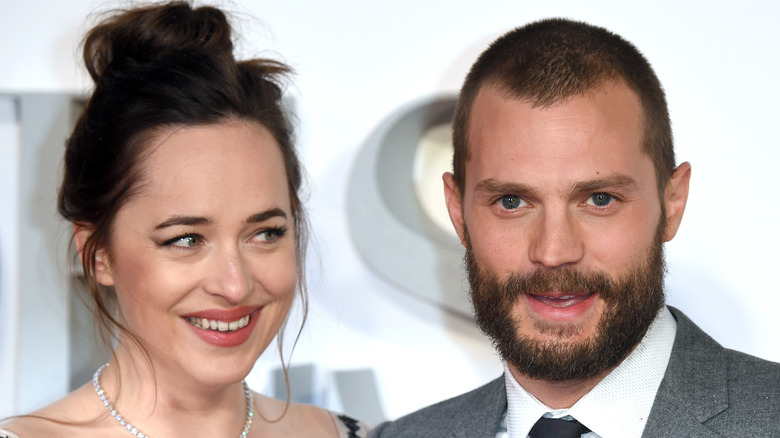 Anthony Harvey/Getty Images
Initially, Jamie Dornan was fuming over critics mocking "Fifty Shades of Grey." However, by the time the third movie was done, he was totally ready to hang up his handcuffs. Dornan even started making Fifty Shades jokes, but his co-star wasn't laughing. Portraying Anastasia Steele was Dakota Johnson's first significant break-out role. After Johnson had been financially cut-off by her famous parents when she refused to attend college, the film series was hugely important to her then-burgeoning career.
During filming, publicists denied reports of on-set troubles. However, the truth emerged as the cast and crew shared their experiences. Director Sam Taylor-Johnson told The Times she'd persistently clashed with E.L. James, who'd insisted on completely micro-managing throughout the filming. Now, Johnson spilled the BDSM tea to Vanity Fair.
"It was always a battle," the actor said about James' demands and need for constant control on set. It led to "mayhem all the time" in the working environment. Johnson shared she often had to write her own lines so that non-scripted "inner dialogue" from the book that James insisted was included last-minute made sense on camera. However, despite all the chaos and havoc, Johnson didn't regret making the films. That said, if she'd realized what was in store, she would have probably thought twice before signing on the dotted line. "If I had known at the time that's what it was going to be like, I don't think anyone would've done it," Johnson admitted, adding it was "psychotic."