Wendy Williams Just Got Real About How Serious Her Health Problems Truly Are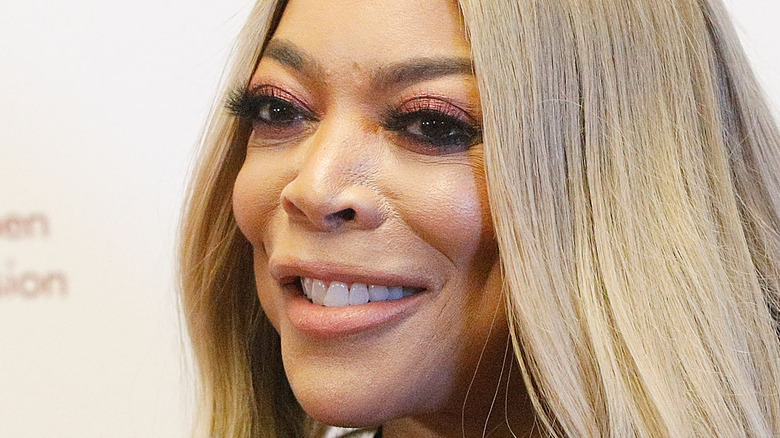 Lars Niki/Getty Images
Love her or hate her, there is simply no TV host quite like Wendy Williams. After her long-running daytime talk show "The Wendy Williams Show" was officially canceled following a lot of confusing and sometimes conflicting reports about the iconic host's health, fans have been wondering how the infamously unfiltered Williams is holding up. The good news is that, even if "The Wendy Williams Show" is no more, Williams herself isn't disappearing forever. She's recently declared to TMZ that she's looking to enter the world of podcasting, and she's open to future TV appearances. 
In typical Wendy Williams fashion, the talk show host got real about the seriousness of her health problems in a recent video interview with TMZ. Don't worry, it doesn't look like she's on death's door or anything, but she did show everybody why mobility might be a problem for her going forward. And when we say "show," we mean that quite literally. It's not like Williams to skimp on the details, after all. 
Wendy Williams shows her lymphedema
When asked by TMZ Live hosts how she's feeling physically at the moment, Wendy Williams responded, "You know what lymphedema is, correct?" Never one to hold back, she lifted her foot up to the camera. Williams said, "Are you ready? Okay, lymphedema is this. Do you see this? Right here? Look." Pointing to her foot and ankle, Williams explained, "I can only feel maybe 5 percent of my feet. Which means normally I would be in a wheelchair. I'm not in a wheelchair. I stand up." 
According to the Mayo Clinic website, lymphedema is swelling caused by blocked lymph fluid. In severe cases, this can lead to an inability to move the affected area. The Mayo Clinic site also says that the condition is usually caused by cancer treatments, parasites, or, in rare cases, an inherited genetic condition. FYI, it doesn't look like Williams has cancer, but she has revealed that she has been diagnosed with Graves Disease, according to Good Morning America, which is an autoimmune disorder affecting the thyroid.
TMZ noted that Williams has been seen recently in New York City and appeared to be moving well. "How are you feeling physically," they asked. Without missing a beat, Williams responded, "Better than you."
Well, there you have it, folks. Williams may not be at 100%, but she's still feeling better than we are.