Why Fans Are Fuming Over Kelly Ripa's Treatment Of Ryan Seacrest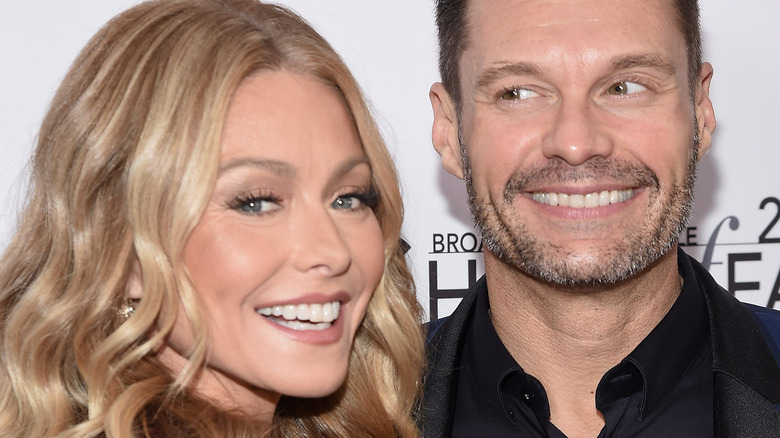 Gary Gershoff/Getty Images
Kelly Ripa and Ryan Seacrest are one of the most notable celebrity duos in the industry. The two have co-hosted "Live! with Kelly and Ryan" since 2017, and according to them, they jive on-screen because before being co-workers, they were friends. "Kelly and I have been friends for two decades," Seacrest told People in March. "So we know each other way before — longer before we were on the air together." He said that they've been best buds for so long that they can pretty much finish each other's sentences at this point. "When we look at each other and talk to each other, there's obviously a tremendous amount of trust and respect, but also we can read each other's mind."
In 2020, when there were rumors that Ripa had been planning to retire, she admitted that she was open to the idea, but loved working with Seacrest so much that she doesn't mind continuing co-hosting. "I talk about this with Ryan all the time because I was really looking to retire like by now, but Ryan Seacrest is so fabulous to work with," she shared with Parade. "We've been friends for two decades, and I've got to tell you he is really such a draw to me there... He makes every day feel like I'm not working and that's when you know you have a great working relationship."
Viewers, however, beg to differ. After a recent episode of "Live!," some fans took to the Instagram comments section to express disappointment over how Ripa was "rude" to Seacrest on-air.
Fans claim Kelly Ripa is rude to Ryan Seacrest on Live!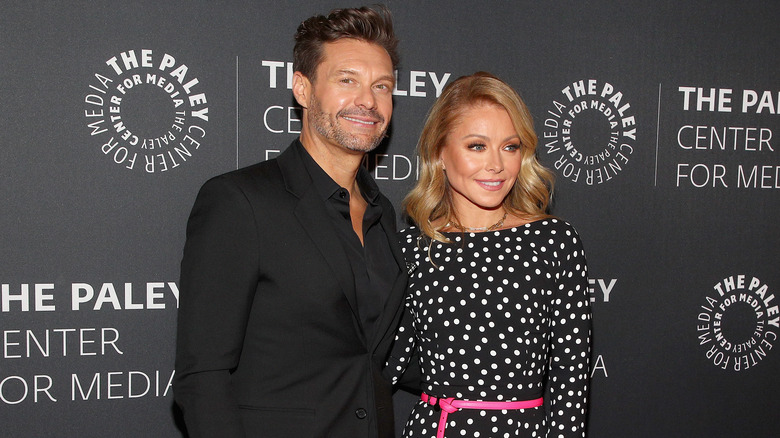 Astrid Stawiarz/Getty Images
Kelly Ripa and Ryan Seacrest have always gushed about one another's work ethic, but according to fans, Ripa can sometimes be rude to her co-host. In one of Seacrest's most recent Instagram posts, fans stormed the comments section to tell him that they didn't appreciate how Ripa often talks over him on their joint talk show.
"You need to tell Kelly to stop interrupting you. That's very rude. She does it throughout the show... every show. Very annoying. The show's ratings go up because of you. She is a boring host," one user said, to which another user agreed: "I agree one million percent It would sure be nice to hear Ryan finish a story!" Another fan also said that it's become a habit of Ripa to disrupt her co-hosts. "Kelly has been interrupting every co-host she had, but this is worse than ever," they wrote. But there are others who defended Ripa, too. "Kelly is a wonderful host. She is so talented and smart," one user wrote. "I love them together!! Great chemistry I think," commented another.
Seacrest has not addressed the comments, but in a previous interview with Entertainment Weekly, he raved about Ripa's ability to make him feel comfortable on-screen. "She always has a story to tell, she's always got a joke, she's always got a reaction," he said. "And she brings incredible energy and honesty and candor to the show. She's probably made me more comfortable, just talking about myself... It's less hosting and more companionship conversation."