The Cast Of Buckhead Shore Reflect On The Legacy Of The Jersey Shore Franchise - Exclusive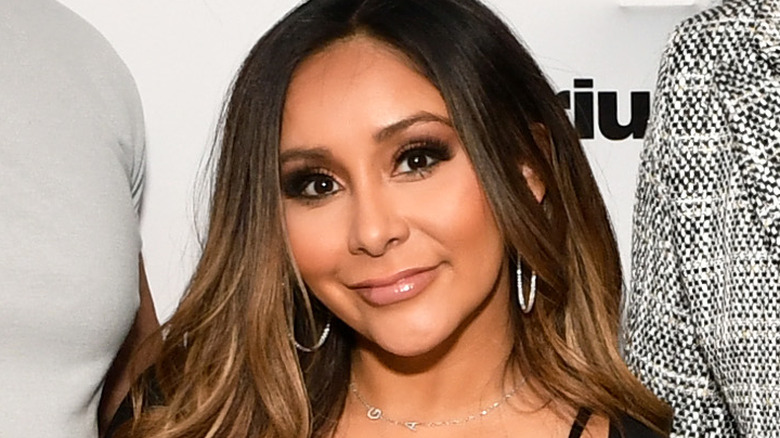 Slaven Vlasic/Getty Images
What do the phrases, "G.T.L," "Cabs are here!" and "Where's the beach?" have in common? If you consider yourself anything of a reality TV fan, then you know that the famous monikers belong to "Jersey Shore." Given that the show has birthed a number of spin-offs and related programming, it's no wonder that the likes of Nicole "Snooki" Polizzi, Mike "The Situation" Sorrentino, and Jenni "JWoww" Farley are as famous today as they were at the peak of "Jersey Shore." If anything, their influence over pop culture has grown.
The cast of "Jersey Shore" has matured with time. For instance, Snooki is now married to Jionni LaValle and is a mom of three; The Situation himself tied the knot in 2018 and is a dad to a young son. While the OG gang is very much alive and well and currently on screen due to "Jersey Shore Family Vacation," a new crop of kids is hitting the screen. Enter "Buckhead Shore," the latest "Jersey Shore" franchise spin-off that premiered on June 23. Featuring fresh faces and wild drama, "Buckhead Shore" could very well present the world with the latest "Snooki" character. Ahead of the premiere, we sat down with the young cast to get their take on the show, and they dished about what it's been like to join such a storied franchise.
The cast was shocked to be joining such a storied franchise
There's nothing like sinking your teeth into some good on-screen drama, and "Buckhead Shore" delivers as only a "Shore" show can. The group of young stars — consisting of JuJu Barney, Katie Canham, Savannah Gabriel, Adamo Giraldo, Parker Lipman, Bethania Locke, Pat Muresan, Chelsea Prescott, and DJ Simmons — are newcomers to the reality world, but they're certainly set up for success given that they're following in the "Jersey Shore" footsteps. When we asked the cast how they reacted when they found out they'd be joining such an iconic franchise, the excitement was palpable.
"It was jaw-dropping," Barney started out. "I had never watched it before. My mom grew up blocking MTV, so go figure, she went through all that trouble and I end up on the same franchise. I thought it was so awesome."
Giraldo, who was allowed to tune in during the "Jersey Shore" days in the mid-2000s, said it's been a "blessing" to "follow in [the cast's] footsteps."
"People keep throwing a lot of shade that Buckhead doesn't necessarily have a shore, but we take it as a blessing," Lipman added. "We're part of the biggest franchise in TV history."
The cast is ready to define their own path
When "Jersey Shore" originally dropped in 2009, it became not only reality TV-defining, but generation-defining, too. So many of us tuned in to watch the mid-2000s escapade unfold in front of our eyes, and the cast of "Buckhead Shore" found themselves in that exact situation.
"I used to have to sneak and watch it late at night because it came on late," DJ Simmons said of "Jersey Shore." "We always respected [the cast] and we're happy to be a part of that franchise." Before he wrapped up, Simmons made it clear — "Right now it's 'Buckhead Shore,'" he said.
Clearly, the cast is ready to make their own names known while carrying on the legacy of "Jersey Shore," so we had to ask how their friend group has been sustained given the cameras, pressures, and expectations of reality TV.
"We're all best friends at the end of the day and we love each other and care for each other," Pat Muresan told us. "We're all best friends. We respect the girls. We love everyone and nothing is personal in this friend group."
Will "Buckhead Shore" get as wild as the OG days of "Jersey Shore?" Time will certainly tell.
New episodes of "Buckhead Shore" air Thursday nights at 9:00 p.m. ET on MTV.