Beyonce Fans Are Melting Down Over The Cover Art For Her New Album Renaissance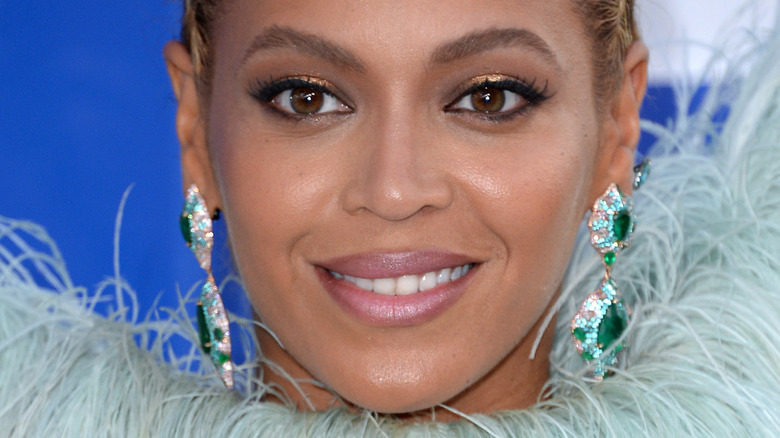 Anthony Harvey/Getty Images
BEYONCE! BEYONCE! Are you sitting down? Because Beyoncé just released a sneak peek into her upcoming seventh studio album, "Renaissance." The Queen Bey surprise-dropped the project's first single, "Break My Soul," back on June 20, and fans have had that song on repeat in anticipation of any more album news. So far, the track has promised the Bey-hive a glimpse into what to expect from "Renaissance." The song has been dubbed an "anti-capitalist anthem," supposedly inspiring people to quit their jobs, according to The Wall Street Journal.
While the album may not be entirely about encouraging you to turn in your two-week notice, "Break My Soul's" club-ready beat and callbacks to house music suggest that "Renaissance" will be full of enough dance anthems for the rest of 2022. That said, we know Beyoncé, and she is bound to also surprise us with plenty of genre-bending hits. So, what will this project be the "Renaissance," a.k.a "rebirth," of? Disco? Beyoncé herself?!
We're still going to have to wait for some of these answers, but Beyoncé's latest post has certainly revealed new information for fans to foam at the mouth over until "Renaissance" is officially released.
Renaissance's cover features regal-looking Beyonce atop her steed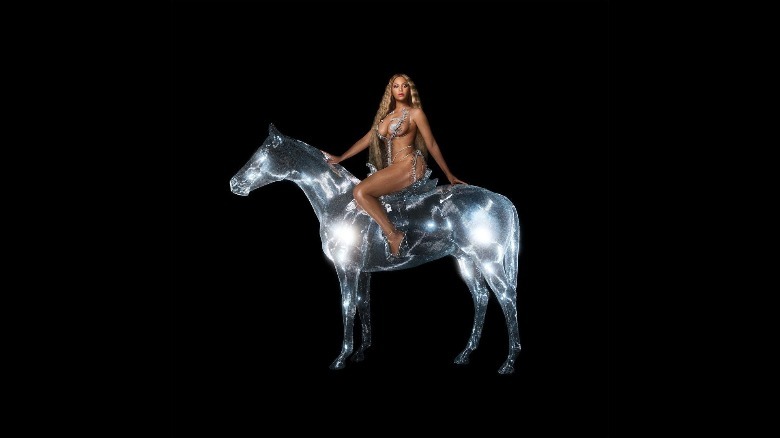 Columbia Records/Instagram
Sitting atop a diamond-chainmail-looking chrome horse, Beyoncé dons a sheer ensemble with strategically-placed silver body chains. "Creating this album allowed me a place to dream and to find escape during a scary time for the world," Beyoncé captioned her Instagram post. "It allowed me to feel free and adventurous in a time when little else was moving. My intention was to create a safe place, a place without judgment... I hope you find joy in this music." She closed out the caption with a slight reference to "Break My Soul," writing, "I hope it inspires you to release the wiggle. Ha! And to feel as unique, strong, and sexy as you are."
And it looks like fans are obsessing over this cover art. "OKAY QUEEN OF THE WORLD," one Bey-hive member commented. "Bb we needed a warning!!!" another added. "it's the way you just made me damn near faint in this nail salon," said another fan. And if you scroll through, the rest of the comment section is riddled with fire and bee emojis.
Many are also comparing the imagery on the "Renaissance" album cover to the iconic photo of Bianca Jagger riding a white horse in Studio 54. Since Beyoncé also said in her post that "Renaissance Act 1" will be released on July 29, it's possible that Act 1 will be disco-inspired, and other acts could be released later on. We are definitely grateful for Beyoncé gracing us with this album art — even if it sparks more questions than answers!