Alexandra Daddario Has Happy Relationship News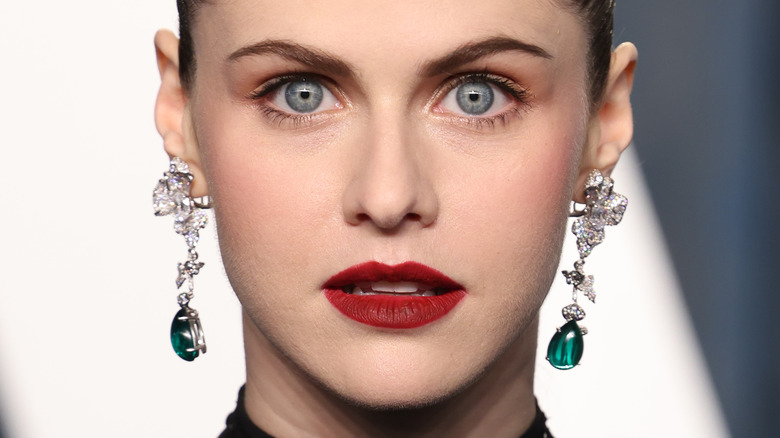 John Shearer/Getty Images
For every breakup in Hollywood, another one gets a happy ending. The latter was the case for "Baywatch" star Alexandra Daddario, who announced her engagement to producer Andrew Form in December 2021, six months after making the relationship public on Instagram. The two cuddled up at the premiere of "The White Lotus" in July of that year, where Daddario joked, "The only things I want touching my body are @dolcegabbana and Andrew Form."
By December, she was flaunting a diamond ring on that finger, and gushing over Form on Instagram. "The absolutely most wonderful man, you handle nonsense, loss, life, difficulty, people, with grace and compassion," she wrote. Following the engagement, Daddario told People that she felt "at peace" with her fiance. "It feels so exciting," she added. "But mostly it just feels very peaceful. I feel very at peace with him and very happy, and I just feel very lucky."
Though the public has known of the engagement since December, the pair has actually been engaged since August — and they agreed to marry in April, which Daddario explained in a Vogue exclusive. "We had both agreed to marry each other one night in April 2021 after too much wine," she revealed. "I was visiting Andrew while he was working on 'Jack Ryan' ... He went outside ... and he turned around and proposed, and then we walked and had a piña colada." The good news keeps on coming for the happy couple, who shared another milestone in June 2022.
Alexandra Daddario and Andrew Form are married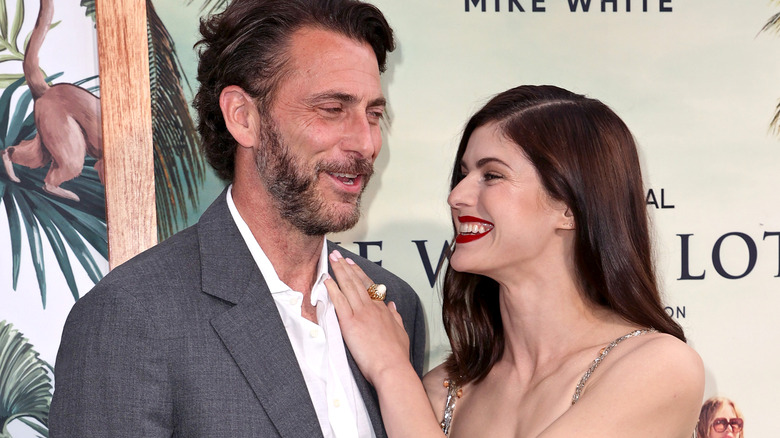 Kevin Winter/Getty Images
Per Page Six, Alexandra Daddario and Andrew Form tied the knot in New Orleans ahead of July 4. According to Vogue, the ceremony took place at the iconic Preservation Hall, with Form's two children — whom he shares with "Fast and Furious" actor Jordana Brewster — serving as groomsmen and ring bearers. For Daddario, the choice to get married in the Big Easy almost didn't happen. "My friends Allie and Jake had the most amazing wedding in New Orleans," she told Vogue. "We were originally going to get married in Italy because I wanted to drink Italian wine for three days straight, but when I got a job in New Orleans I thought of Allie and Jake and we switched it to New Orleans. It's a city full of music and life."
Per Vogue, the bride wore a gown designed by Danielle Frankel, while the groom donned a Brunello Cuccinelli pinstripe suit. Daddario also opted for light hair and makeup to complement the "laid-back" vibe of the ceremony. "I wanted it to feel like it all worked in the heat too," she said, via Vogue. "Nothing too heavy or serious." In keeping with this aesthetic, the reception included cheeseburgers, tarot card readings, and a dance party.
The pair's big day was captured by photographer Storm Santos, who shared pictures to Instagram. Daddario is seen posing with her husband against a wallpapered background, wearing her hair in an elaborate updo and rocking a red lip. Congrats to the newlyweds!