The Real Meaning Behind All Of Khloe Kardashian's Tattoos
Kevin Mazur/mg22/Getty Images
With 258 million Instagram followers and counting, Khloé Kardashian has one of the most famous bodies in Hollywood. She and her sisters are known for their larger-than-life looks and influence in the beauty world. It's reasonable to be curious about where the trend-setting family stands on tattoos, and what ink they choose for themselves.
Kim Kardashian is famously anti-tattoo, having asked Wendy Williams in 2009, "Honey, would you put a bumper sticker on a Bentley?" However, the SKIMS founder seems to take no issue with tattoos on her loved ones. After all, Pete Davidson branded Kim's name on himself, which "The Kardashians" star absolutely gushed about on "The Ellen DeGeneres Show." Apparently, she doesn't mind bumper stickers on her boys. 
Khloé seems to disagree with Kim's personal stance, choosing to get several pieces of body art. In the same interview with Williams, Khloé explained that "all [her] tattoos are meaningful." But what exactly do they mean? And how has her ink collection grown — or diminished — since 2009?
Khloe Kardashian's first tattoos honored her father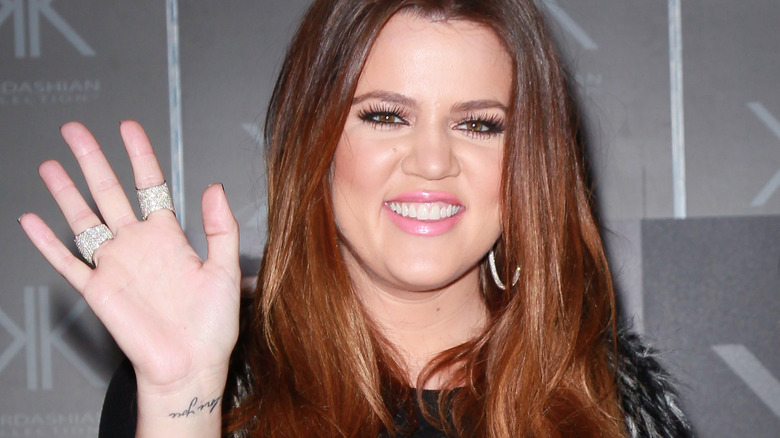 David Livingston/Getty Images
Khloé Kardashian's journey with tattooing began when she was just 16 years old, according to People. That places her tattoo appointment in the early 2000s, and the ink she chose was reflective of that era's trends. The piece she chose was a gothic cross and angel wings, with the word "Daddy" written in a cursive script. For a long time, fans thought this tattoo was unique to Kardashian. However, in a 2021 interview with Ellen DeGeneres, Kris Jenner revealed that her daughter's first tattoo was actually matching ink with her. 
Although the Kardashian-Jenner mom-ager still has her tattoo, Kardashian documented the removal process of her "tramp stampt" in 2015. "The end of an era..." she captioned a video on Instagram. "Got this bad boy when I was 16.... Not so cute anymore. I should've listened to Kim...Bye-bye bumper sticker!" 
Fortunately, she had already found a new way to honor her father. In 2009, she showed off a tattoo on "The Wendy Williams Show." Placed on her wrist, the tattoo reads, "I love you" in her father's handwriting, which she pulled from a birthday card. She also noted that she had the initials "KK" tatted in white ink beneath it, in a seeming tribute to herself.
Khloe Kardashian got ink for Lamar Odom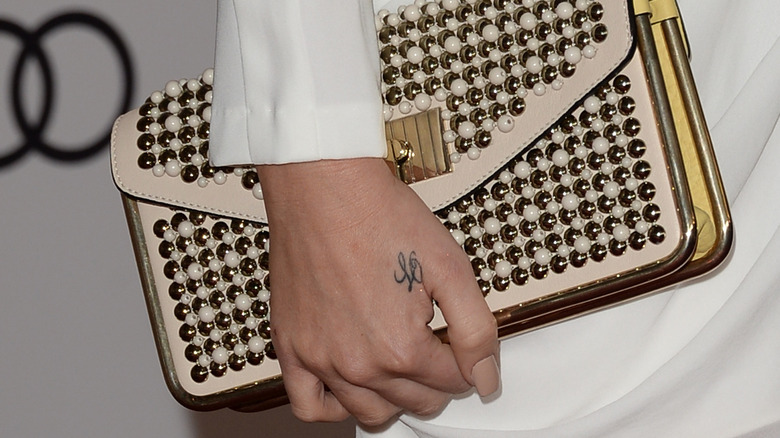 Jason Merritt/term/Getty Images
Kim Kardashian isn't the only one whose man got relationship-honoring tattoos. Khloé Kardashian and ex-husband Lamar Odom used to have matching ink, with the former Dallas Maverick getting a "KK" tattoo on his hand, and Kardashian getting a cursive "LO" tattoo on hers. Following their divorce, Khloé debated on whether or not to keep it. On "Keeping Up with the Kardashians," the Good American mogul said (via ABC News), "What am I supposed to do with it? I don't want to remove it. I like tattoos on my hands, but I could change the words." 
However, the tattoo is noticeably absent from Kardashian's Instagram feed, demonstrating what seems like a change of heart. Odom was also spotted by InTouch Weekly with apparent scars on his hand from his own removal. 
While Kardashian's tattoo collection has dwindled to just her wrist, it seems as though she still appreciates tattoos as an aesthetic and an art form. For example, she posted on Instagram on June 30 in support of Kim's SKKN line. In the pics, the outfit she chose was a skin-toned bodysuit, which gave the illusion that the star was covered in tattoos. We have to say, Khloé pulls off being tatted!