Kate Hudson Revealed This Actor Was Her Best On-Screen Kiss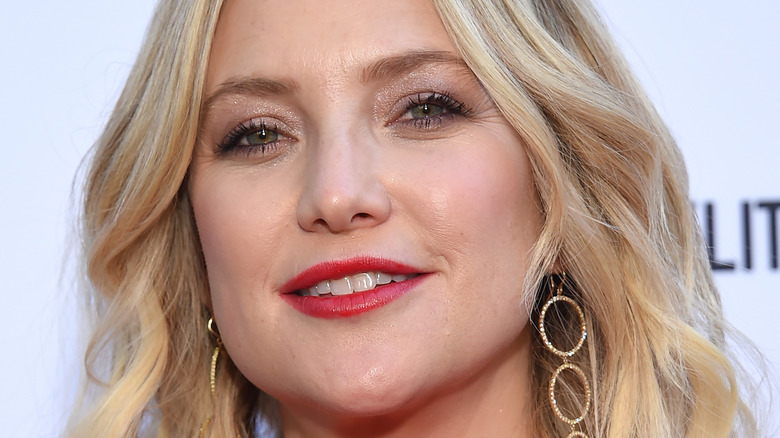 DFree/Shutterstock
Kate Hudson has played a romantic lead of numerous successful Hollywood projects over the years. Rom-coms like "Fool's Gold," "Dr. T & The Women," and "How to Lose A Guy in 10 Days" remain fan-favorites that showcase memorable fictional love stories between Hudson and her co-stars. These roles have sometimes required Hudson and her fellow actors to kiss on screen, which Hudson spoke about during a 2020 interview on the "Goop" podcast with Gwyneth Paltrow. When Paltrow asked Hudson who her best on-screen kiss was shared with, Hudson said certain circumstances have resulted in some awkward on-set kissing experiences.
"The thing is, every time I kiss McConaughey ... there's just something happening and there's, like, snot or wind," Hudson said with a laugh. "Like when we were kissing in the end of 'Fool's Gold,' we're like in the ocean, we like had the plane crash. He just had snot all over his face." The performer then said a scripted kiss with an "Almost Famous" co-star, which didn't make the final cut of the film, was one of the best she can remember. "You know who was a good kisser, but you didn't see it 'cause they cut it out? Was Billy [Crudup]," Hudson said. "Billy was good. That was good."
Hudson has also revealed a different co-star provided another one of her all-time favorite performance smooches.
Kate Hudson named Heath Ledger as her best scripted smooch
In 2002, Kate Hudson took on the role of Ethne Eustace in the drama film, "The Four Feathers." A co-star of hers in the film was the late Heath Ledger, who sadly died in 2008, per History. The part played by Ledger, Harry Faversham, was a soldier who was engaged to Hudson's character, per Roger Ebert. This romantic element of the story resulted in a scripted kiss being shared on set between Hudson and Ledger, which she now looks back on fondly. 
When Hudson was a guest on "Watch What Happens Live" in 2014, host Andy Cohen accepted questions from viewers. One caller asked Hudson which of her movie smooches was the best, and the actor named the kiss with Ledger as her most-loved. "I would say my favorite one was Heath ... that was pretty excellent," Hudson said, before adding, "[Ledger] was just so beautiful and sweet and gentle ... He was lovely." She further called the kiss an "amazing" memory. Audiences may soon get a chance to watch more films in which Hudson is involved in telling romantic stories to viewers.
Kate Hudson has plans to make a new romance movie soon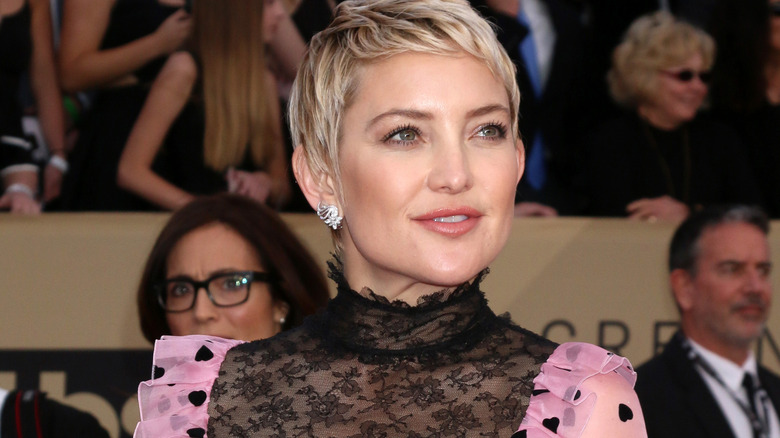 Kathy Hutchins/Shutterstock
Luckily for all of the moviegoers who enjoy watching love stories unfold on screen, Kate Hudson will continue to create rom-com films in the near future. During a 2021 Women's Health interview, Hudson explained her desire to make romantic movies while also being the one to call the shots on how these stories are told. "I will definitely do rom-coms again," Hudson said. "But I haven't been happy with the way people try to convince me a rom-com should be."
Hudson went on to state that she is producing a rom-com for Netflix which, at the time, was possibly going to be shooting in 2022. The "Bride Wars" star will not only keep acting in the future, but she has plans to serve as a director as well. "I'll be the woman with all those crazy, big bracelets, jewelry, and caftans, directing," Hudson added.
One of the last rom-coms Hudson appeared in was "Mother's Day," which was released in 2016, so she is due to appear in a movie about love again soon. Time will tell if Hudson may again share a kiss with a co-star in her next romance film, but it certainly sounds like she'll make sure the love story will be told right!