The Truth About Bella Hadid's Boyfriend Marc Kalman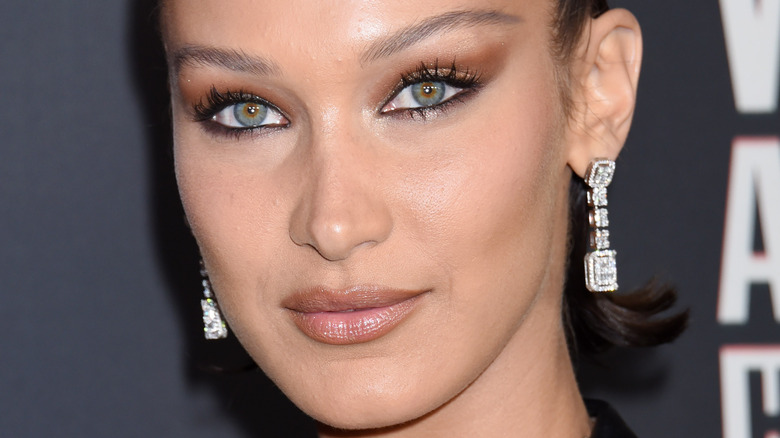 Ga Fullner/Shutterstock
Bella Hadid is the ultimate Hollywood it girl. The supermodel has lured in fans with her fierce runway walk and smoldering print campaigns for major brands like Balenciaga and Calvin Klein. Hadid is also known for her whirlwind romance with ex-boyfriend The Weeknd, which lasted from 2015 to 2019, per Elle. It was indeed a whirlwind, as the couple broke up and got back together multiple times.
Since their split, Hadid has been busy walking the runway, modeling in ads, and getting close to a new beau. That's right. Though Hadid is relatively private about her personal life, she hasn't kept her lover completely hidden. And although some casual photos of the two have surfaced, fans are eager to know more about this duo. Who is Bella Hadid's boyfriend Marc Kalman? What does he do for a living? And how exactly does Hadid feel about him? Keep reading as we spill the tea on this mysterious couple.
Marc Kalman works in the fashion industry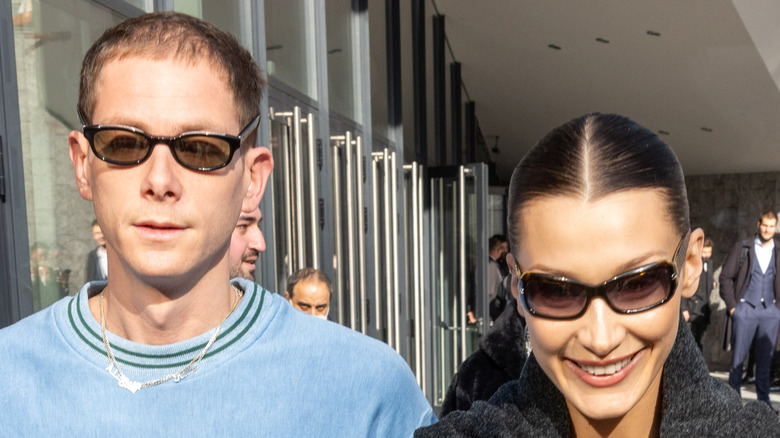 Arnold Jerocki/Getty Images
Bella Hadid's boyfriend Marc Kalman is an art director working in the fashion industry. Kalman has taken on high-profile projects, including designing album art for Travis Scott. Other big clients include Milk Studios MADE Fashion Week and the eyewear brand Smoke x Mirrors. Kalman has also designed clothing for Japanese fashion brand A Bathing Ape per E! News. A profile by 1985 detailed Kalman's work with artistic partner Corey Damon Black. Black said, "Marc manages my impulses. When I'm working on something, Marc is, like, the only person I will talk to. I go into a cave. I don't want to hear what anyone else thinks."
Although Kalman isn't a supermodel like Hadid, the couple has garnered attention for their fashionable vintage ensembles, per W Magazine. And the duo definitely doesn't skimp on style. In June 2022, Hadid and Kalman were spotted out and about in Manhattan with coordinated white outfits. Hadid flaunted a white skirt and matching button-up blouse, Kalman looked classy in a white Ralph Lauren Polo collared shirt and pair of beige cargo pants.
Bella Hadid appeared as happy as ever with Marc Kalman
How long have Marc Kalman and Bella Hadid been dating? In July 2021, Hadid hinted at a new relationship in a now-deleted Instagram photo. The snapshot depicted the two lovebirds embracing one another. According to Elle, Hadid captioned the photo, "Time of my life, Healthy, Working and Loved" with emojis like a heart and rose. But rumor has it that Hadid and Kalman have been dating since July 2020, per Page Six.
Hadid has kept a low profile with this relationship. For the most part, her Instagram consists of glamorous modeling and event photos. In addition, Kalman's Instagram profile is private. But that isn't to say Kalman is entirely out of sight. On Valentine's Day of 2022, Hadid celebrated her romance by sharing photos of her and Kalman on her Instagram story. Holding hands with big smiles, Hadid appeared as joyous as ever with Kalman. She added words to the photos like "To my bestie in a Tessie" and "Fav dinner date."
Even though Hadid seems to be head-over-heels for Kalman, she hasn't neglected one significant relationship. In addition to her photos with Kalman, Hadid also posted a note about self-love on her Instagram story. In an ode to Valentine's day, she wrote, "The most important relationship is with yourself. And then other people and pets. Love shows up in so many forms."
Whether she's admiring Kalman or herself, Hadid seems happy to spread the love.