Relationship Expert Reveals Why Kylie Jenner And Travis Scott Aren't Married Yet - Exclusive
Kathy Hutchins/Shutterstock
Kylie Jenner tends to keep her relationship with Travis Scott, the father of her two children, relatively private — for a member of the omnipresent Kardashian-Jenner clan, that is. This has led fans to wonder why they haven't officially tied the knot yet. Marriage isn't for everyone; Jenner's sister Kourtney Kardashian never married the father of her three children, Scott Disick, after all. 
Jenner and Scott's on-and-off again relationship first began in 2017, according to Us Weekly. The couple then welcomed their first child, daughter Stormi, in 2018, before taking some time apart starting in 2019. Rumors swirled about their relationship status amid conflicting reports that they'd gotten back together or that they were still just friends until they announced that they were expecting a second child in 2021. 
Over all this time, Jenner fans have been on more or less constant engagement-ring-watch, scouring her social media for any signs of Scott having popped the question. Meanwhile, Scott's own recent social media activity — like posting and deleting then reposting a personal snapshot of Jenner — has fans even more confused. 
So, we decided to take the question to an expert.
Jenner and Scott may be stalled because of trust issues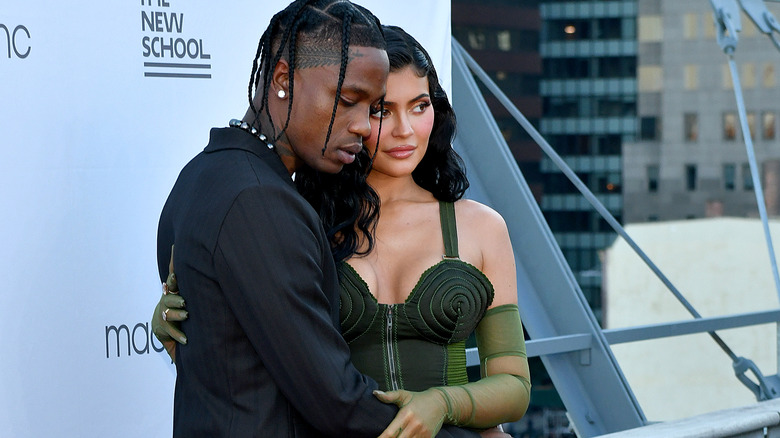 Craig Barritt/Getty Images
Life coach and relationship expert Nicole Moore exclusively tells Nicki Swift that with most couples, it all comes down to trust. "The thing about the Kardashian family is that they have a super strong mentality that once kids are involved, you do everything you can to stick together and make it work," Moore says. Khloe Kardashian tried to make it work with Tristan Thompson for her daughter True, Kourtney Kardashian tried to make it work with Scott Disick, and Kim Kardashian did everything she could to keep things together with Kanye "Ye" West for the sake of their kids. "Kylie likely has the same mentality as her family so one would assume that she did, at some point want to be married to Travis. Why call each other hubby and wifey if there is no intention to be that one day?"
Moore asks, "Does Kylie not trust Travis because of the cheating rumors? Does Travis not trust that he can fully be safe in the partnership or that he can commit to one person for life?" If marriage really is something that one or both halves of this relationship wants, Moore says we can deduce that there may be some trust issues in the mix. 
Does Kylie Jenner want to be married?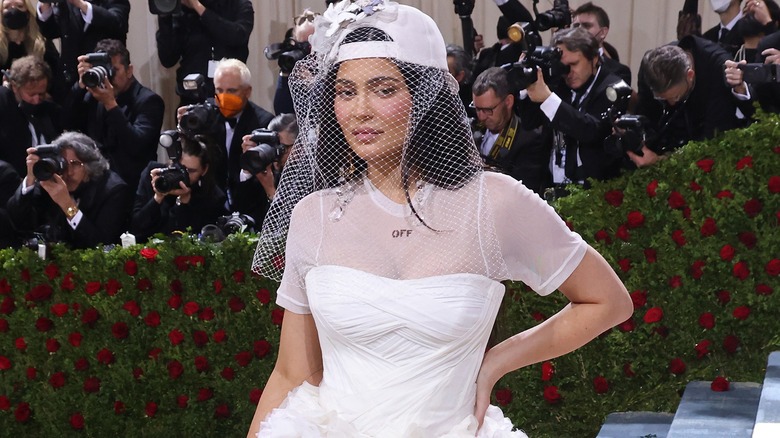 Taylor Hill/Getty Images
If you ask her, Nicole Moore says it looks like the ball is in Travis Scott's court when it comes to the marriage question with Kylie Jenner. 
"Kylie has laid it all on the table and given him unconditional support, shown that she'll get back with him over and over again and given him all of the wifey benefits without him actually having to wife her up," Moore says. "Travis, for his part, has shown that he does want Kylie in a way, he keeps coming back to her too, and he may even feel like she's the one person on earth who knows him best but, is that enough for him to commit?" Moore notes, "They clearly have a special and unique connection. He has to decide if he wants to commit fully to marriage."
Of course, all of this depends on whether or not Jenner actually does want to get married to Scott. While the father of her two kids has referred to Jenner as "wifey," she said on the "Keeping Up With the Kardashians" reunion show (via Cosmopolitan) in 2021, "I'm not thinking about marriage right now, but I would hope to get married one day."
Maybe Jenner really is just waiting on Scott to man up and pop the question, or maybe it's just not the right time.