Relationship Expert Says Travis Scott's Instagram Posts About Kylie Jenner Reveal His True Priorities - Exclusive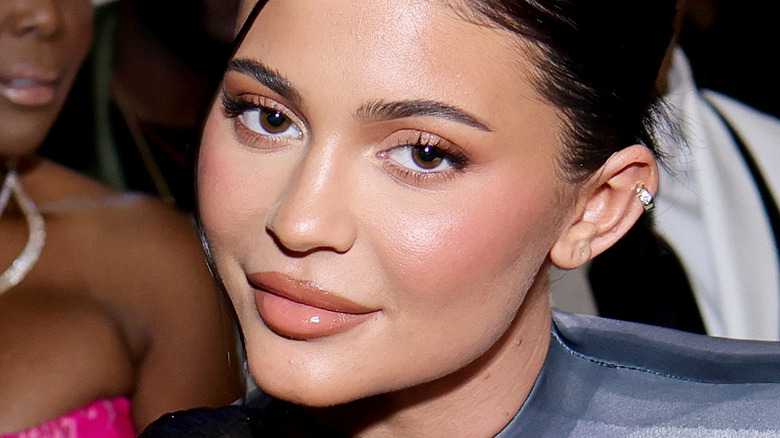 Matt Winkelmeyer/Getty Images
Mogul Kyle Jenner shares two kids with rapper Travis Scott, with whom she has been linked to since 2017. While fans are familiar with Jenner and Scott's daughter, Stormi, Jenner still doesn't have a name for her baby son, but he was previously known as Wolf. Jenner posted a sweet tribute to Scott via Instagram on Father's Day, sharing a photo of him snuggling with their two kids in bed. "happy father's day daddyyyyy we love you," she captioned the cozy shot.
On Father's Day, Scott also posted an Instagram Story of Jenner in the kitchen. The Kylie Cosmetics founder could be seen cooking with her back to the camera, wearing a tank top and tie-dye sweatpants, on which Scott wrote (via Page Six), "Shawty in here throwing that a** down !!!!" Less than a week later, Scott shared a throwback photo of his Playboy shoot with Jenner, showcasing her bare butt. The rapper deleted both Instagram Stories soon after posting, sparking speculation from fans about what is really going on about his relationship with Jenner.
So what does Scott's confusing social media activity really mean? We talked to a relationship expert to uncover the artist's true priorities.
Jenner and Scott's social media posts couldn't be more different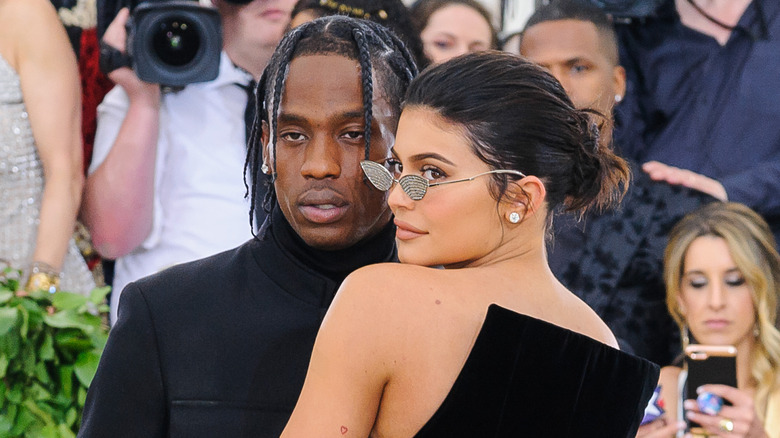 Sky Cinema/Shutterstock
Relationship expert and life coach Nicole Moore talked to Nicki Swift exclusively on the importance of Travis Scott and Kylie Jenner's social media posts, explaining, "Kylie and Travis post so infrequently about each other on social media that we have to assume that when they do choose to post about the other person, it matters in some way."
Moore spelled out more about Jenner's Instagram post to Scott on Father's Day, with the relationship expert revealing, "Kylie sees Travis as a great father. She sees him with 'heart eyes' and wants the world to see him. Kylie shared a photo of Travis lying in bed with their two kids cuddling on him." Moore added, "This picture was 100% meant to induce an 'awww, Travis is a great Dad' feeling out of the viewers. It's highlighting him in the best possible light as there's nothing that will make a man seem more good on social media than portraying him as a good father." But the founder of Love Works Method noted Scott's Instagram post about Jenner couldn't be more different.
Moore said, "Let's contrast that with the picture Travis chose to share ... and that's a picture of Kylie cooking, showing her from behind and highlighting her prominent backside. His post was clearly about Kylie's body and bragging about it." But the relationship expert goes into deeper detail about what the social media posts say about Jenner and Scott's priorities.
Jenner and Scott's priorities are at odds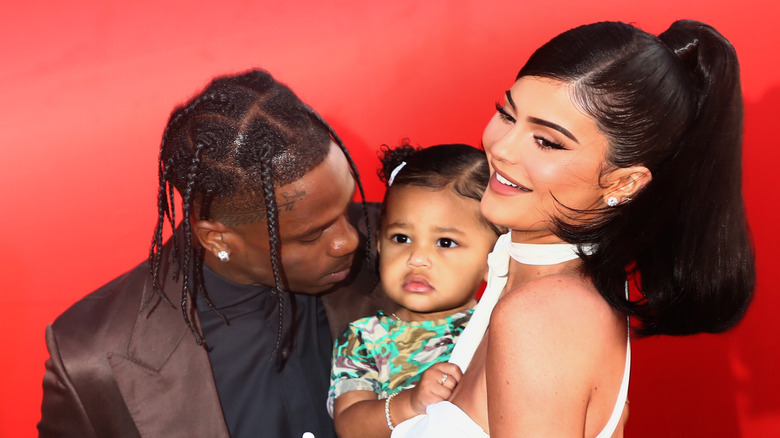 Tommaso Boddi/Getty Images
Nicole Moore of Love Works Method told Nicki Swift that what Kylie Jenner and Travis Scott's social media posts "chose to highlight about the other person" makes their differing perspectives "very clear." The relationship expert explained that Jenner's social media post about Scott "demonstrates ... that she sees the best in him, she might even feel like she sees the 'real' Travis." Moore added that Jenner's post "showed that she values Travis for who he is as a person" and "sees him as someone that contributes to the family." Moore continued, "Kylie is choosing to highlight Travis as a person, share his character and highlight the very best aspects of him." But Scott's social posts are a significant contrast.
Moore pointed out that, in Scott's Instagram post (and other social posts), the rapper highlights Jenner's body and "didn't share anything about her personality, her mothering skills or any other good qualities." The relationship expert added, "He chose to highlight her sexual appeal, indicating that perhaps he sees her as a point of sexual gratification first above all of her other qualities." Moore explained that Scott posting about Jenner's body "says something about where his priorities lie or at the very least, that he isn't consciously thinking about how to spotlight Kylie in the best possible light."
Moore added, "Travis is consciously choosing to share about Kylie's looks and what she does for him, not about her character or other positive characteristics."