What's The Real Meaning Behind J-Hope's More? Here's What We Think
Kevin Mazur/Getty Images
When it comes to K-pop, you don't get bigger than BTS. The boy band, also known as Bangtan Sonyeondan (the Bangtan Boys), has been smashing charts in South Korea since their 2013 debut album. Posters of Jungkook, Jin, RM, Jimin, V, Suga, and j-hope have adorned teens' bedroom walls for nearly a decade. So, it's no surprise that when K-pop blew up in the U.S., BTS led the charge.
Their record-breaking stateside run really ramped up in 2018 after BTS became the first Korean musicians to score the top spot on the Billboard 100 chart. Their album "Love Yourself: Tear" debuted straight to No. 1. The seven haven't looked back since, growing ever bigger as their popularity increases globally. According to Celebrity Net Worth, BTS raked in $170 million in 2019 alone, making them the richest K-Pop stars.
On top of international success, the band has been compared to a modern-day Beatles, with hoards of teen fans screaming and fainting at the sight of them. And, just like the iconic British band, everybody has their favorite. Jungkook and Jimin are the most popular, by far — they're the Paul McCartney and John Lennon to j-hope's Ringo Star. However, despite being the least popular BTS member, j-hope's still worth a cool $20 million, per Celebrity Net Worth, and the rapper isn't afraid to strike out on his own. His debut solo album "Jack In The Box" drops on July 15, and he teased fans with a sample track. So, what's the real meaning behind j-hope's "More" track? Here's what we think. 
j-hope's More reveals a dark side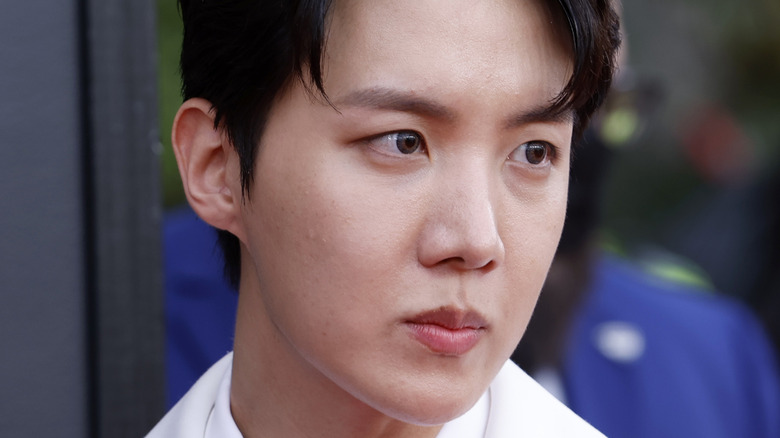 Frazer Harrison/Getty Images
BTS isn't your regular, run-of-the-mill boy band; they're no Backstreet Boys or New Kids on the Block. BTS is deep. Real deep. The group's song lyrics are renowned for including powerful cultural messages and sparking debate. They tackle mental illness, inequality, individualism, alternative lifestyles, and the challenging of cultural norms.  J-hope is the lighter, sunnier member and has sometimes appeared out of sync with his bandmates – in fact j-hope almost left BTS once. However, he did a 180 with "More." 
The track unleashes j-hope's dark and twisted inner emo with its drum-heavy, rock guitar, refreshing and challenging combo of grunge and old-school hip-hop. It's about as far from his past poppy, fluffy, and upbeat commercial tracks as you can get, equally matching BTS' levels of meaning and gravitas. "More" is about how far j-hope's come, as well as how far he still has to go in order to develop further. "I'm still (not enough). Self-learning for 11 years. My highlighting's my art of learning. Endless studying," he sings. J-hope admits to loving his celebrity currency but also wanting more, as life isn't all just money and fame. 
"More" is about his drive to keep creating music and reaching greater depths. It's about his desire to push boundaries further and explore his darker side. "Watch out, everyone, I'm reckless.  Drunk in the artistic painting, keep hyping up Dali," j-hope raps. "Keep my passion; I gotta go. I'm still (not enough)," he sings in the outro.
The BTS ARMY is here for j-hope's More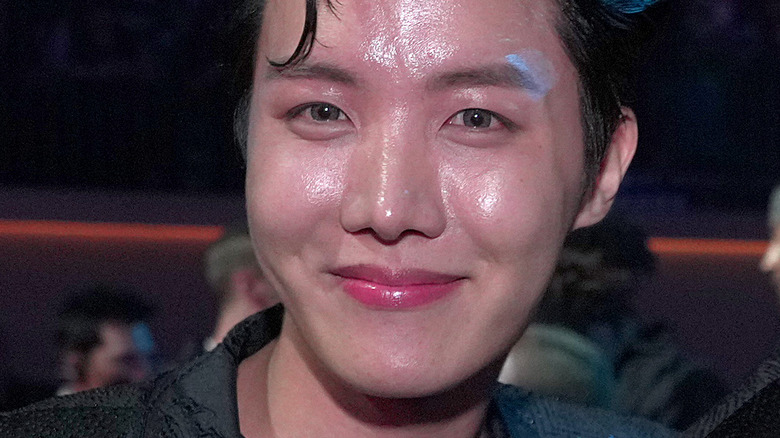 Kevin Mazur/Getty Images
J-hope's new track "More" immediately set social media ablaze — and sparked a YouTube frenzy. "j-hope 'MORE' MV has surpassed 10 million views on YouTube!" BTS Charts & Translations tweeted. The musician's fans were eager to push his debut solo album and its first track to record-breaking heights. "This is hobi's first solo debut and let's give him the best! keep streaming guys!" a commenter urged. The video had passed 20 million views and racked up 4.4 million likes at time of posting.
The YouTube comments section also burned bright. "The world can't even imagine the size of the love, pride and affection that I have of the hoseok guy. J-HOPE, you're an amazing guy bro!" one fan wrote. Others hailed the track as a "masterpiece" and admitted to being "addicted." J-hope's walk on the dark side also drew plenty of comments. "This is a whole different side of Hobi we're seeing here, and we're so ready for it," a fan commented.
Meanwhile, corporations were quick to capitalize on the K-pop star's success. Jack in The Box promised all fans a free drink — although, in their defense, j-hope's album is titled "Jack In The Box," so they kinda get a free pass. "I love anything named after me annnddd Sprite. This Friday use the code ANDSPRITE in the Jack in the Box app to redeem a FREE Medium Sprite with any purchase. #IYKYK #JackInTheBox," they tweeted.