The Sad Way Madelyn Cline Struggles With Social Media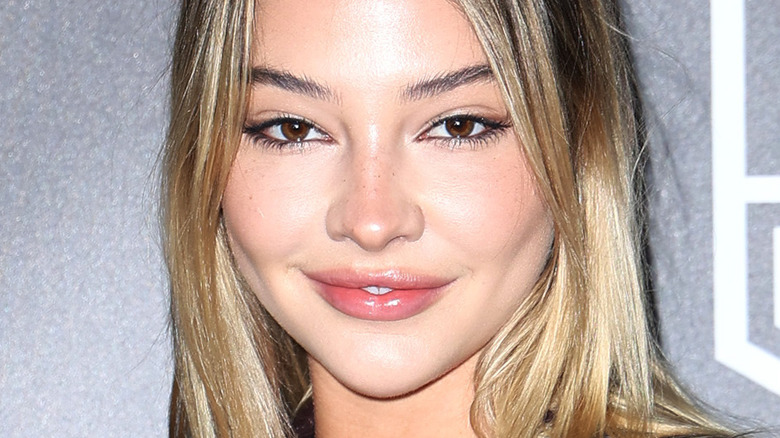 John Parra/Getty Images
Madelyn Cline shot to fame in Netflix's "Outer Banks," which follows a group of best friends hunting down a legendary treasure with mysterious ties to their hometown. But prior to finding international success thanks to "OBX," Cline was just your average college kid ... sort of. At the time, she was auditioning for small roles in prominent shows when she decided to give acting her all, per Schön! Magazine. "I was in college, driving back and forth from Myrtle Beach to Atlanta to work on 'The Originals' and 'Stranger Things,' and I realized that something had to give," Cline told the outlet. "I had run out of excused absences at school, and I wanted to carry through my studies, but in my heart, I knew I didn't want to continue splitting my time."
Dropping out of school paid off, as Cline is practically a Gen Z icon now. Still, achieving overnight fame comes with its own set of challenges. "Some days I have bad days, and some days I need to tell myself to go touch grass, because I'm incredibly lucky to be where I am," the actor told Elle. "Some days you do have to have a conversation with yourself and go take a walk and be like, 'Hey you need to get yourself in check.'" Cline's struggle with fame has come via social media, and through the pressures of suddenly gaining a massive platform of fans — all of whom look to her and catalogue her every move.
Madelyn Cline grapples with her lack of anonymity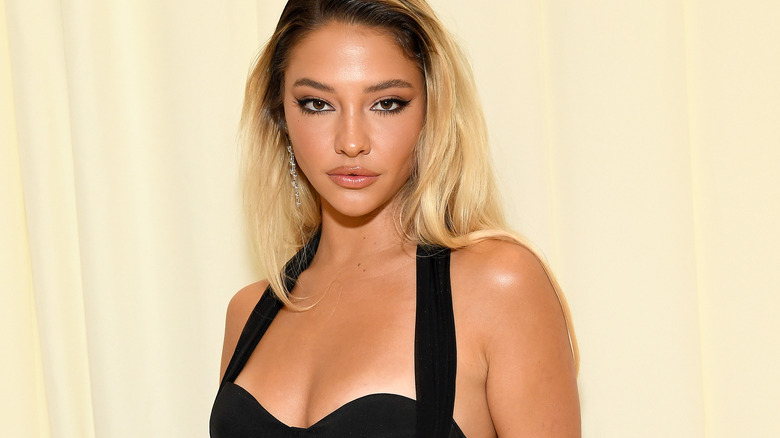 Jon Kopaloff/Getty Images
Since "Outer Banks" has been renewed for a third season, Cline's star has only continued to climb. She was cast in the Rian Johnson thriller "Knives Out 2," per Collider, which features heavy-hitters like Ethan Hawke, Daniel Craig, and Kate Hudson. Cline described having a "miniature existential crisis" walking onto set with everyday "people I've looked up to for my entire life." She added, "They're phenomenal people, but ... It's terrifying." Her fame has been reflected on her Instagram as well, which currently boasts 12.5 million followers.
In April 2022, the movie star opened up about the pitfalls of social media on the "Ready Set Spill" podcast. "Everybody has an opinion about everything ... and that's totally fine," Cline explained (via Yahoo!). "Everybody is totally entitled to their opinions, but sometimes it is hard because it feels like ... you can't [hear your own thoughts]." She added that "sometimes I have to take a step back and remove myself. It's been an ongoing struggle for me, juggling social media." Calling Instagram "filtered reality," Cline added that her current celebrity status has made it hard to cope.
Cline's co-star and ex-boyfriend Chase Stokes has also struggled with the focus on his social accounts. When he split from Cline and posted pictures with his sister Rylie, fans assumed it was a new love interest, and flooded his DMs with hateful messages, per Seventeen. "I'm out. See you when I see you," Stokes told followers.
Madelyn Cline finds the bright side of social media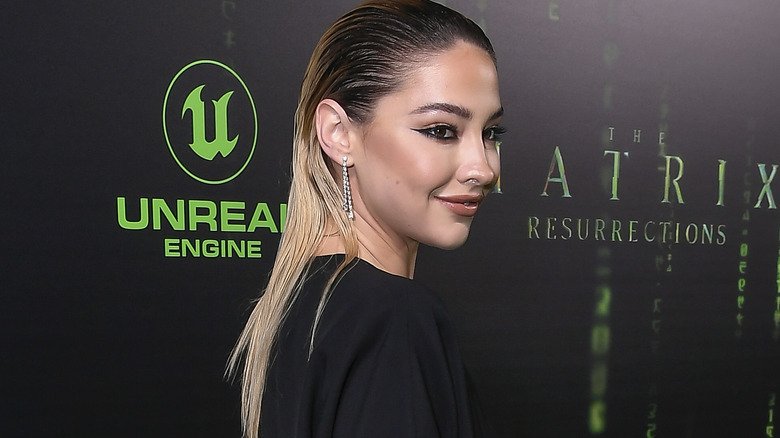 Steve Jennings/Getty Images
Despite all the negativity, Madelyn Cline has still found a silver lining to the tabloid and social media attention. As Uncle Ben once told us, "With great power comes great responsibility," and Cline is determined to use her platform for good. "Whether it be to five people or five thousand people, I want to try and make a difference," she told V Magazine in 2020. 
For the "Knives Out 2" star, making a difference starts with her Instagram presence, where she encourages others to find their voice. Speaking to Glamour U.K. in 2021 about how the Instagram narrative has shifted — from the rise of the influencer to becoming a space for activism work — Cline said, "I want to help educate, basically. I want to help these girls see what is going on in the world ... You have a voice, you can vote. You have the ability to say whatever you want." Cline ultimately "[sees] the platform and the responsibility I have to these girls, and the ways that I wanted for myself ... to be someone to look up to."
Cline echoed this sentiment during her "Ready Set Spill" podcast, too. Negativity aside, she was clear about how social media has allowed her to connect with fans around the world. "I love to interact with comments and see what everybody's doing," she explained (via Yahoo!). "But it's been hard for me to adjust because the reality is, it's not reality."