Kris Jenner And Corey Gamble Have A Bigger Age Gap Than You Think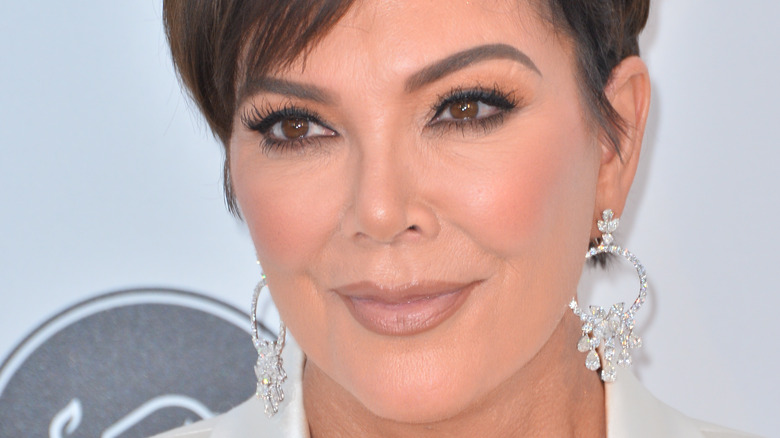 Featureflash Photo Agency/Shutterstock
Out of all the members of the Kardashian family, Kris Jenner perhaps gets the least amount of media attention in the romance department — she's been in a rather stable relationship with her partner Corey Gamble since 2014, per People. They got together shortly after she and Caitlyn Jenner pulled the plug on their marriage, but before she met Gamble, Kris was dealing with some personal struggles, especially after learning about Caitlyn's transition. Calling it a "big shock," she told Robin Roberts during her ABC News' special, "It's a subject that I never thought I would have to directly deal with, confront, be understanding about something that I didn't understand."
Luckily for Kris, she hasn't had to deal with any shocks or surprises with Gamble, except for maybe the complicated relationships he has with her children. Yet there's one fact that a lot of fans and critics seem to overlook when it comes to Kris and Gamble's relationship and that's the huge age gap between them.
Kris Jenner's age gap with Corey Gamble is quite surprising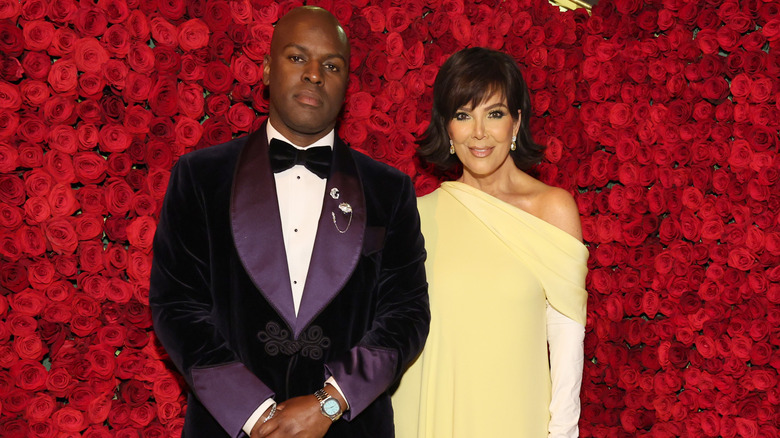 Cindy Ord/mg22/Getty Images
Age doesn't seem to be an issue for Kris Jenner and her partner, Corey Gamble, yet little do some fans know that Jenner is actually 25 years older than Gamble. She was born in 1955, per Biography, while Gamble was born in 1980, as detailed by People. What's more, both Jenner and Gamble aren't the kind of people who feel the need to hide their age gap as they often write gushing tributes to one another on their social media pages, like Jenner did for Gamble's 41st birthday. Plus, Gamble has been Jenner's ride-or-die for the longest time as he's always by her side on the red carpet for such events like the 2022 Met Gala or smaller ones like Jenner's star-studded Galentine's Party for her girlfriends, per E! News. 
Back in 2021, Jenner even told WSJ Magazine that Gamble has certainly been a rock in her life. Calling him "the greatest guy," she explained, "He's just an amazing support system for me. He really gives me a lot of strength and insight. He's a great sounding board. And he loves my kids and my mom, and they love him." That said, it seems like Jenner's relationships — from both the past and present — have also influenced that of her children's and some of the decisions they've made, too. 
Kris Jenner wants everyone in her family to be happy, herself included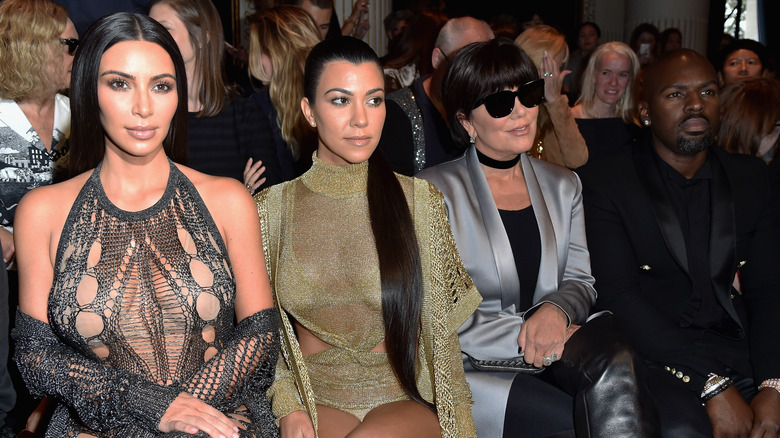 Pascal Le Segretain/Getty Images
While there's no doubt that Kris Jenner has been a huge influence on her fans and followers, her personal decisions have also made an impact on her family, too. Back in April 2022, Kim Kardashian told Hoda Kotb on her "Making Space" podcast that it was her mother's own past and her divorces from Robert Kardashian and Caitlyn Jenner that made her realize that it's okay to prioritize your own happiness before anything else. She said, via NBC's Today, "I saw my mom stay in a relationship too long when she wasn't as happy. ... I realized everyone's going to heal quicker if I just make the move instead of not being my authentic self and not finding my inner peace."
Seeing how Jenner has been with Corey Gamble for many long years, it's safe to say that their age gap doesn't seem to be a concern at all. However, Jenner did shut down marriage rumors back on June 7, telling her daughter Khloé Kardashian during an episode of "The Kardashians" on Hulu, "Stop. You think I'm gonna get married and not have a big-a** party? No Khloé, I'm not secretly married. I swear to God on all my kids and daddy." In other words, it sounds like Jenner is committed to her personal happiness and nothing else, which is not a bad thing at all.