Does Pete Davidson Have Veneers?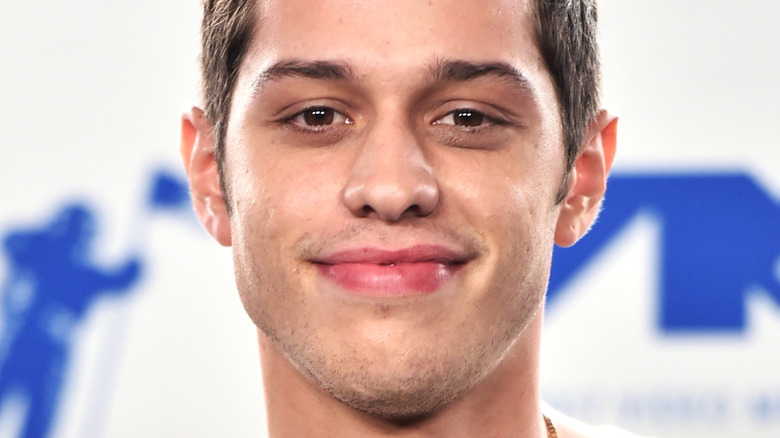 Alberto E. Rodriguez/Getty Images
Pete Davidson is many different things to many different people. Back on April 11, Davidson's girlfriend Kim Kardashian said that he's someone that knows how to put a smile on her face, and backed up her claim to boot. While speaking to Hoda Kotb on her "Making Space" podcast, she said that she's been enjoying some of the more simpler things in life with Davidson by her side. She said (via NBC's Today), "We were driving in the car yesterday and I just, like, looked at him and I was like, 'Thank you.' And he was like, 'What?' And I was like, 'For running errands with me." 
Not only that, but other celebrities have gone on record to explain the "Saturday Night Live" star's unexpected appeal. While on "Late Night With Seth Meyers," Emily Ratajkowski explained, "I mean, he seems super charming. He's vulnerable. He's lovely. His fingernail polish is awesome. He looks good! And he has a good relationship with his mom." Speaking about Davidson, actor Marisa Tomei also told Rolling Stone, "He's just so f****** real, and he's unfiltered, but very sensitive. So he's almost an irresistible combination. And he's good-looking."
Seeing how so many women seem to agree that Davidson is "so good looking," a lot of people also can't help but wonder what exactly is behind his smile. And by that, we mean whether or not he's got veneers.
All about Pete Davidson's picture-perfect smile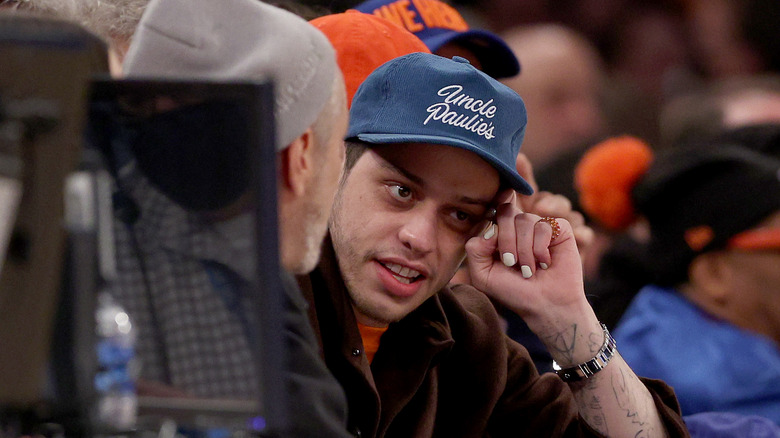 Elsa/Getty Images
Internet star Dr. Sara Hahn, DMD breaks down the truth behind Pete Davidson's irresistible smile in her viral TikTok account Veneer Check. Hahn has investigated the smiles behind some of the most famous faces in the celebrity world including Johnny Depp, Jerry Seinfeld, Lady Gaga, Harry Styles, and so many more. Hahn started off her video by saying that Davidson had a "beautiful smile" as a teen but pointed at the obvious gap he had in between his two front teeth, which is called a diastema. 
Hahn explains, "Using braces or Invisalign you can close this space. Your dentist or orthodontist might also recommend a frenectomy. A frenectomy is a very small surgery where they cut the labial frenulum. The labial frenulum is a piece of tissue that attaches right in there." Hahn went on to say that "mother nature is very stubborn" and that if a person doesn't wear their retainer after surgery, there's a very good chance that their gap will open up again. Hahn then showed a photo of Davidson in 2022 and claimed that Davidson certainly does have veneers, while also pointing out that his gap is completely gone.
And while Hahn finished her clip by saying that Davidson's teeth "look great," his teeth didn't always look this picture perfect.
Pete Davidson had to fix his chipped front tooth
Jim Mcisaac/Getty Images
Back in January, a lot of eagle-eyes fans noticed that Pete Davidson appeared to have had a chipped front tooth in an Instagram Story that John Mulaney posted on his account. In the video footage, Davidson can be seen meeting Mulaney's two-month-old son and while the moment was certainly coo-worthy, a lot of Mulaney's followers couldn't help but comment on what was inside Davidson's mouth, per E! News. Well, one source close to the funnyman suggests that Davidson's chipped tooth was for a project. "It's fake," the tipster said. 
TMZ seemed to second that claim, although at this point it really doesn't matter. Davidson can't seem to hide his smile, as even the Daily Mail pointed out, each and every time he is with Kim Kardashian. Their date nights have even prompted Kardashian to smile and giggle with glee, too, as detailed by Us Weekly. No amount of fake teeth, veneers or professional dental work can hide that, right?