Who Is Austen Kroll's New Girlfriend, Olivia Flowers?
"Southern Charm" star Austen Kroll is ready to put his past relationships behind him and open his arms to a new gal. In May 2022, Kroll confirmed cast member Olivia Flowers as his new girlfriend to Us Weekly. According to Kroll, this Southern Belle is quite the catch. He told the outlet, "She comes from a good place. She's extremely kind, you know, she has [a] backbone." Rumor has it the couple has been dating since fall 2021, per Screen Rant. An Instagram photo, shared by fellow cast member Taylor Ann Green in December 2021, featured Kroll and Flowers together.
However, Kroll did share that the couple stayed platonic at first. He hinted at an on-screen reveal, saying to Us Weekly: "You will certainly see where it begins, then how it ends. And it certainly is some ebb and flows as I'm trying to figure it out." Is the Bravo star keeping some key relationship details a secret?
We'll have to wait for the drama to unfold so we can examine Flowers and Kroll's relationship on "Southern Charm." Meanwhile, let's spill the tea on Austen Kroll's new girlfriend, Olivia Flowers.
Olivia Flowers threw shade at Austen Kroll's ex-girlfriend Madison LeCroy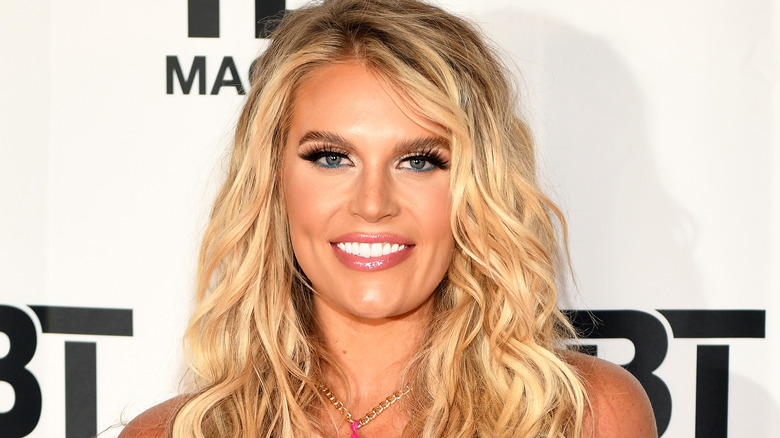 Derek White/Getty Images
While her Instagram is filled with fun photos of friends and travels, Flowers isn't afraid to deal with drama; a must-have quality for any reality star. In June 2022, Kroll's ex-girlfriend Madison LeCroy stirred the pot in an Instagram photo captioned "I'd rather be a homegirl than a homely girl." According to Us, LeCroy was getting back at Flowers for comments about her being a "homegirl." The next day, Flowers posted a photo of herself relaxing and eating Doritos on her Instagram story. She added the words, "Homely? More like homebody."
So, who is this new "Southern Charm" cast member who's coming in hot? Olivia Flowers moved around a bit as a kid, including Charleston and Dallas, per Us Weekly. Before the pandemic hit, she moved from Los Angeles back home to Charleston and found her reality TV show destiny.
As per her Instagram, Flowers graduated from Clemson University, has an affinity for movie quotes, and she's is a major fan of Elvis Presley. In February 2022, she posted a video and photo of Austin Butler in Baz Luhrmann's "Elvis." She poured out her passion for the rock 'n' roll icon, oldies music, and film, writing "Bio-Dramas give every generation a feel for the impact legends like Elvis made in this world, through cinematic time travel."
Olivia Flowers loves being on both sides of the camera
Olivia Flowers is an actor with several short film credits per IMDb. She also has some reality TV experience under her belt. Some fans may remember her in "Teen Cribs" back in 2009, as she shared pictures from that time in an Instagram throwback pic. In the photo, the 17-year-old Flowers stood in front of her Dallas home with her 19-year-old brother Conner.
A reality star and actor, Flowers clearly loves being in front of the camera. But she also enjoys going behind the lens. According to Bravo, Flowers worked as a production assistant in LA. In May 2022, Flowers posted an Instagram photo showing her taking a photo. The caption said, "The preferable side" with a camera emoji. She wrote, "I've always had a passion for the film industry and the creative process. After working in LA, I wanted to bring my love for the industry to Charleston." She then dropped her latest gig in the caption. "So grateful to be brought on by @kozfilms as Director of Content Creation."
Olivia Flowers is clearly having the time of her life, both on-screen and off.