Here's How Much Older Demi Moore Was When She Dated Ashton Kutcher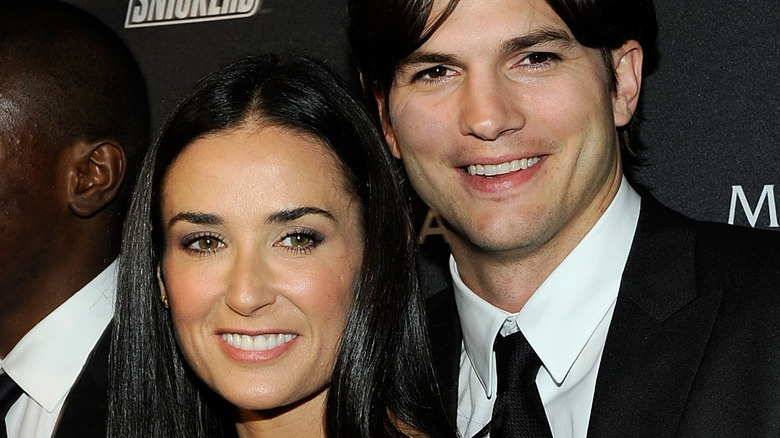 Larry Busacca/Getty Images
There are only a handful of celebrity couples that dominated the early aughts, and one of them happens to be Ashton Kutcher and Demi Moore.
The two A-listers began dating in 2003 and exchanged "I Do's" two years later. Everyone got the shock of their life when they announced that they were calling it quits in 2011 after six years of marriage. "It is with great sadness and a heavy heart that I have decided to end my six-year marriage to Ashton," she said in a statement, per E! News. "As a woman, a mother and a wife there are certain values and vows that I hold sacred, and it is in this spirit that I have chosen to move forward with my life."
In her book, "Inside Out," Moore revealed that bringing third parties into their relationship led to its demise. "I wanted to show him how great and fun I could be," Moore wrote of having threesomes with Kutcher, calling the decision a "mistake" (via Us Weekly). At the time, there were also reports that the "That 70's Show" actor had cheated on her, and Moore divulged that Kutcher tried to "deflect blame" on the threesomes they had. "Because we had brought a third party into our relationship, Ashton said, that blurred the lines and, to some extent, justified what he'd done," she added. Meanwhile, the "Ghost" actor also admitted that their large age gap probably contributed to their split. But, then again, their age difference wasn't as drastic as other Hollywood couples.
Demi Moore and Ashton Kutcher had an age gap of 15 years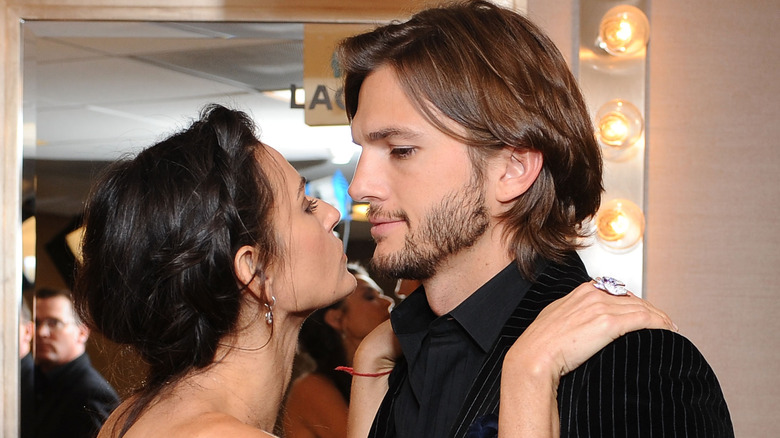 Stefanie Keenan/Getty Images
Demi Moore and Ashton Kutcher had a notable 15-year age difference, and at the time, it was a hot topic in Hollywood. But, according to Moore herself, she doesn't understand what the fuss was about because the significant age gap wasn't a problem to them at all.
"People made such a fuss about my relationship with Ashton. You would have thought they had never seen it before. Age wasn't what I was thinking about, but to the rest of the world it was a very big deal," she said in an interview with Harper's Bazaar in 2008.
In her memoir, she also said that they couldn't even feel that they were generations apart. The age difference simply didn't matter to them as it did for everyone else. "He was 25. I was 40," Moore wrote, via USA Today. "But I'm telling you: we couldn't feel it. We were totally in sync from our very first conversation." She also said that being with him made her feel young. "When I met Ashton, it almost felt like a do-over, like I could just go back in time and experience what it was like to be young with him- much more so than I'd ever been able to experience it when I was actually in my 20s."
Demi Moore and Ashton Kutcher are on good terms now
Jason Merritt/term/Getty Images
After their divorce, Demi Moore confessed that she felt their age difference was a factor in their breakup. "I was a forty-year-old who had had a big life, with a big ex-husband and three children," she wrote in her memoir, via the Los Angeles Times. "Ashton's adult life was just beginning — both his personal life and his career. I didn't see all that because I was inside of it. I just felt like a fifteen-year-old girl hoping somebody liked me."
It's been years since she split with Ashton Kutcher, with the "Two and a Half Men" star now married to his "That's 70s Show" co-star, Mila Kunis, and Moore in a relationship with chef Daniel Humm. And while they ended up on less than ideal terms, the two are in a good place now.
In a guest spot on the "WTF with Marc Maron" podcast, he admitted they don't see each other, but they do talk from time to time. "Ah... We don't hang out. You know. It's all good, we don't hang out," Kutcher dished (via People). "I make a really conscious effort to stay in touch with the girls. It was eight years." He even said that he's in contact with Moore's daughters, Rumer, Scout, and Tallulah Willis. "I loved them and I'm never gonna stop loving them and respecting them and honoring them and rooting for them to be successful in whatever they're pursuing."