What Happened To India Ferrah After RuPaul's Drag Race?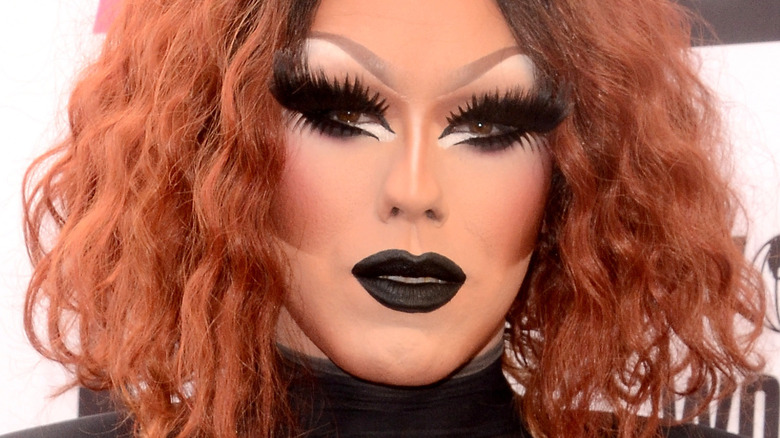 Kathy Hutchins/Shutterstock
India Ferrah brought the drama and glam on "RuPaul's Drag Race." The diva first appeared on Season 3, where she placed 10th in the competition. She then returned to the show in 2020, placing 6th in Season 5's "All-Stars" edition. In an interview with Preview for the Houston Chronicle, Ferrah discussed her "Drag Race" comeback. When asked what she wanted viewers to take away the second time around, Ferrah said, "India is an actual drag queen who didn't just get picked up (by Mimi Imfurst), you know what I'm saying?"
Ferrah was referring to the infamous on-air moment when castmate Imfurst threw her over her shoulder during a lip-sync duet. This came as a total shock to Ferrah. According to Entertainment Weekly, this incident caused Ferrah a great deal of mental distress. The reality TV star told EW, "It was always about Mimi Imfurst, it was never about what I was bringing to the show." Thus, Ferrah was clearly motivated for a strong comeback in Season 5. She told Preview, "That's all I was known for from Season 3, an iconic moment, but I wanted to show my maturity, my growth. I wanted to be able to show that India was a performer, an entertainer, a real drag queen."
Despite getting eliminated for her Jeffree Star impression, Ferrah has made her mark as an entertainer. Let's take a look at what the queen has been up to since her most recent "Drag Race" appearance.
India Ferrah has been performing in drag shows around the U.S.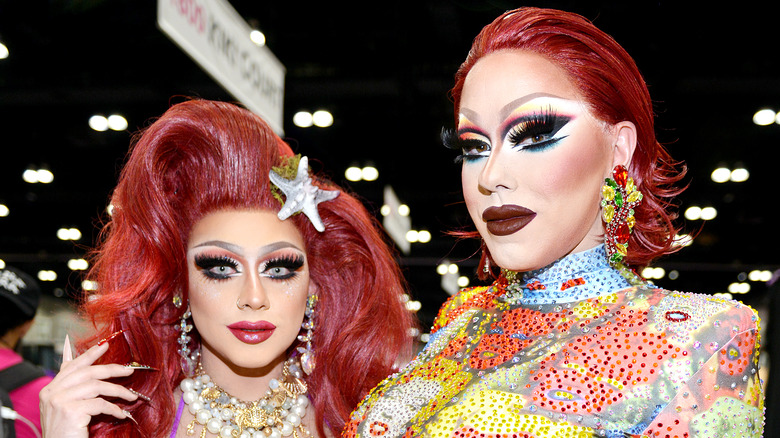 Chelsea Guglielmino/Getty Images
Since competing on "RuPaul's Drag Race," India Ferrah has been busy flaunting glitzy looks on Instagram, promoting her online store, Ferrah-James Designs, and starring in drag shows around the country. Ferrah-James Designs, a collaboration with her partner Savannah James, sells trendy performance outfits in a variety of styles.
For Ferrah, it's all about the glam. In May, Ferrah shared a series of photos dolled up in tight black gloves and a striped pink bodysuit with an eye in the center. Her outfit, like many she wears, was made by Ferrah-James Designs. In the caption, she conveyed her excitement in anticipation for the Electric Daisy Carnival in Las Vegas. Ferrah wrote, "Can't wait to dance the night away under the #neonsky."
This queen certainly hasn't shied away from the spotlight. In 2020, Ferrah performed in RuPaul's Drag Race Live, a Las Vegas residency at the Flamingo resort, according to Screen Rant. Over the years, she's appeared in many DragCon events and, according to her Instagram (where she posts about upcoming performances) drag shows at bars and venues in places like Florida, Arizona, and Ohio. According to Eventbrite, Ferrah will also be headlining an event called "Playpen Anniversary Drag Show" in July at a bar in Phoenix, Arizona. 
India Ferrah was at the center of online Drag Race drama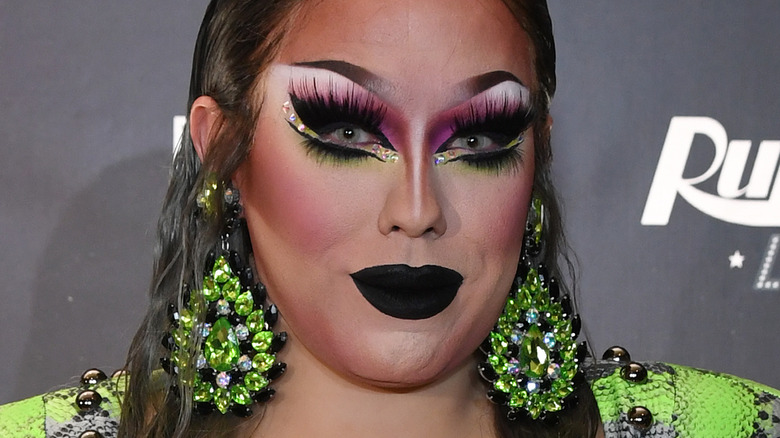 Ethan Miller/Getty Images
India Ferrah exited another stage in June, as the performer deleted her Twitter account after being at the center of "Drag Race" drama. According to The Tab, Ferrah tweeted, "So very thankful I work for myself and that I'm not a 'slave' for someone paying pennies whilst other cast members are making 10x the amount of pay you are." She proceeded to insult cast member Derrick Barry, saying, "Go enjoy the rest of the shows you've got this year, you're going to need each and every one of them."
Barry called out Ferrah, writing, "She thinks I can't keep her name out of my mouth, yet she can't keep the plaque out of hers." Other "Drag Race" contestants, like Shea Couleé, did not stay quiet. She wrote, "The choice to say you're not a 'slave' on Juneteenth is truly camp. You've outdone yourself, sis." Ferrah rebutted Coulée's comment, saying, "Not all of us are perfect," and engaging in contentious dialogue shortly before deleting her account. 
To top it all off, Ferrah's partner Savannah James got involved on Instagram Story. According to a Reddit thread, James posted a long rant directed at Barry, Couleé, and "Drag Race" alum Alexis Mateo. James wrote, "SHEA just can never win so she needs to play the race card to distract them from the truth ... Show this new generation how you shall bully someone." One thing's for sure: Ferrah hasn't stayed away from the drama.