The Touching Story Behind Bob Saget's Proposal To Kelly Rizzo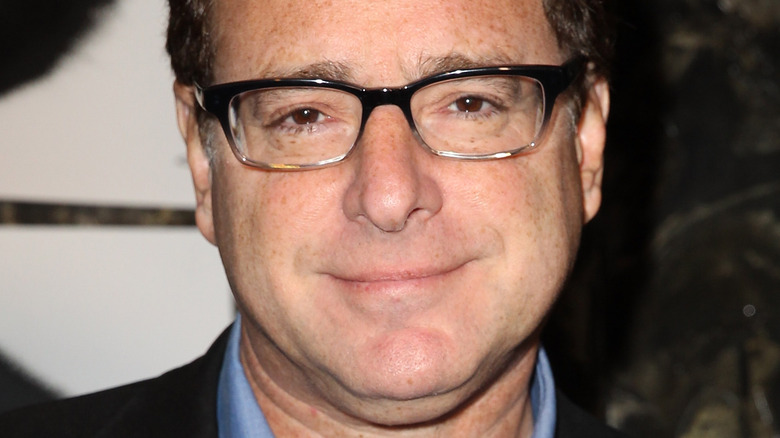 Jonathan Leibson/Getty Images
Before his tragic death in January, Bob Saget shared the ultimate love story with his wife, digital host and influencer Kelly Rizzo, who was notably 23 years younger than the actor. "She is a real Influencer — And she has influenced me to become a better man and fill my heart with even more love and appreciation," Saget wrote in a special Valentine's Day tribute in 2020. "She is also obviously the most tolerant woman in the world. And my bestie."
Rizzo no doubt felt just as strongly for the actor as he felt for her. In 2018, the Rizzo described Saget as "a wonderful guy" while speaking on the many things she loves about him. "He's so good at planning things and handling stuff," she gushed to Us Weekly. "I don't know how he does it. He keeps me on my toes, literally. He's just a wonderful guy. He's a comedian, so there's never a dull moment!"
Later that year, Rizzo and Saget said "I Do," marking the beginning of a beautiful and happy life for the couple. But of course, if you have any doubts about how much these two loved each other, wait until you learn about their proposal story. Heads up — you might wanna grab a tissue!
Bob Saget's proposal left Kelly Rizzo emotional
Kathy Hutchins/Shutterstock
Per Us Weekly, Bob Saget and Kelly Rizzo first met in 2015 through mutual friends. The two would eventually begin a romantic relationship and after about two years together, the "Full House" actor proposed in the sweetest, yet most unlikely way.
During a 2017 interview with People, Saget detailed the day he proposed to Rizzo, revealing that they were watching Netflix's "Stranger Things" on their iPad when he popped the question. "And then I got up to go to the restroom, and I opened the safe and I took out a ring that I had been hiding for four days and I got on one knee," he recalled. "And she said 'What are you doing?' and she got very emotional and so did I."  
During a 2018 appearance on "The Tonight Show Starring Jimmy Fallon," Saget shared more details about the intimate proposal, admitting that he almost ruined the moment with his speech. "I said, 'I would like to be with you for whatever days I have left," he recounted to Jimmy Fallon. "She said, 'Would you please rephrase that? And I said, 'Yes, I want to spend our lives together, and I love you,' and all that." Of course, at the end, none of that seemed to matter because Rizzo obviously said yes!
Kelly Rizzo is keeping Bob Saget's memory alive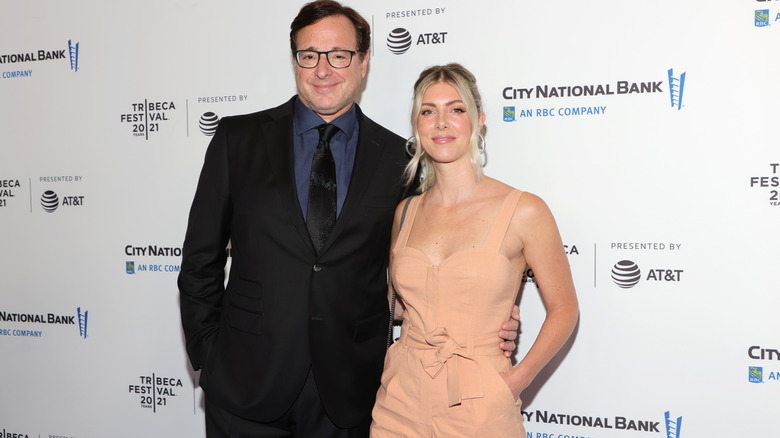 Mike Coppola/Getty Images
In the wake of Bob Saget's death, Kelly Rizzo has continued to find new ways to honor the late actor, and if there's one thing she hopes people will remember him for, it's his commitment to inducing joy. "His entire mission was just he wanted to make people laugh and make people happy," Rizzo told E! News of the late actor. "And it's pretty obvious that's what his mission was because you'd see his face, you'd walk into a room, you'd see him on TV and you just smile. So, he did it effortlessly."
Saget, who was posthomously honored with the Critics Choice Real TV Impact Award, no doubt left a lasting legacy — one that Rizzo hopes to uphold for the rest of her life. "Any chance that I get for the rest of my life to honor him and share his legacy I'm just going to be jumping at the opportunity," she told E! News. And she apparently means every word.
In June 2022, Rizzo joined Chris Rock, John Stamos, Jim Carrey, and many others to honor Saget in the Netflix Special, "Dirty Daddy: The Bob Saget Tribute." Once again, it was a rain of love from Rizzo's end. "And I loved him all these years, because Bob deserved all the love in the world. And I loved him more than anything, so thank you all very much," she said of the late actor(via Entertainment Tonight).