This Is Really Why Dove Cameron Changed Her Name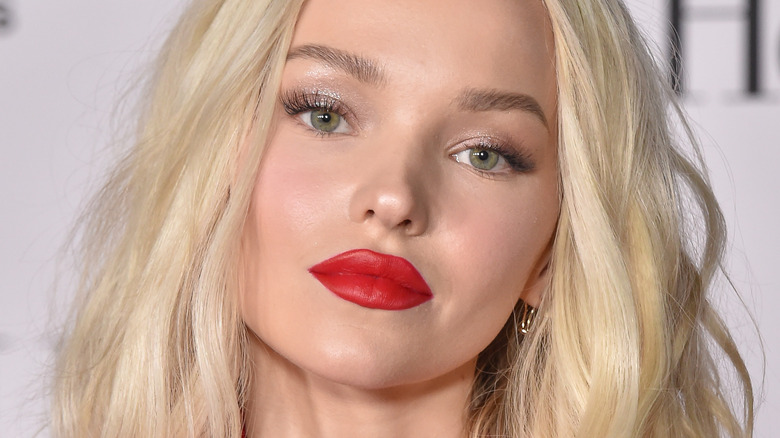 DFree/Shutterstock
Actor Dove Cameron has experienced innumerable tragedies throughout her life and career. The Disney channel alum forged a sweet relationship with her "Descendants" co-star Cameron Boyce, who died of a seizure in 2019. The loss hit Cameron particularly hard, and she took to Instagram to pay tribute to her late friend. "Cameron was one of my favorite people alive in the world," she told her fans (via Yahoo!). "Over the last six years, since he was only 14, Cameron talked me down from countless ledges, talked me through eating disorders, helped me out of a dark relationship and through endless breakdowns." As she shared, Boyce was her "earth angel" and a bright light that was taken too soon.
Throughout her time in the spotlight, Cameron has been open about her mental health struggles, often speaking on social media about her struggles with anxiety, depression, and eating disorders. "I witnessed so much pain early on in life and I remember thinking it's so bizarre we pretend the pain doesn't exist," she told BeatRoute, when asked why she's so open with fans. "Like, every person is in on this big secret, saying, 'We're good,' but like, WHY? FOR WHO?" From sharing tips "for creating small boundaries" on Twitter to advocating for women's rights, Cameron is an open book. So when it came time to speak on how her own childhood tragedy led her to change her name, Cameron didn't hold back.
Dove Cameron honors her late father with her name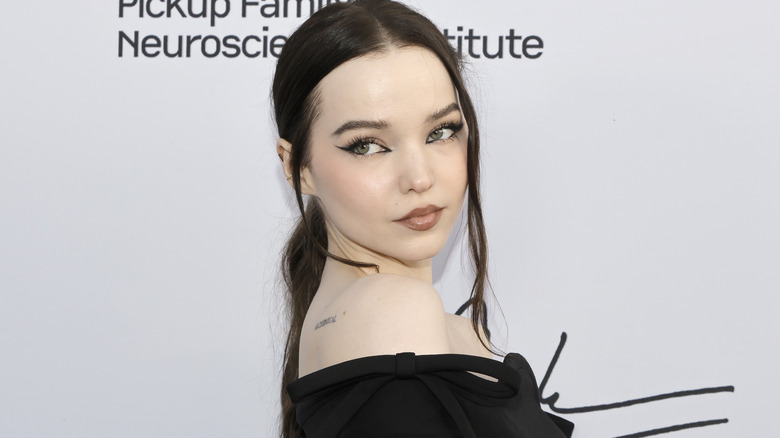 Kevin Winter/Getty Images
Like other celebrities, Dove Cameron doesn't go by her real name. But while some stars, such as Elton John, opted to change their names to stand out in the industry, Cameron's name change is tied to an early tragedy. The "Descendants" star was actually born Chloe Celeste Hosterman, and in 2017, she took to Twitter to give the reason as to why she doesn't use her real name professionally. "My father always called me Dove," she wrote. "He took his own life when I was 15, so I didn't get to say goodbye, so I changed it in honor of him."
However, the name Dove Cameron is more than just a moniker; it's also her legal name. "[My dad] called me Dove more than he ever called me Chloe," Cameron told StyleWatch (via People). "He passed away when I was 15, and I decided to legally change it. So it's on my passport — everything legal is Dove." Fans applauded Cameron's name change, with one fan tweeting, "It's like every time someone calls you Dove, your dad is talking to you ... that's so amazingly beautiful! He would be so proud."
In 2016, Cameron posted a touching Instagram tribute on the 5-year anniversary of her dad's death. "You set me up for the best life imaginable, and I plan to make [you] proud every single day and never waste it," she wrote, signing off, "Forever your best friend, and your little girl."
Dove Cameron and her dad are bonded by more than a name
Cindy Ord/Getty Images
After Dove Cameron's dad died, certain secrets about his life came to light. "He took his own life, and he was also closeted, which we only found out after he died," the star revealed, per Entertainment Weekly. "When I found that out, I was like, everything adds up. He was such a sensitive person." Cameron concluded by saying that she hoped to one day immortalize her late father in film, because he "was just the most fascinating human being."
As it turns out, the father-daughter duo are bonded more by more than just Cameron's name change to "Dove." Cameron also felt that she couldn't be honest about her sexuality, and it was only in 2021 that the former Disney darling felt it was safe to come out. "I've hinted about my sexuality for years while being afraid to spell it out for everybody," Cameron told Gay Times. In 2017, she stoked speculation that she was bisexual after a Snapshot story showed her kissing "Zack Snyder's Justice League" star Kiersey Clemons (via J-14). But at the time, she didn't feel she could be her authentic self because "I felt like I wouldn't be accepted," she told Gay Times. There's no doubt that Cameron's dad would be proud that she is living her most authentic life.
If you or anyone you know is having suicidal thoughts, please call the National Suicide Prevention Lifeline​ at​ 1-800-273-TALK (8255)​.