What Really Happened Between Busy Philipps And Colin Hanks?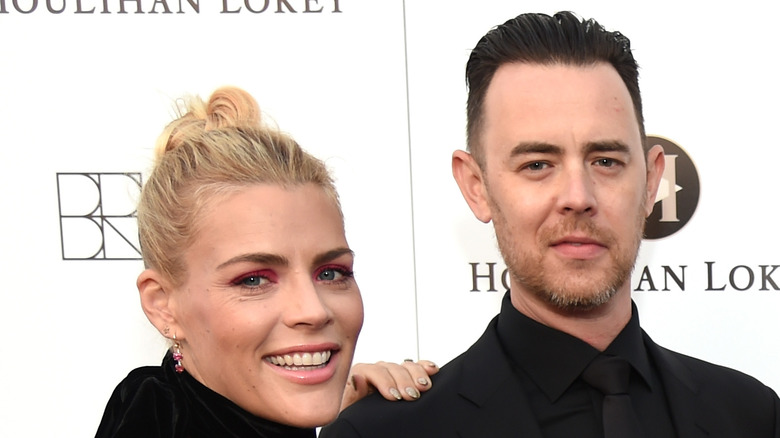 Michael Kovac/Getty Images
Busy Philipps has been as open as she felt necessary about the romantic side of her life, including when it came to getting candid about her split from her husband, Marc Silverstein. In May, the star revealed that she and Silverstein had been separated for more than a year as she opened up about why she decided to keep the news on the down low for so long. "There's, like, a conventional idea of what a person in the public eye is supposed to do when their relationship ends, and it's been very well established, right?" she asked on her "Busy Philipps Is Doing Her Best" podcast. "Like, you make a statement, you're committed to remaining friends, 'Please respect our privacy and our family's privacy in this time,' right? But the truth is, like, who made that rule up, that that's how you do it?" she then pointed out. The two were together from 2006 until 2021.
But it sounds like there actually may not be much too much more to talk about when it comes to Philipps' love life. According to Who Dated Who, the star has only been publicly romantically linked to two men, with the other being none other than Colin Hanks. Who knew!? Yep, it turns out these two have a bit of a romantic history that all came to light during a totally not awkward TV interview.
Busy Philipps and Colin Hanks dated in college
Long before Busy Philipps married Marc Silverstein, she dated Colin Hanks (yes, Hanks' dad is exactly who you think he is!) while she was in college. "We met when I was 18 and Colin was 19," Philipps revealed while co-hosting "Live with Kelly" alongside Kelly Ripa in January 2017. "We are very, very close friends now. His wife and I are tight, he and my husband hang out. We go on vacation together. He's real excited that I'm here."
The former "Cougar Town" star and Ripa then interview Hanks together, where the "King Kong" actor admitted that they actually spend a lot of time together with their families. "I do have moments where I think, 'How cool that we knew each other at this formative moment together?'" he shared, admitting they're forever bonded by all of the big things they went through while trying to make it as actors together. "We were able to go through all the really special moments in a young actor's lives together," Hanks said.
But that wasn't the only time the two alluded to the two still being close after their romance. Back in 2017, Philipps tagged her ex on Twitter after seeing an In Style article that claimed anyone who wants to be friends with their ex must be a "psychopath." The star quoted the tweet alongside several shrugging emoji.
Why did Busy Philipps and Colin Hanks breakup?
It sounds like nothing too dramatic happened between Busy Philipps and Colin Hanks to end their romantic relationship seeing as they've managed to stay such good friends, and it sounds like both are willing to take responsibility for things ending. "We were young. We were babies. Honestly, I was jerk," Philipps admitted on "Live with Kelly" of what went down, to which Hanks added, "And I was too."
After that TV interview, the two even went back to their Alma Mater, Loyola Marymount University, together in 2019 for Philipps' now defunct E! show "Busy Tonight," where Hanks pointed out the exact place on the campus that they met and the former couple reminisced by heading back to a place they used to sit together while looking at old photos. "I can't believe, like, how far we've come and how we really wanted to make our dreams come true. It's so wild," Philipps told her ex.
Hanks also has nothing but praise for his former girlfriend. After Philipps tweeted a photo of herself in "Freaks and Geeks" in April 2020 alongside the caption, "Me at 20. Do I win something?" Hanks then responded, "cult status and the hearts of millions." Aww!