Nicole Richie's Daughter Harlow Is Her Twin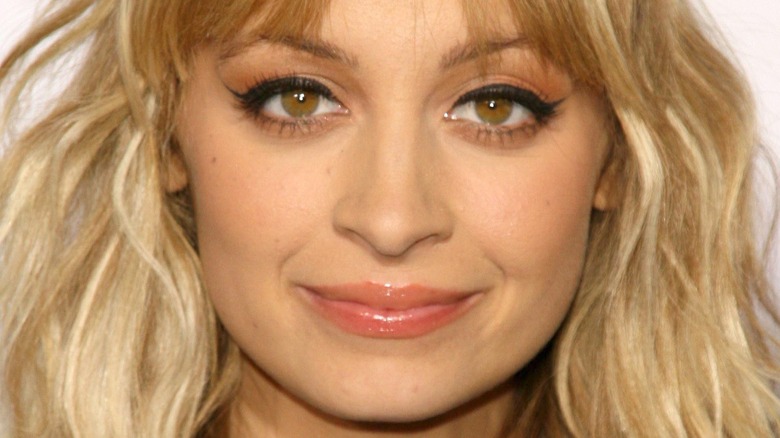 s_bukley/Shutterstock
Nicole Richie isn't a regular mom, she's a cool mom. At least she certainly seems like it. The star (who's no doubt come a very long way from her days as a pouty mouthed rich kid starring alongside Paris Hilton on "The Simple Life") is now a happily married mom of two, taking care of her and husband Joel Madden's daughter Harlow and son Sparrow.
And it sounds like Nicole totally loves being a mom — to the point she's even super involved in what goes on at her kids' school. "I've got first-week-of-school [stuff] to attend to. I volunteer there. I'm all in," she told People of her upcoming plans back in September 2019, adding, "I'm flying home [to Los Angeles] to put my mommy shoes on." Adorable! 
Lionel Richie's famous daughter has also been very open about what she's learned since she first became a mom back in 2008, sharing some very important advice on motherhood. "There's not one way to raise children. There's no one right way to be a mother," she told People in August 2016, adding, "It depends on your house and lifestyle. The biggest lesson I've learned is not to judge!" But it seems like Nicole is basically raising her twin (not literally, of course!) because it's safe to say Harlow looks exactly like her genetically blessed mama.
Joel Madden can't tell his wife and daughter apart
Nicole Richie's daughter Harlow looks so much like her famous mom that even Joel Madden teased he can't tell them apart! The Good Charlotte rocker took to Instagram in 2020 to share a rare snap of Nicole with their daughter posing alongside her half-sister, Sofia Richie, and it's safe to say the trio looked near identical. Harlow and Nicole (who was adopted by Lionel Richie when she was 9 years old) arguably looked the most similar in the photo, which showed the girls crouching down together as Nicole snapped away on her phone. The girls looked so much alike that Madden jokingly captioned it, "Who's who anymore" — and fans clearly noticed the similarities too. "Oh my good lord they are triplets!!!!" one person commented, while another wrote, "[Harlow] is a mini me of her mum...gorgeous."
It seems like Harlow is growing up fast as well, as the reality star has admitted she's gotten in some hot water with her kids over some of her more risqué past posts. In August 2020, Nicole shared a text message from Harlow or Sparrow on Instagram in which they drew her attention to a past upload in which the super rich Nicole used a cat filter on her face and wrote, "This Puss puss loves the D." Nicole's kids clearly didn't approve though, as she captioned it, "HELP! I'm the mom of pre-teens and my past posts have come back to haunt me!"
Nicole Richie's daughter has her eyes
Nicole Richie and Joel Madden don't share snaps of their kids too often on social media for privacy reasons, but the few snaps they do choose to share with the world really hammer home just how much Harlow looks like her mom. In May, Madden shared several adorable family photos on Instagram as he honored his wife for Mother's Day, including one that showed him with his arm around his daughter. Only her eyes were fully visible, though there's no doubting Harlow got her mom's peepers! The musician shared another super cute family photo on Instagram in June 2020 which showed Nicole posing with her famous father, Lionel Richie, alongside Harlow and Sparrow. Nicole and Harlow showed off matching smiles as they sat either side of the "All Night Long" hitmaker, while the black and white photo proved Harlow also inherited her famous mom's blonde locks.
It sounds like Nicole has also passed down her big heart to her little girl, as she gushed over her daughter in a super cute post for her 13th birthday in January 2021. "You light up my life with your presence, & have no problem lighting up my bedroom with your bright phone screen. Nothing is better than watching you become the young woman you are. I am so lucky I get to be your mom," she captioned the Instagram upload, per People, which has since been removed.
One thing's for certain. Nicole and Harlow? Both gorgeous!