The Truth About Yellowstone Star Luke Grimes' Wife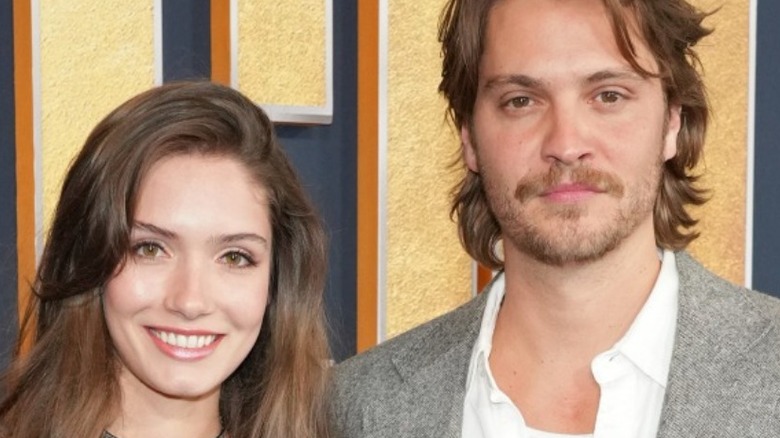 Kevin Mazur/Getty
"Yellowstone" star Luke Grimes is one reason millions of fans are tuning into the Peacock streaming series. He plays the swoon-worthy Kayce Dutton, youngest son of Yellowstone Ranch's Dutton family. But the real-life actor's heart belongs to his wife, Bianca Rodrigues Grimes, and fans know very little about her. The "American Sniper" actor and his wife are extremely private; Luke has no social media accounts. During interviews, the "Yellowstone" cast member rarely shares info on his life (or his wife). It's easy to see why Luke and Bianca guard their privacy; even major stars like Kristen Bell are gaga for Luke. Bell's husband, Dax Shepard gave Bell his blessing to divorce him for the "Yellowstone" star. On April 17, Shepard posted a snap on Instagram of his wife and Luke with the caption: "Well, that's a wrap on my marriage! I wish you both well, and I don't blame either of you. Fair play @lukegrimes."
But Bianca gets lots of attention from fans too. She posted a snap of the couple at the ACM Awards in March and wrote on Instagram: "Thank you, @acmawards for having us ❤️ dream come true night." One fan commented: "You have a beautiful wife." So what's the truth about Luke Grimes' wife, Biana?
Bianca Rodrigues Grimes is a Brazilian model
Bianca Rodrigues Grimes, the real-life partner of "Yellowstone star" Luke Grimes, appears to be a very private person. Per Taste of Country, she's a model and hails from Brazil. According to Parade, Bianca married Luke on November 21, 2018. She doesn't seem much for giving interviews or dishing personal details. Biana lets her personal pictures speak for her.
Bianca has an Instagram account with 229,000 followers and although she doesn't post on Instagram very often (only 62 posts since 2016), fans are highly supportive of her posts with her husband. Bianca's Instagram account reveals an outdoorsy life in Montana, where the couple lives, in and around their Airstream trailer. The Brazilian model shares photos from some of the most beautiful places across America, including Taos, New Mexico, Big Sur, and Malibu. In 2020 during the pandemic, she posted a photo of their trailer and jeep from New Mexico on Instagram and wrote: "Sheltering all over the place..."
Bianca also posts snaps with their two cats on Instagram. But many of her photos show the couple having fun together or taking cozy selfies. On November 21, 2021, Bianca posted an Instagram snap with her husband with the caption: "I'm so lucky to have you in my life ❤️ Happy anniversary anjo! Te amo."
Bianca Rodrigues Grimes and Luke Grimes are #goals
Bianca Rodrigues Grimes and Luke Grimes are #relationshipgoals. The 38-year-old actor and his wife are both gorgeous and appear fully smitten with love in photos or on the red carpet. In June 2021, Mrs. Grimes posted a photo with her man and wrote on Instagram: "Anjo." That means "angel" in Bianca's native Portuguese. Luke doesn't share details about his personal life very often. But the "Yellowstone" star talked about his wife in a rare interview moment, explaining his proudest achievement. Luke said: "Convincing my wife to marry me, I think. That's been the best choice I've ever made, and I just feel so lucky to have such a great partner in this life."
In April, Luke revealed another detail about his life to Gold Derby. Luke said, "So I've ended up moving to Montana ... I live where we shoot the show, which I might not have found without being up there so much and seeing that world through the eyes of this character and then actually really for real falling in love with the lifestyle." It seems like living in Montana agrees with Luke and his wife. On June 6, Bianca posted a selfie snuggling with her husband on Instagram and wrote: "Anywhere with you."