Inside Lori Harvey's Relationship With Her Dad Steve Harvey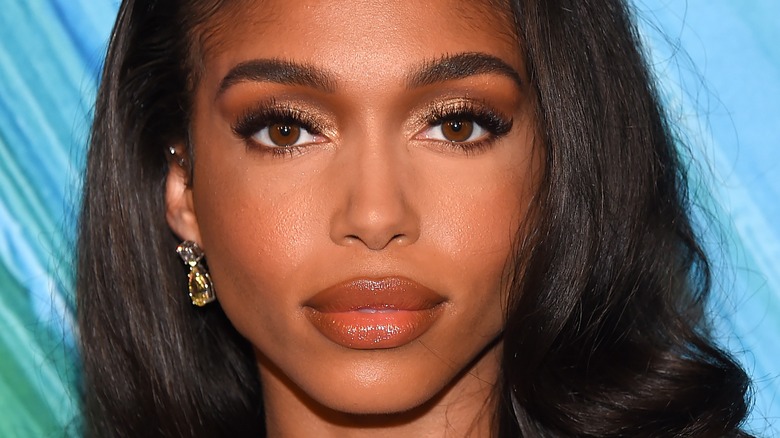 DFree/Shutterstock
Steve Harvey's stepdaughter, Lori Harvey, has carved a path of her own as a model, skincare entrepreneur, and influencer. Steve met Lori's mother, Marjorie Harvey, during the early stages of his career in the 1980s. The comedian once revealed that while he knew he wanted to marry Marjorie from the moment they met, he was on the verge of homelessness at the time and unable to afford to take the next step.
"We actually dated 25 years ago, but I was becoming homeless. So, we only dated for a year and I didn't have the money, so I never drove back," he said on his YouTube series "Rolling with Steve Harvey." Adding, "The first night I met her was at a comedy club ... I stopped the show, I said, 'I don't know who you are, but I'm gonna marry you one day.'"
The stand-up comic made good on his promise, tying the knot with Marjorie in 2007. Together, Steve and Marjorie share seven kids and a host of grandchildren. Steve's stepdaughter, Lori, has since become a public figure in her own right. However, Steve and Lori have seemingly maintained a close bond on her rise to stardom.
Lori Harvey has a strong relationship with her parents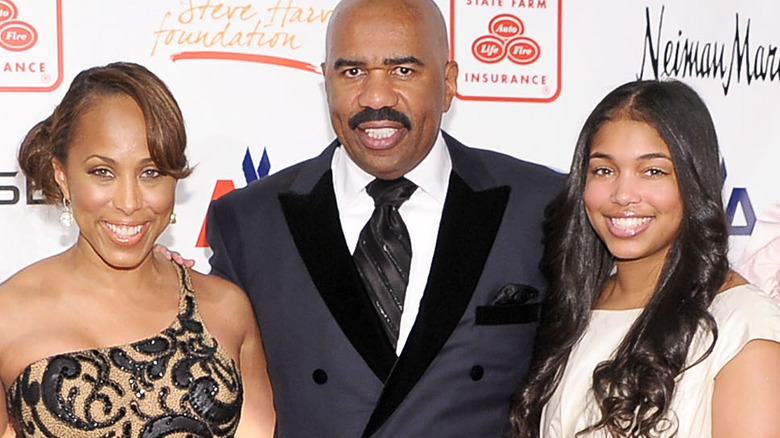 Michael Loccisano/Getty Images
Years after his divorce from his first wife, Marcia Harvey, Steve Harvey rekindled his relationship with Marjorie Harvey. The pair would go on to get married two years after their 2005 reunion, and Steve adopted Lori Harvey in the process. Lori recently gushed over her parents and their love for each other, revealing that Steve and Marjorie's marriage is what she aspires to have.
"They're definitely my couple goals," she told Us Weekly, adding, "They have the best love, they're so supportive of me and, you know, just always here for me, whatever I need. So they're great. I love them."
And while Lori has become most recognizable for her über-famous stepfather, some may still be wondering who her biological father is. According to EurWeb, reports suggest that a man named Donnell Woods is Lori's bio dad. However, Lori tends to keep that info private. Regardless, the young star appears to have a loving and supportive relationship with both Steve and Marjorie.
Steve and Marjorie Harvey are very protective of Lori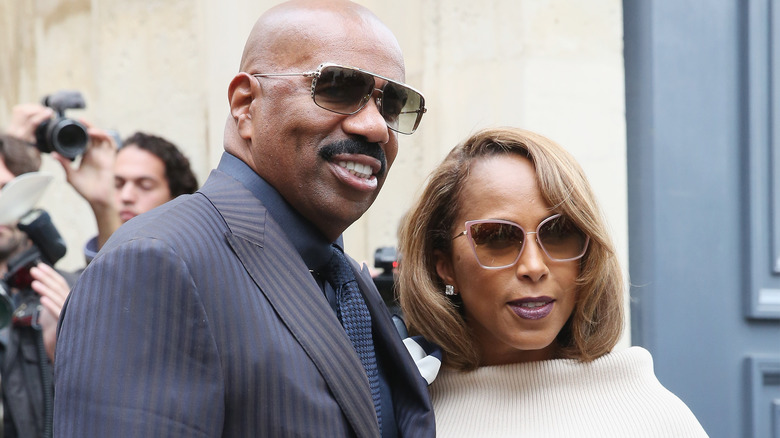 Mireya Acierto/Getty Images
With Lori Harvey's rise to fame came a natural curiosity about her love life. The SKN by LH founder was recently involved in a nearly two-year-long relationship with actor Michael B. Jordan. Upon ending her relationship with Jordan, Lori's parents shared their feelings about the couple's dissolved union.
"Things happen," Steve Harvey said during an episode of "The Steve Harvey Morning Show." He went on to explain that he understands that having a public relationship can be taxing on all parties. However, he made it very clear that he was standing by his daughter. "I ain't heard nobody say they busted no windows or nothing," he added. "As long as you don't put your hands on my daughter, I don't give a damn what you do."
Lori's mother, Marjorie Harvey, also shared a message online that was seemingly directed at Jordan. Marjorie posted a clip of actor Jennifer Lewis saying (per Hollywood Life), "You sit in s*** for too long, it stops smelling. So come the f*** outta there." And while the state of Jordan's relationship with the famous family is unknown, there's no doubt that Lori's relationship with Steve is just as strong as ever.