What We Know About Lori Harvey And Michael B. Jordan's Unexpected Split
Karwai Tang/Getty Images
Michael B. Jordan and Lori Harvey's relationship was the kind that even Lori's father Steve Harvey couldn't ignore. Back in January, Steve had quite the reaction to his adoptive daughter's steamy photo with the Hollywood star. After Lori posted a photo of herself sitting on Jordan's lap, (now-former) daytime talk show host Ellen DeGeneres couldn't help but ask Steve about it while he was on her show. After she shared Lori's now-deleted Instagram photo on the big screen, Steve said (via the Daily Mail): "I've never seen that picture before ... I'm very uncomfortable with that picture right now, not really feeling that picture."
And while there's no doubt that a lot of fathers would react the same way, it looks like Lori calling Jordan her "babydaddy" and all the chemistry between them wasn't enough to make their romance last. In fact, there are new reports that say Lori and Jordan have pulled the plug on their relationship after being together for just one year.
Michael B. Jordan wanted to take the next step in their relationship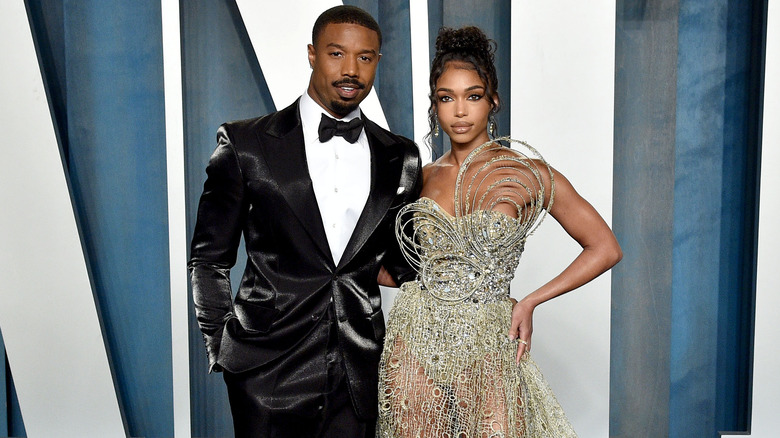 Lionel Hahn/Getty Images
Despite all of the love they've shown for one another both on the red carpet and on social media, Lori Harvey and Michael B. Jordan have parted ways, much to the shock and even dismay of their fans. According to People, one source close to the situation says that even though there's still a lot of love between them, both Harvey and Jordan are "heartbroken" over their split. The tipster said, "Michael matured a lot over the course of their relationship and was ready to commit for the long term. He let down his guard with her, opening up emotionally in a romantic relationship for the first time." The source further noted that "They had great times together and brought out the best in each other."
While no one knows exactly what happened between the two of them, it's always a tell-tale sign when someone begins to erase all the evidence from their relationship on Instagram, which Harvey apparently did promptly after their split. While Jordan still has some photos up of his now ex-girlfriend on his Instagram account (as of this writing), TMZ did point out that Harvey attended this year's Met Gala without Jordan by her side.
It seems that Harvey wasn't down to be MBJ's wifey in the long run, but it might take more than a couple of deleted Instagram photos to figure out the story behind this celebrity breakup, right? Stay tuned.