Why Britney Spears' Honeymoon Isn't Exactly As She Had Hoped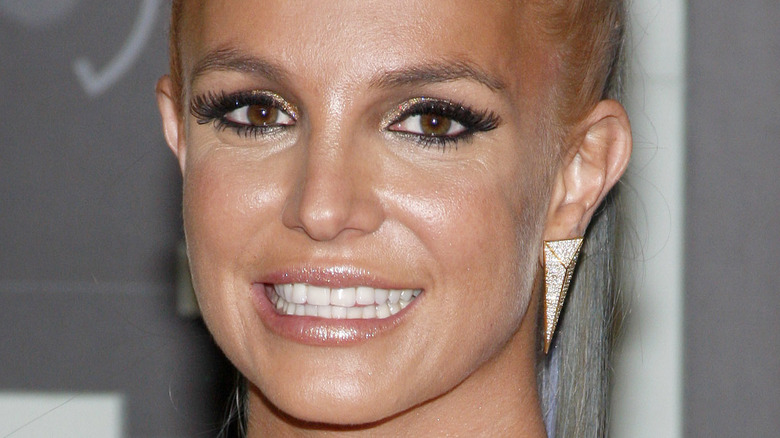 Tinseltown/Shutterstock
In her first Instagram post since marrying Sam Asghari, Britney Spears revealed in late June that they had been too busy settling into new digs to attend their honeymoon. Spears purchased the home around the time of her nuptials, with the $11.8 million mansion situated in Calabasas, California near her sons Sean Preston and Jayden James Federline, per TMZ. Excitedly gushing on Instagram about her new home's pool and waterslide, Spears had to make do with the staycation until she and Asghari had time to plan their honeymoon.
Sharing that "the wedding was everything Britney could have wished for and more," a source told People that the couple hadn't been in any rush to jet off, as they were relishing in "being newlyweds and just hanging out in L.A." for a bit. However, the insider added, "Britney would love to take another trip." According to an InTouch insider, any honeymoon the lovebirds chose would definitely be "somewhere romantic, with "all the organizing" to be handled by Asghari. "The Montage Kapulua Beach Hotel in Maui is an option. Both she and Sam absolutely love it there," the source speculated to InTouch. "Or maybe a city honeymoon to somewhere like London or Paris."
Well, Spears has finally gone on her honeymoon and in true Brit-Brit fashion, she dropped the all the deets on Instagram. 
Britney Spears isn't letting clouds ruin her honeymoon
Not every tropical honeymoon features loads of sunshine, Britney Spears just learned. "It's raining cats & dogs," the "Toxic" singer wrote in a July 4 Instagram upload, in which she posted a bikini-clad video of her frolicking on an undisclosed beach. Adopting the attitude of turning lemons into lemonade, Spears enthused that she will "sing in the rain and possibly play in the muddy sand" — a bucket-list item of hers.
Spears also shared that she and newly minted hubby, Sam Asghari, have been indulging in local tropical fruits because "its too hot and muggy to eat hot food." In fact, Spears appears to have entered a new love affair with island fruits, waxing poetic in her caption, "Good God just the fruit here ... its cold and when it registers on my tongue ... it melts and puts me in bliss silence but there is still the smallest crunch sound with the watermelon." 
As always, Spears' comments section was a medley of concern and support. While some questioned if the upload was too provocative, other fans celebrated Spears enjoying her honeymoon. "She's living her best life and I'm here for it," one wrote. Astute fans also noticed Asghari's unintentional cameo in Spears' steamy vid, with one commenting, "Not Sam in the back holding the phone."