Carrie Underwood Achieves A Longtime Musical Goal That No One Saw Coming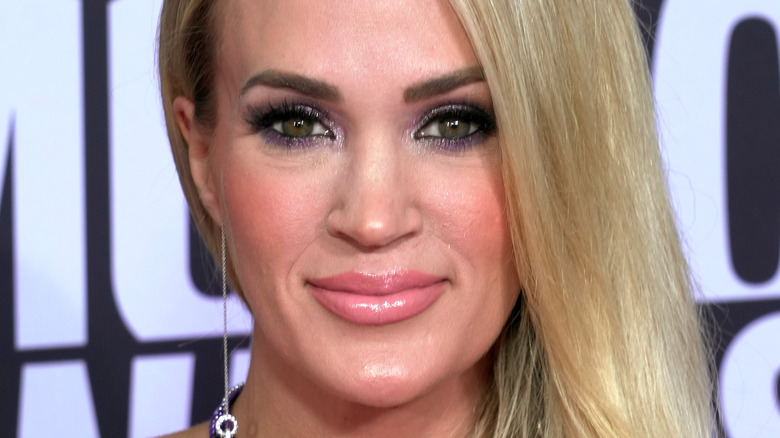 Kevin Mazur/Getty Images
It's hard to imagine that Carrie Underwood still has anything left to cross off on her bucket list considering everything she has already accomplished so far. In 2005, she was crowned the Season 4 winner of "American Idol." During a candid interview, Underwood revealed she almost didn't audition for the competition show because the nearest tryout center was a seven hours away.
 "After I'd already put it out of my mind and forgotten about it, [my mom] said 'You know what? If you want to go I'll drive you,'" she said. Underwood confessed she still refused to go and that it was her mother that encouraged her to take that leap of faith. "That stupid decision I almost didn't want to do, changed my life forever," she admitted. 
Underwood quickly became a global superstar and one of the leading country singers in the music industry. According to Today, the platinum-selling artist has sold over 66 million records, has released over eight albums, scored a Las Vegas residency, and even became a best-selling author. However, even with everything she has done in her career, there was one lifelong dream she had been wanting to experience. 
Carrie Underwood joined one of the biggest rock bands on stage
Legendary rock band Guns 'N Roses brought out Carrie Underwood as a surprise guest during their performance at the Tottenham Hotspur Stadium in London. Together they sang "Sweet Child O' Mine" and "Paradise City" — two of the band's biggest hits. "Never in a million years did I think I would get to spend not one but two nights of my life on stage with Guns 'N Roses," the country singer shared on Instagram. "Thanks, again, to the band and crew and, of course, to the fantastic crowd! Until next time," she wrote. While that was the first time Underwood joined the band, it was actually the second time she got to perform alongside Guns 'N Roses lead vocalist Axl Rose. 
Back in April, the "Before He Cheats" singer got the opportunity to surprise her fans by bringing out Rose during her Stagecoach Festival headline performance, per the Daily Mail. "I feel like that was a moment that has been in the making my whole life," Underwood said during a fan Q & A (via the Daily Mail). "It was a dream come true for someone who grew up listening to them, pretty much my whole life, you know I've loved them since I was five." 
The "Crazy Angels" singer also revealed there is "highly likely" chance she will cover a few iconic Guns 'N Roses songs on her upcoming tour.