David Harbour Gets Candid About His Intense Physical Transformation For Stranger Things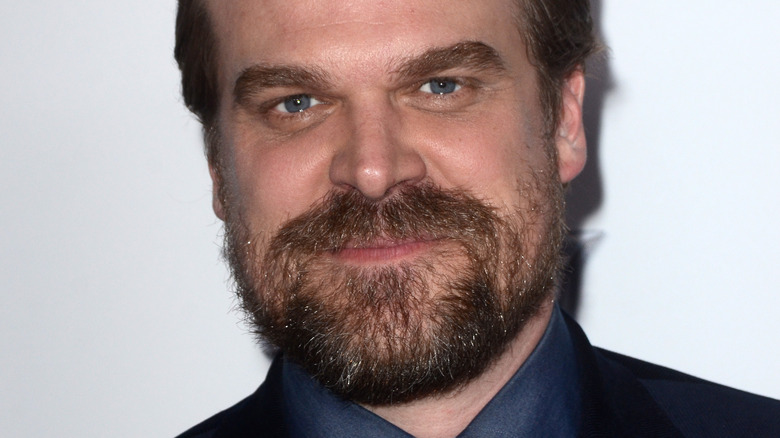 Kathy Hutchins/Shutterstock
It is quite routine for male Hollywood stars to transform dramatically in weight for their roles. This is a journey "Stranger Things" star David Harbour has been on for quite some time. Harbour revealed to The New York Times in 2021 that, having already gained weight for his role on the Netflix show, he gained yet more to play a retired supersoldier in Marvel's "Black Widow." "I was like, 'Let's use the weight.' So I started eating even more. I got up to 280 lbs., and I loved it," Harbour told the outlet.
For Harbour, his extreme weight gain coincided with him meeting now-wife Lily Allen. Luckily, Allen was charmed either way. "It's a true testament to my undeniable charisma when I say that my wife met me at 280 lbs. with this beard and this hair," Harbour joked, adding that Allen "really fell for me at my worst, physically and hair-wise." The actor would undergo another physical transformation in the latter stages of shooting "Black Widow." Dropping 60 lbs for a flashback scene in the 2021 action film, Harbour claimed Allen actually had "mixed feelings" about the weight loss. 
Nonetheless — as viewers of "Stranger Things" Season 4 probably know — Harbour underwent another stunning transformation recently.
David Harbour lost a jaw-dropping amount of weight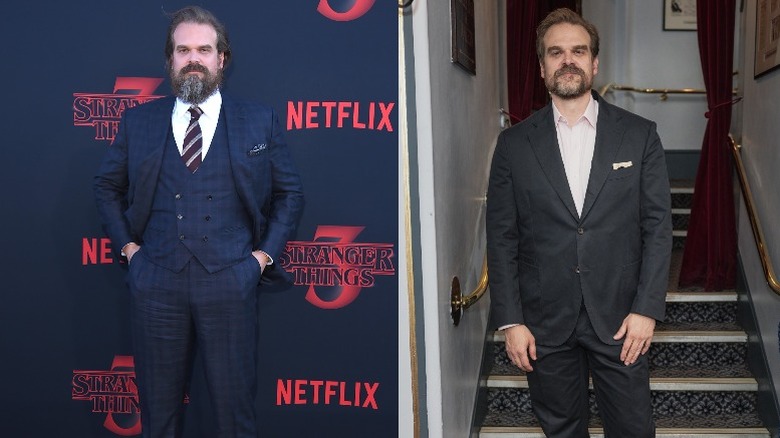 David M. Benett/Getty & DFree/Shutterstock & undefined
If you are caught up on "Stranger Things" Season 4, then you know that (tiny spoiler) David Harbour is looking svelte again as Hawkins police chief Jim Hopper. Imprisoned in Russia for a year by the premiere, Hopper apparently has also shed most, if not all, of the weight he gained the past three seasons. On a July 4 episode of "BBC Breakfast" (per the Daily Mail) Harbour confirmed as much, revealing, "At the end of season three I was about 270 pounds and then when we came into this season I was 190." What a steep drop! Pressed for his dieting secrets, Harbour quipped, "It's a lot of not eating... and being hungry" and emphasized that his weight loss journey was "not easy." 
Often dubbed by thirsty fans as having the definitive "dad bod" over the last few years, Harbour told People in 2018 that he has a "funny relationship" with the term. "I sort of love it and the reason why I love it is actually very serious," he explained, continuing, "I love the idea of real bodies on television." Harbour, discovering that people were idolizing his "dad bod" on "Stranger Things," said that he himself is "sick of these bodies on television that are impossibly thin." While he doesn't want people to "be unhealthy," either, Harbour told People that he just wants "people to feel good in their bodies." Hear, hear.