Kyle Richards Is In Hot Water Over Her Latest Behavior On RHOBH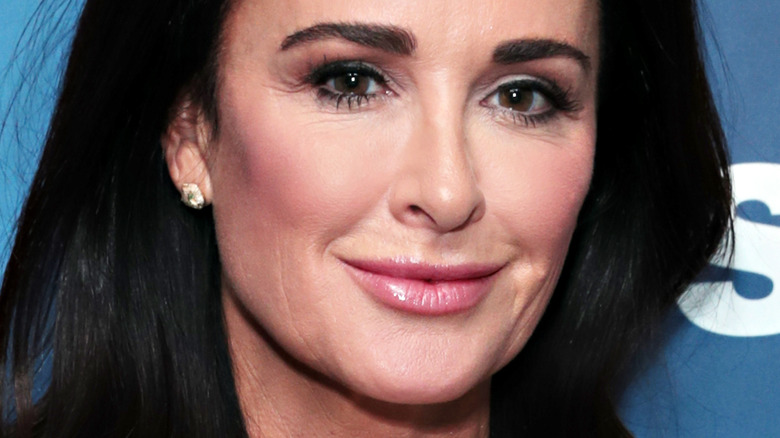 Cindy Ord/Getty Images
"Real Housewives of Beverly Hills" fans are furious at Kyle Richards for her actions in the latest episode of the glamorous reality series.
The child actor turned TV personality who has been a Beverly Hills Housewife since the program's first episode over 12 years ago certainly has a penchant for drama, even by "RHOBH" standards. Although Kyle is an "RHOBH" mainstay, she has had her fair share of controversies and fights with fellow cast members. Her ongoing feud with former costar Lisa Vanderpump over "Puppygate" continues to this day! And although Kyle has had her big sisters Kim Richards and Kathy Hilton join the cast, we all know how sisters can bicker. OG "RHOBH" fans remember when Kyle fought with Kim in the limousine and Kim accused Kyle of "[stealing her] g**d*** house."
Of course, "Real Housewives" are expected to bring the drama every season; that's what they're getting paid for! But fans say that this time Kyle has taken it too far. Here are the two things Kyle did to cause such an uproar.
Kyle takes Erika's side in the Erika vs. Garcelle fight
First, in a sneak peek of the July 6 episode, Erika Jayne is seen cursing at her frenemy Garcelle Beauvais's 14-year-old son, Jax. But instead of condemning Jayne, in a later scene, Richards, her husband Mauricio, and fellow Housewife Dorit Kemsley praise Jayne for being able to finally "loosen up." After backlash from social media and Beauvais herself, Richards defended herself in the comments of a fan's reposting of the scene on Instagram. "I was laughing about a friend's drunken, ridiculous behavior," Richards wrote. "NOT about disrespecting someone's child... I wasn't even there to see this and only heard about Erika and what she had said later."
Well, fans don't seem to be so convinced. "I'd love for Erika to speak to their children like that," one fan wrote under the Instagram post. "Why is it different when it's Garcelle's? Do they not deserve the same respect and dignity? Their reaction is beyond out of line." Oof.
In a comment to Metro UK, Richards maintains she didn't witness Jayne's cussing and has not yet had the chance to apologize to Beauvais. "I'm a mom of four daughters. I think if I had obviously seen it — because I only saw it actually last night on Instagram, that clip — I would have a different reaction."
Fans think Kyle is cruel to Sutton Stracke
The "Real Housewives of Beverly Hills' audience is also angry with Kyle Richards over a conversation in which Richards suggested she didn't believe costar Sutton Stracke actually had two miscarriages. In a scene at the end of June 28's episode, Stracke revealed that she previously lost two babies in an attempt to comfort cast member, Diana Jenkins, who recently suffered a miscarriage. In response, Richards questioned Stracke about her story's validity since Richards had "never heard this before." When Stracke responded that it was "a very personal thing," Richards said, "I love you, but this feels like bulls***... You're going to say you lost two babies? Out of the blue, you say that. We don't know that!"
Online, fans were shocked at Richards's line of questioning about Sutton's miscarriages. "There's a reason why she's called Vyle Kyle. Sorry not sorry," one user wrote. "IS KYLE OK?!?!? She is out of line this season!!!" another condemned. Although the context of the scene shows that Jenkins was actually sick of Stracke's inability to "listen" and instead just bring up her own personal experience, this instance made Richards look especially cruel towards Stracke. We'll have to see if Richards makes up for it in the "RHOBH's" upcoming episode on July 6.