How Much Does It Cost To Charter A Yacht On Below Deck?
With Bravo's "Below Deck" approaching its tenth season, it's safe to say that viewers enjoy going on a virtual ride on the world's most luxurious yachts. The drama of the yachties aboard aside, the "Below Deck" offers endless entertainment, as it manages to make us all jealous of how extravagant life on a cruise ship can be. It's hard not to imagine yourself being serviced by attractive yachties and experiencing all the fancy amenities.
If you do have the cash to spare, though, you may be thinking about chartering one such ship yourself. After all, if you had the money, nothing's stopping you from spending on an extravagant trip around the Caribbean. But fair warning: It doesn't come cheap, and you have to brace yourself to spend thousands of dollars. It's worth it, of course, especially if the particular ship you charter has tons of amenities in store. But if your wish is to rent the ships you see on TV, prepare to spend an arm and a leg.
It costs hundreds of thousands of dollars to charter a yacht
"Below Deck" gives you a glimpse of how lavish life on deck could be — at least for the guests. And for the kind of service and amenities guests enjoy, you must pay a pretty penny to hop onboard. Per the booking company Yacht Charter Fleet, chartering a yacht like My Seanna, the 185-foot ship featured on the show on Season 9, can set you back a whopping $260,000. It gets even heftier during the high season, with the cost rising up to $300,000. And that's only for one week! 
It may be worth the price, though, given what it offers to guests. This particular ship can accommodate up to 12 guests and 11 crew members with its six suites. It provides a bevy of exciting amenities, too, including a state-of-the-art movie theater, a beach club, a well-equipped gym, deck jacuzzi, and more. The ship takes you to the beautiful Bahamas, and should you wish to enjoy water activities, you can request to try out kayaks, jet skis, and more. "Can't go wrong there, I love that boat," Captain Lee himself wrote in a tweet.
Smaller boats, however, are cheaper — although not much. "Generally a boat that size, 150 foot — this one's 160, Valor — but around that price range, for seven days, is around $150,000," Kate Chastain told ET. "But that does not include airfare, fuel, food, wine, docking, tip. So, I would say for a boat like Valor, for a week vacation, it would be around a quarter of a million dollars."
The yachties on Below Deck don't earn as much as you think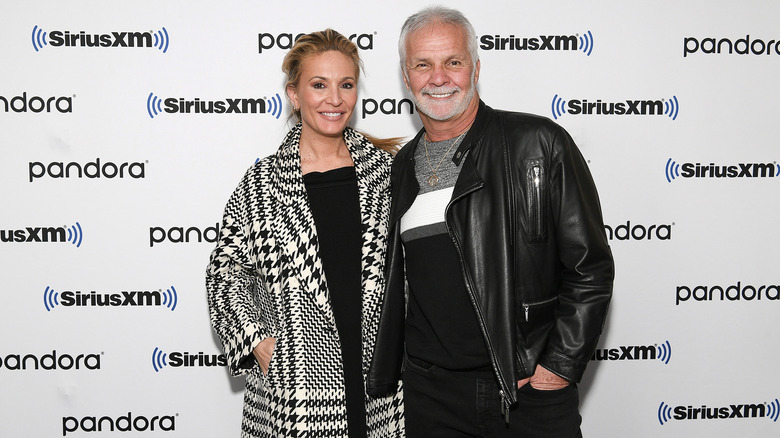 Dia Dipasupil/Getty Images
Even if guests cough up hundreds of thousands of dollars on chartering the yachts seen on "Below Deck," the yachties aboard don't earn as much as you think.
Per reports from Refinery29 and Crewfinder International, stewardesses rake in about $5,000 monthly, with the chief stewardess making up to $6,000. Chefs make more depending on their experience and can bring home up to $10,000 a month. Meanwhile, Captain Lee likely makes up to $210,000 a year if he works a full year, and that's not even including tips. He could be collecting $100,000 more in tips if he charters ships year-round.
"Below Deck" star Ashley Marti previously disclosed that she makes more on OnlyFans than she does on the show. In a tweet, she wrote, "Just want to thank @BravoWWHL for all the free OF publicity! I love waking up and seeing that in a couple hours, I've made more money than #Bravo paid me for 6 weeks." To put things in perspective, Marti charges $12.50 per subscription. And with over 7,000 paying fans, she's looking at over $87,000 a month in revenue. Not too shabby! Former bosun Eddie Lucas echoed the same sentiment. "There is somebody monetizing off of the show, but it's definitely not us," he shared with the New York Post in May. "Below Deck — regardless of it being the most popular show on Bravo — we are the lowest-paid cast members."