The Truth About Emily Osment And Haley Joel Osment's Relationship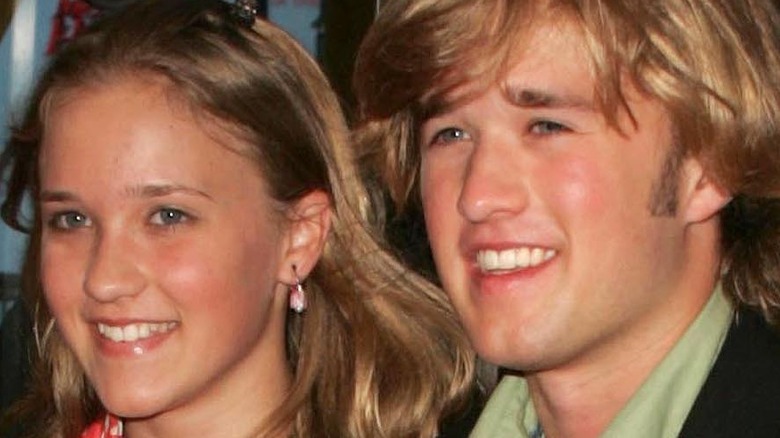 s_bukley/Shutterstock
Haley Joel and Emily Osment may be two of the most recognizable siblings in Hollywood today. Haley Joel first achieved international recognition and widespread acclaim for his portrayal as young medium Cole Sear in M. Night Shyamalan's acclaimed psychological thriller, "The Sixth Sense," in 1999. For this role, he became one of the youngest actors ever nominated for an Academy Award, at only 11 years old (he lost, however, to Michael Caine). 
Emily, for her part, skyrocketed to fame shortly after her brother, as the co-star of Disney Channel's iconic series, "Hannah Montana." In it, she played Lilly Truscott, best friend of Miley Cyrus's Miley Stewart. For this, Emily garnered three Young Artist and two Teen Choice Award nominations. Like Cyrus — with whom Osment is friends in real life – Osment has also launched a music career, releasing an album called "Fight or Flight" in 2010.
So although both Emily and Haley Joel have launched into successful careers in the entertainment industry, their paths along the way have overlapped surprisingly little. So what is the status of their relationship? Are they still close? 
Emily Osment recently celebrated her brother's birthday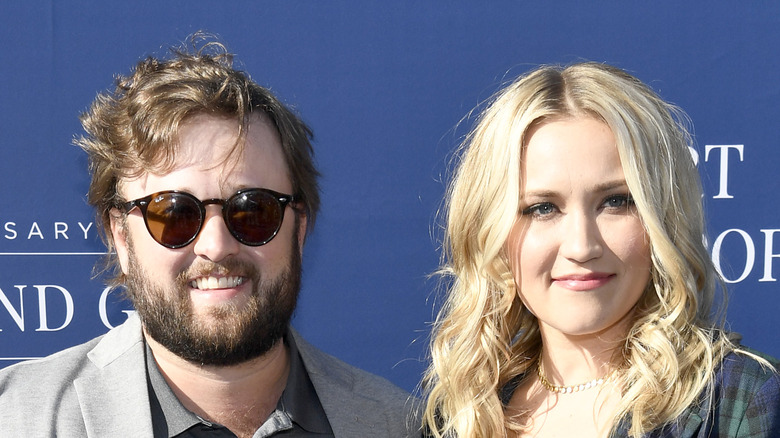 Frazer Harrison/Getty Images
Both Haley Joel and Emily Osment were born in Los Angeles — in 1988 and 1992, respectively — and are each others' only siblings, per Super Stars Bio. It should be no surprise, then, especially given how they both grew up in the entertainment industry, that they have remained relatively close to each other throughout the years. 
Haley Joel, reflecting upon both his and his sister's rises to fame, told The Guardian in 2020 that Emily had "a way tougher path" to fame than he did, given how her career was much more centered around Disney Channel; he, on the other hand, took on much more adult roles as a child actor. "That show," he said, referring to "Hannah Montana," "was squarely aimed towards creating a mania in that age group. She had to deal with a lot more strange invasions of privacy, not being able to have a normal school life." He added that these issues were "exacerbated" by social media, which was on the rise at the time ("Hannah Montana" ran from 2006 to 2011). "I resisted until I was, like, 27," Haley Joel joked of his own social media usage. 
The strength of their relationship was also demonstrated in April, when Haley Joel celebrated his 34th birthday. According to E! News, Emily posted a selfie of the two of them wearing party hats to her Instagram Story. She also wrote him a happy birthday message. 
The two siblings shared a scene in The Kominsky Method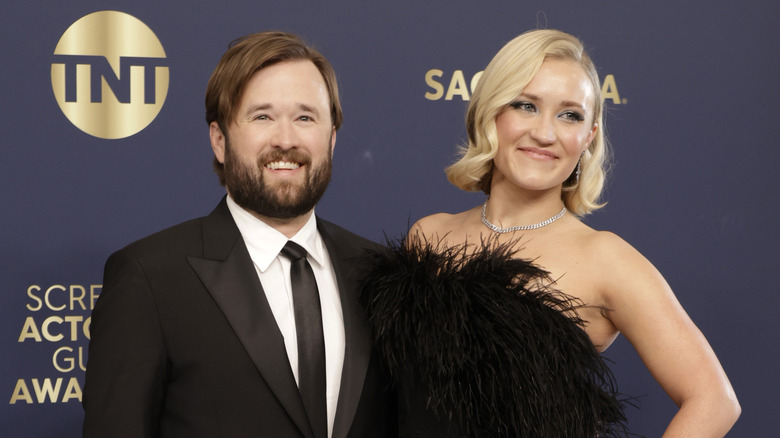 Frazer Harrison/Getty Images
Despite having both acted since the late '90s — Emily's first on-screen appearance was alongside Glenn Close and Christopher Walken in a 1999 Hallmark made-for-TV movie, when she was only 7 — siblings Emily and Haley Joel Osment never shared a scene together onscreen until recently. Season 2 of Netflix's "The Kominsky Method," which was released in 2019, finally saw Haley Joel take on the recurring role of Robby, estranged grandson of Alan Arkin's character Norman Newlander. As a result, he and Emily, who already had a recurring role as Theresa, finally had their first onscreen moment together. 
In 2022, both siblings were nominated for a Screen Actors Guild award for outstanding performance by an ensemble in a comedy series for their work on the show. The night of the awards ceremony in February, the brother-sister duo spoke to E! News about sharing the screen together. "Emily was on the series for much longer than I was," Haley said. "I was a late edition to the show, so I was happy to be welcomed into the cast and it's a great group of people to work with."
Although "The Kominsky Method" was not renewed for a fourth season, fans will no doubt get to see more of the siblings at some point in the future, given their youth and talent. No doubt both young actors still have many more roles ahead of them.