The Truth About Neil And Pegi Young's Divorce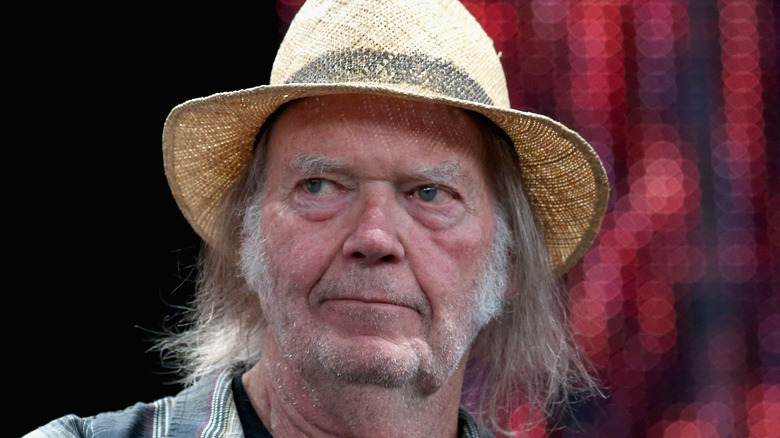 Gary Miller/Getty Images
Neil Young first set eyes on Pegi Morton in 1974. She was waiting tables at the Bella Vista diner near his ranch in La Honda, California. "Never saw a woman look finer. I used to order just to watch her float across the floor," he sings in the 1992 track, "Unknown Legend," which details their romantic journey. When he met his future wife Pegi Morton, Young was ending a relationship with the actor Carrie Snodgress, who passed away in 2004. The couple was together for five years before going their separate ways in 1975 and they had a son, Zeke Young, together.
Neil walked down the aisle with Pegi three years later, in August of 1978. According to her website, before the two said "I do," Pegi had been a "bona fide hippie nomad." She'd roamed around the states with her dog, pitching her teepee and setting up camp wherever she fancied. So, it must have been quite an adjustment settling down to married life, even with an "anti-establishment singer" who was "a figure of the hippy counter-culture," per Salon.
The couple made it work, though. Neil and Pegi welcomed two children, daughter Amber Young, and son Ben Young. They collaborated creatively and strived to make the world a better place. Neil and Pegi appeared to have built one of the music world's rare partnerships that would last forever. However, it was all over in 2014 after 36 years of marriage. So, what caused Neil and Pegi Young's divorce?
Neil and Pegi Young's divorce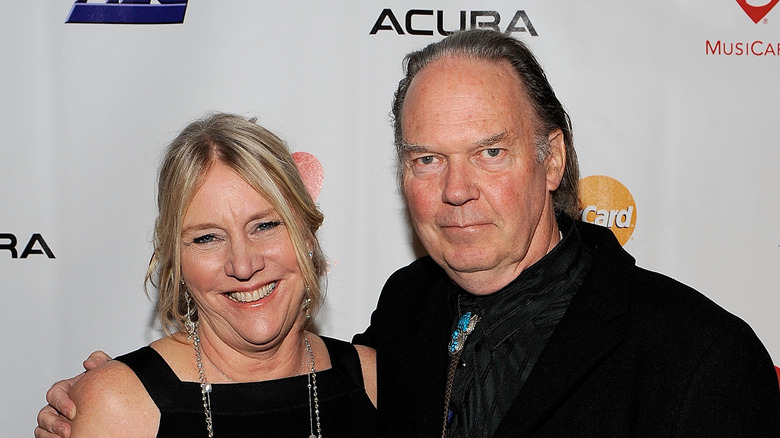 Larry Busacca/Getty Images
Neil and Pegi Young's divorce shocked fans. The couple appeared to have one of the strongest marriages in the business. They married for 36 years, shared two children, and regularly collaborated. Pegi was waiting tables when she first met Neil, but she was a talented singer and songwriter. She appeared on a number of his tracks, and they often performed live. She also had a music career of her own.
Pegi sang "Philadelphia" with Neil at the 1994 Oscars, and they toured together. She joined him on stage during his 1983 Fifties retro tour and was a backup singer on his Summer 200 Friends and Relatives tour. The two launched the Bridge School in 1986. Zeke Young, Neil's son from his previous relationship with Carrie Snodgress, has Cerebral Palsey. So does Neil and Pegi's son, Ben Young, while their daughter has epilepsy. Per the school website, it offers "creative approaches to education and communication" for children with severe physical and speech impairments. Following the school's launch, Neil and Pegi began a local annual fundraising concert, with all proceeds going to the facility.
Pegi knew couples needed their space. "We like to do things together, we hang out, we have fun together [but] a little space is always good," she told Songfacts in 2010. "You can't live in each other's back pocket all the time." Finally, Neil filed for divorce in 2014. Why did this legendary pair finally call it quits?
Neil Young moved on but he never forgot Pegi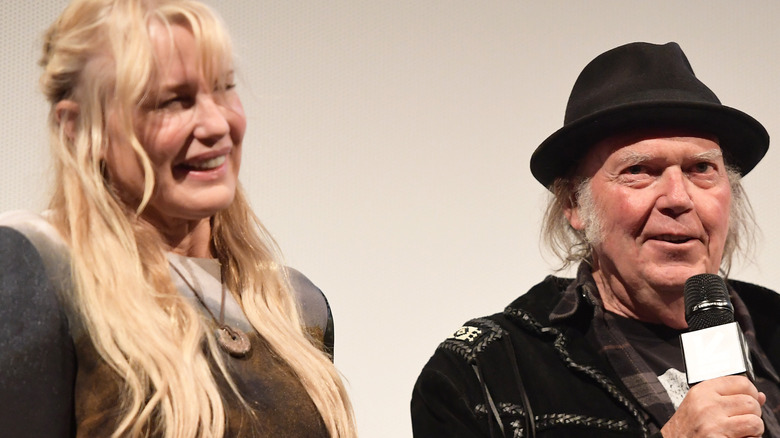 Matt Winkelmeyer/Getty Images
Neil and Pegi Young kept quiet following the divorce; their music did the talking for them. Neil had been alluding to their marriage strains for years. "People say don't rock the boat, let things go their own way. Ideas that once seem so right, now have gotten hard to say," he sang in 1994's "Days That Used to Be." Meanwhile, Pegi admitted "Raw" had been about their marriage breakdown. "It told a story. I kind of look at it as a soundtrack to the seven stages of grief," she told Rolling Stone.
Within weeks, news broke that Neil was dating Daryl Hannah. "They've known each other for years," a source told Us Weekly. According to People, the singer tied the knot with Hannah during a "small, intimate gathering" on his yacht. Neil confirmed his third marriage in October 2018.
Pegi passed away from cancer in January 2019 at age 66. Neil paid tribute in a statement on his website. He posted the words to "Such a Woman" from his 1992 "Harvest Moon" album. "Love is a healer. And I love you. No one else can fill me like you do. And I love you. You are such a woman to me," the lyrics include. Neil had created the song for his then-wife back in 1992. "Thanks, Pegi, for being such a wonderful mother to our children. You live inside of them and the many you have touched," he wrote.