Here's How Much It Costs To Stay At The Trixie Motel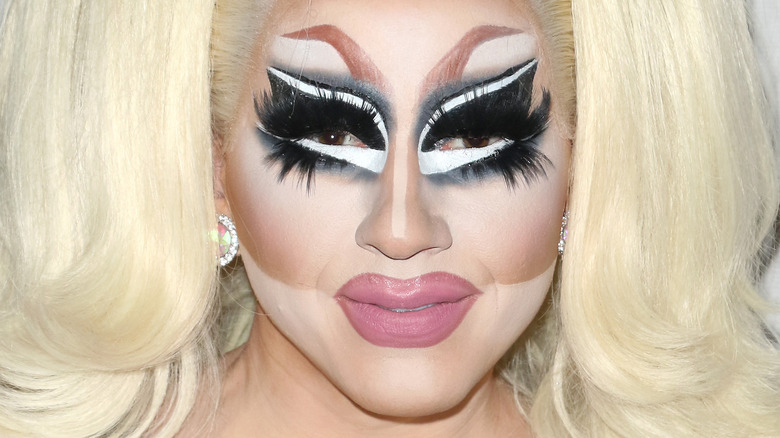 Jim Spellman/Getty Images
Drag superstar Trixie Mattel has come a long way since we first met her in Season 7 of "RuPaul's Drag Race." After Mattel came in 6th place in her original season and went on to be crowned the winner of "RPDR All-Stars 3," the entrepreneurial queen has been out for blood in the business world. Between her three albums and her book with fellow "Drag Race" alum Katya, Mattel is raking it in! Her makeup brand, Trixie Cosmetics, has also been extremely successful since its launch in 2019 and has expanded to selling everything from eyeshadow to lipstick.
The Barbie-lover's latest and most ambitious business venture is purchasing and renovating an old run-down motel in Palm Springs, California with her partner, David Silver. The total including renovations was over $2.4 million, per Out Magazine! Mattel told Logo that she wanted to make a unique stay for a younger crowd since much of Palm Springs is suited more toward its senior population (which makes up over 25% of its residents). The whole revamp was captured by Discovery+ in Mattel's very own renovation show, "Trixie Motel."
"Spoiler alert, this motel's the most beautiful place in the world," Mattel gushed to Entertainment Tonight. So, what's it like to stay at the Trixie Motel, and what's the price point? Well, spoiler alert, it ain't cheap!
Rooms at the Trixie Motel start at $550 per night
Of course, Trixie Mattel had to make sure that her namesake hotel was decorated to the nines. The Trixie Motel boasts a guests-only pool and seven unique themed rooms and suites to stay in. "With all seven rooms, we tried to make every experience special," Mattel told Entertainment Tonight. "I want you to be able to pee in every bathroom and have a different experience."
And it's true — with just a glance at the photos on the website, you are transported into its eclectic collection of colors and patterns. For regular rooms, there is the Queen of Hearts room, the space-themed Atomic Bombshell room, and the Malibu Barbara room. To stay in one of these rooms can cost anywhere between $550 and $750 a night depending on the time of year you book. The Trixie Motel also requires that guests book a minimum of two nights, so that price adds up. The suites — which include a kitchenette and more seating room — are the Pink Flamingo, the Flower Power, the Yeehaw Cowgirl, and the Oh Honeymoon Suite. These can go up to $850 per night.
You can probably guess why the prices are so expensive, though. In an interview with Logo, Mattel said that much of the motel is vintage or completely custom; the wallpaper, the bedding, the headboards, etc. But the prices don't seem to be hindering business because many rooms have already sold out before their official opening on Labor Day weekend.
Trixie says being in business with her boyfriend is wonderful
As we mentioned earlier, Trixie Mattel and her long-term boyfriend, filmmaker David Silver, decided to brave this motel adventure together. The two started dating in 2016 after they matched on Tinder, and the rest has been history. This isn't the first time that the couple has worked together either; Silver was the producer for Mattel's 2019 documentary, "Trixie Mattel: Moving Parts."
Mattel revealed to Logo that they got the idea for Trixie Motel when the couple traveled to Palm Springs and found there was nowhere unique or not "overpriced" to stay. So when the pair found the property, they couldn't say no to the opportunity of a lifetime. Plus, with Discovery+ on board to make the "Trixie Motel" renovation show, they were unstoppable.
"People take a year to renovate their living room and then they get a divorce," Mattel joked to Entertainment Tonight. "So, for me and my partner to stay in love on television and renovate an entire commercial property, I mean, every day we had to both freak out and then give ourselves permission to freak out when we were doing something insane." And what is a boyfriend for other than having someone to freak out with?