Aaron Rodgers' First Tattoo Has Twitter Cracking All The Jokes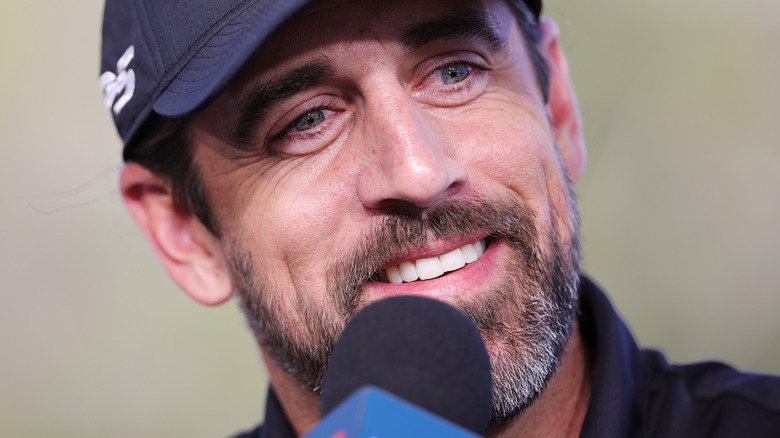 Carmen Mandato/Getty Images
A new good luck charm! Green Bay Packers quarterback Aaron Rodgers took to social media on Wednesday to reveal some brand new ink he recently got as he prepares to head into his 18th season with the team.
Let's just say maybe Rodgers could use a good omen following his last season, as he experienced a tumultuous time on and off the field. First, the quarterback star came under speculation after missing events, only to reveal that he came down with COVID-19. That was only the beginning of the drama, as the athlete admitted that he was unvaccinated and proceeded to explain he was "immunized" in August 2021, per CNN. And for Rodgers, the COVID controversies didn't stop there. In November, the star came under fire once again over his comments about "COVID toe." First, Rodgers said he had COVID toe following his bout with the virus but then retracted that statement saying he didn't have COVID toe and showed his bare foot in a Green Bay Packers press conference to prove so, per NBC Sports.
Obviously, this past season Rodgers was embroiled in multiple controversies. And after coming off of a season where more people were talking about his antics rather than his plays on the field, it seems he's ready to start fresh — and decided to do so with a new tattoo. But little did the quarterback star know, his new tattoo is bringing about the same amount of negative commotion that last season brought him.
Followers simply aren't favoriting Aaron Rodgers's new tattoo
Taking to Instagram on Wednesday, Aaron Rodgers showed off his new tattoo that sits on the inside of his forearm. The tattoo — which features multiple zodiac signs, two lions facing one another, an evil eye, and constellations — has a sentimental meaning that Rodgers said he would reveal at a later date to fans. "There's a deep and meaningful story and connection to absolutely each element of this art piece, and I'll share a little more about that one day," the quarterback wrote, showcasing the artwork. 
Yet, despite the hidden, meaningful message the tattoo holds for Rodgers, it didn't take long for fans to put their two-sense in on the tattoo. Taking to Twitter, one fan wrote that Rodgers's new tattoo is the "Illuminati confirmed." Another added that Rodgers's new ink was the "worst tattoo [they've] ever seen." And fans didn't stop there. Other fans tweeted they could "smell the essential oils" from the tattoo, and that Rodgers "does shrooms once" and this is what happens after.
While some fans obviously felt a distaste toward the new ink, many came to Rodgers's defense saying the tattoo was "sick" and is "fire" and there were simply too many haters putting in their opinions. But the hate didn't seem to impact Rodgers — hopefully it can only go up from here!