The Truth About Ana De Armas And Daniel Craig's Relationship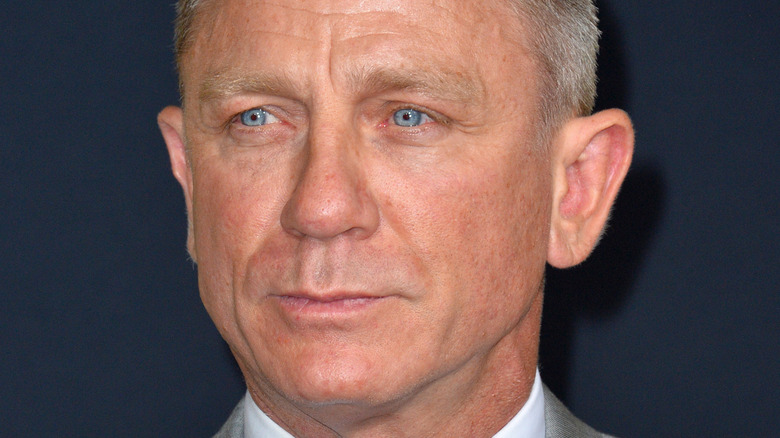 Featureflash Photo Agency/Shutterstock
Ana de Armas is one of the hottest actors in the film industry at the moment. Although she gained recognition for her role in "Blade Runner 2049," per IMDb, her breakthrough role was Marta Cabrera in Rian Johnson's murder mystery "Knives Out." She is also known for being a badass Bond girl in "No Time To Die." "I think this movie is 'Bond women,' not so much 'Bond girls,'" the Cuban-Spanish star told CNN in 2021. "They're highly skilled, they're powerful [and] they all show it in their own way. They're equals to Bond ... Times change, and I think that is reflected in the film."
Meanwhile, English actor Daniel Craig gained popularity from the same franchise, starring in five James Bond movies — "Casino Royale" (2006), "Quantum of Solace" (2008), "Skyfall" (2012), "Spectre" (2015), and "No Time to Die" (2021). But before they starred together in a Bond film, Craig and de Armas first appeared together in "Knives Out." As mentioned, de Armas played the nurse and caretaker Marta. Craig played private investigator Benoit Blanc.
The two continued to work together after "Knives Out," and de Armas admitted that she falls for her co-stars, so fans were speculating that the two were linked romantically as well.
The dynamic duo that almost never was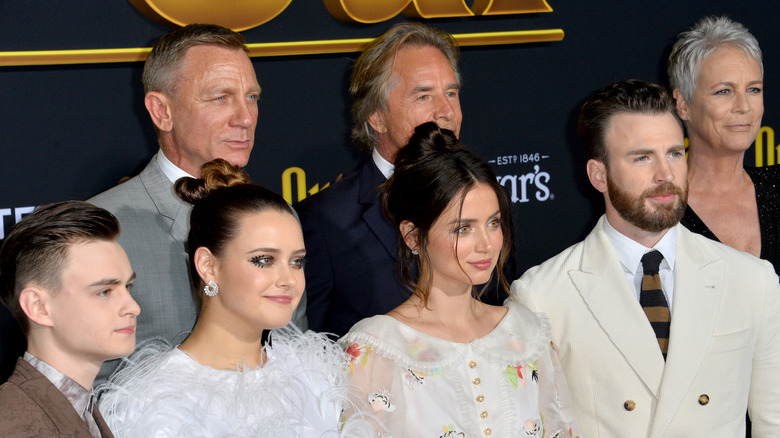 Featureflash Photo Agency/Shutterstock
According to Entertainment Tonight, the character description for Marta was three words — "Latina, caretaker, pretty" — and that was enough for Ana de Armas to feel like she would be pigeon-holed and stereotyped as an actor if she signed on to "Knives Out." But once the actor read the script and saw the issues the movie tackled, she was on board.
De Armas' character accompanies Daniel Craig's character as he solves the big family mystery. "I see Daniel a lot," de Armas joked to Extra in 2019. "He's just a great actor and very talented." Craig also seemed to be a fan of de Armas, as he said she was "amazing" when the full cast was announced and started working together.
After the movie was released, fans loved the chemistry de Armas had with another one of her co-stars, Chris Evans, even making funny YouTube compilations of the two's cutest moments. While fans were hoping to see de Armas and Evans star opposite each other in another movie, it was announced that she would be a new Bond girl in "No Time To Die," starring alongside Craig in his last James Bond film.
The bond carries into the Bond franchise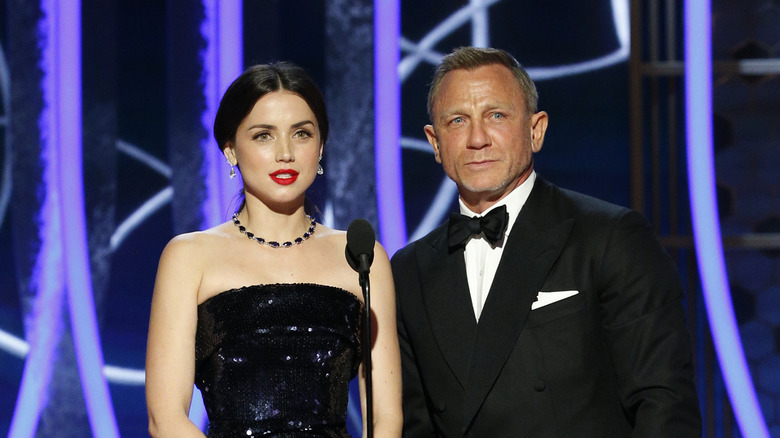 Handout/Getty Images
Ana de Armas was also on the fence about starring in "No Time To Die." De Armas' role — Paloma — was initially "just a contact," per The Guardian, but the director made her a CIA operative. According to Variety, de Armas said she enjoyed working with Daniel Craig in "Knives Out," and she was excited to be invited to the world, but she didn't want to be someone that was historically "sexy."
"When Cary called me for Bond, he was offering me the character and said: 'she's Cuban, bubbly and funny and this and that', but he had nothing on the page at this point," the actor told Flaunt in 2020. "He was still creating this character and I was very excited, but I told him, 'Cary, I can't say yes before I read it! I have to read the script!'"
The character was different, though, and de Armas was in. Craig brought in Phoebe Waller-Bridge for last-minute script revisions to make the character more badass, per Total Film. As for the actors' relationship, it has been strictly professional, but friendly as they have been in multiple projects together. De Armas had a fling with Ben Affleck, and Craig has been married to actor Rachel Weisz since 2011. We do hope, though, that she and Craig can star in other movies together in the future.