Twitter Isn't Holding Back Over Boris Johnson's Resignation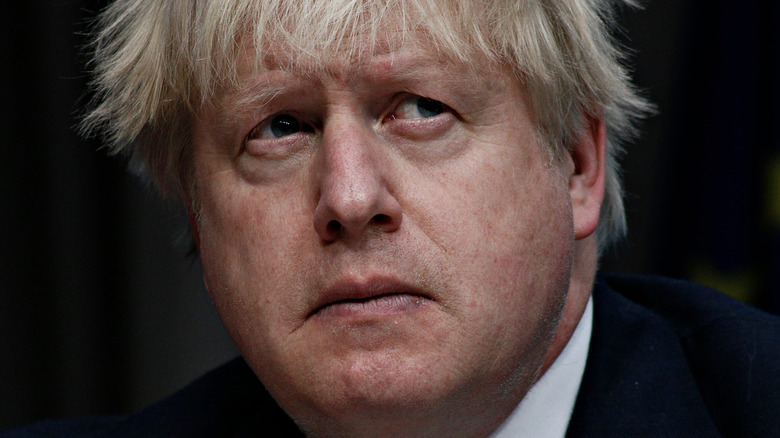 Alexandros Michailidis/Shutterstock
Boris Johnson has a penchant for making headlines for all the wrong reasons. In addition to being mercilessly criticized for his politics and endless scandals (including Partygate, which led to a no-confidence vote in June 2022, which he survived), Johnson has also been highly scrutinized over his shady side, his long list of ex-wives, his net worth, his relationship with Queen Elizabeth, and more.
Despite all of the criticism, however, Johnson managed to hang onto his role as Prime Minister through months of mounting calls for his resignation, but the final straw came on July 5. That was when two of his top ministers resigned simultaneously, per AP News, amidst a new scandal alleging that the PM's office mishandled sexual misconduct allegations, per CNN. This brought the tally of senior lawmakers who had quit up to 50, per NPR, and on July 7, Boris Johnson was left with little choice but to announce his departure.
In a six-minute speech delivered in front of Downing Street, the PM said he would indeed resign, explaining, "It is clearly now the will of the parliamentary Conservative Party that there should be a new leader of that party, and therefore, a new prime minister." Noting that the process of choosing a new leader would begin immediately, the ousted PM said he would continue to serve for now, likely until October. He also boasted about Brexit and what he called a successful battle against COVID-19, saying, "I'm immensely proud of the achievements of this government." Many didn't agree.
Critics called Boris Johnson everything from a 'low-life' to 'unfit to govern'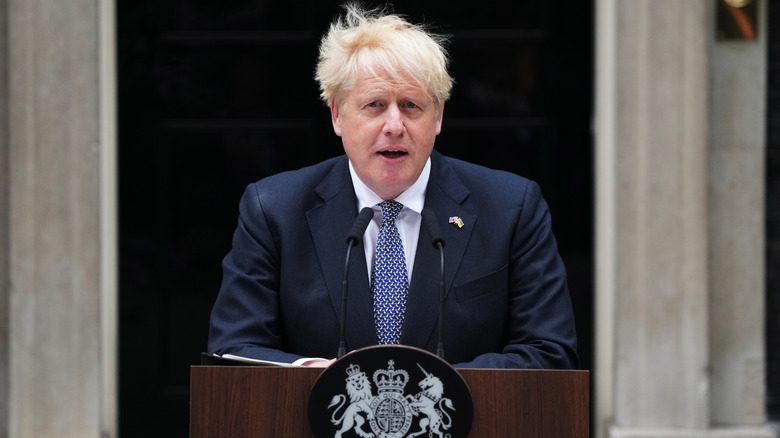 Carl Court/Getty Images
Reactions to Boris Johnson's resignation were likely not what the disgraced PM expected. Politicians, Brits, and folks around the globe voiced their approval as they highlighted what they believe to be his biggest failures in office, including a high COVID-19 death count. Irish politician Michelle O'Neill didn't hold back as she tweeted, "It has been an utter absurdity that the people here have been subjected to Boris Johnson for any length of time." Meanwhile, U.S. activist Charlotte Clymer wrote, "It's right and good that Boris Johnson is resigning".
What most didn't approve of was Johnson's actual speech. Many called him out for failing to show remorse and apologize, including The Guardian journalist Frances Ryan who slammed, "Boris Johnson left office as he came: a charlatan who wreaks immense damage on all those around him and will never take responsibility for it." Byline Times Political Editor Adam Bienkov called it an "incredibly graceless statement," while MP Anum Qaisar dubbed Johnson "a narcissistic, low-life who only looks out for himself." Piers Morgan also jumped in, of course, tweeting that "Boris Johnson quits as he led – boasting, blathering & blaming everyone but himself."
Folks also didn't appreciate the PM's vow to stick around until after the summer. Opposition leader Sir Keir Starmer, who heads the Labour Party, argued that "Boris Johnson is unfit to govern and he needs to go now." Another critic agreed, arguing, "If he isn't marched out and replaced by an interim PM, he will not relinquish power."