Travis Scott's Latest Gesture Totally Backfired With An Astroworld Victim's Family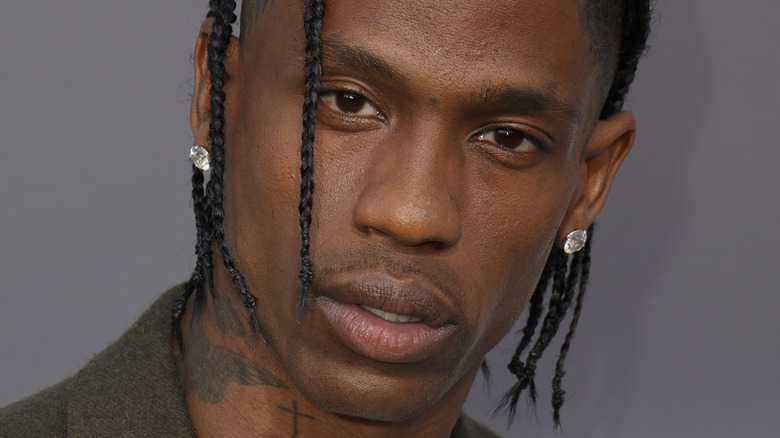 Frazer Harrison/Getty Images
Travis Scott is trying to save his reputation and career after the Astroworld tragedy. In 2021, around 50,000 people attended Scott's festival in Houston. The excited crowd surged toward the stage, creating mass panic and conditions that were ripe for suffocation and injury. According to a court filing obtained by NBC News, nearly 2,400 people required medical treatment and 10 people died.
As the rapper makes his return to live performances, he's made a concerted effort to improve safety. In March, he announced a new safety initiative, Project HEAL, on his Instagram. He wrote that the project will "take much needed action towards supporting real solutions that make all events the safest spaces they can possibly be."
Scott also stopped his most recent performance at Coney Island on July 4 when fans were climbing his stage equipment. In a video obtained by TMZ, Scott can be heard saying, "We need y'all to get down. Is everybody okay?" While this could be seen as signs of improvement, it reopened a wound for some victims who feel it's too little, too late.
A victim's parents are unimpressed by Travis Scott's comeback
Gary Miller/Getty Images
At nine years old, Ezra Blount was the youngest victim of the Astroworld mayhem. According to Rolling Stone, Blount died due to organ injuries obtained during the devastating crush of the crowd. As his heartbroken parents have grieved in the subsequent months, they have not been interested in easing the rapper's guilt or helping his comeback. As USA Today reported, the family declined Scott's offer to pay for the young boy's funeral. "The loss of a child is like a faucet of unimaginable pain that has no off handle. Your client's offer is declined," read an email from their attorney. 
Now, as Scott is back in the headlines for stopping his latest show, Blount's family is speaking out again. Their same attorney spoke to TMZ, pointing to Coney Island as proof that Scott could have prevented Astroworld. "He knows exactly how to keep his fans safe during a concert," Alex Hilliard began. "There are 10 people who would still be alive today, including young Ezra Blount, if Travis realized his responsibility as an artist goes further than just trying to rile up his crowds." 
According to Vulture, there have been 4,932 legal claims filed against Astroworld. Time will tell if Hilliard's claim that this proves Scott's control abilities will hold up in court. "The judge will not allow his paid spokesperson to sit in the witness chair and answer questions for him," Hilliard said.  
Update: A Travis Scott spokesperson said in response to Hilliard: "This is the despicable, cynical height of hypocrisy. It's beyond disappointing to see that – in a desperate bid to influence potential jurors – plaintiffs' legal team is criticizing Travis for pausing Monday's Coney Island show to ensure that fans can have fun safely. This is exactly the wrong message to send to fans – and to artists. And it completely ignores the fact that Travis also stopped his performance at Astroworld three different times."