The Tragedy That Changed Jennette McCurdy's Life Forever
David Livingston/Getty Images
Former child star Jennette McCurdy is widely recognizable for her roles in a number of 2000s and 2010s teen comedies. That element of her life, however, may be a thing of the past. After having first appeared on the small screen in 2000 in an episode of "MADtv" at only 8 years old, McCurdy went on to dominate the TV landscape among young audiences, soon becoming one of Nickelodeon's most recognizable faces. 
Of course, most fans will remember McCurdy as one of the leads in Nickelodeon's "iCarly" — where she played the tomboyish and sarcastic Sam Puckett — as well as its spinoff series "Sam & Cat," where she reprised her role alongside singer Ariana Grande. For this career, McCurdy attained a number of prestigious accolades, including numerous Teen Choice, Kids' Choice, and Young Artist Award nominations; she even launched a music career on the back of these roles. Since then, however, McCurdy has been seen little on television, and has even expressed shame and embarrassment over her previous roles. At this point, the former teenage star is unlikely to ever return to Hollywood, largely because of the tragedies she endured both before and during her time in the industry that changed her life forever. 
Although many former child stars in America may be remembered for the harrowing experiences they endured as children in the industry, McCurdy's story arguably stands out above all others, as much of the toxicity she endured as an actor came from her own family.
Jennette McCurdy was sexually and emotionally abused by her mother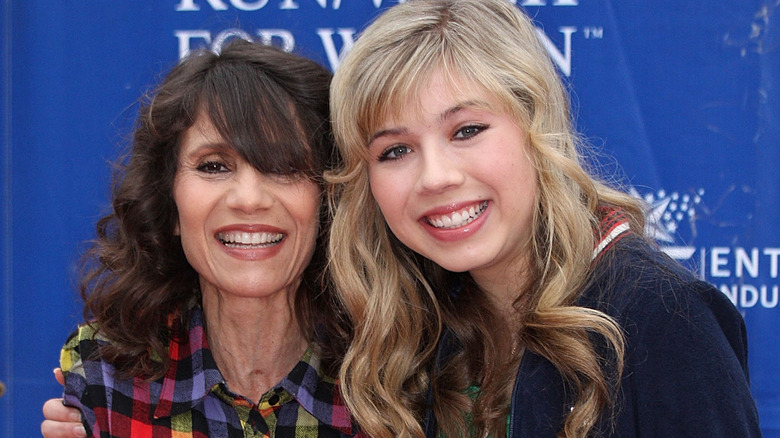 Frederick M. Brown/Getty Images
In 2019, five years after the end of "Sam & Cat," Jennette McCurdy opened up about the eating disorders she endured as a child in an essay for HuffPost. In the essay, she explained how her disorders, notably bulimia and anorexia, stemmed from the pressure her mother Debbie put on her to look good for the camera. "I always remember feeling that my mom really struggled with my body," she wrote. "She'd regularly compare my size to that of other girls. She'd portion out my meals for me. She'd help me count calories." 
It wasn't until she was 12, McCurdy said, that she finally realized her mother, who died of cancer in 2013, was "aiding" in her eating disorder. By the time the essay was published, however, she had recovered. 
McCurdy opened up even more about her mother in a 2021 interview with People, in which she revealed that Debbie emotionally and sexually abused her for much of her life. Until McCurdy was 17, for instance, Debbie would actually perform vaginal and breast exams on her, and refuse to let her shower alone. It wasn't until she died, when McCurdy was 21, that she felt free to experiment with sex and alcohol for the first time. "I did not know how to find my identity without my mom," she said. "And I'm not going to lie. It was very hard to get here. But now ... I finally feel free."
Jennette McCurdy is done with acting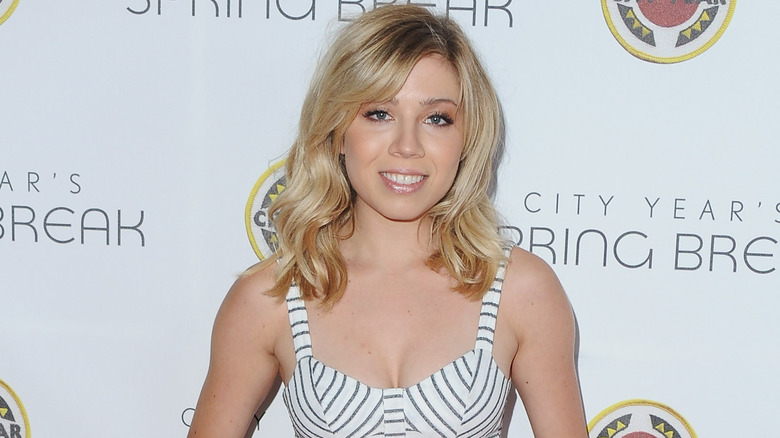 Jon Kopaloff/Getty Images
Jennette McCurdy, whose last on-screen appearance was in 2018, has said that she is likely to not come back to acting. This is unsurprising, given not only given the associations she is likely to have with her acting career, but also because she only ever became an actor because her mother essentially forced her to. "My mom had always dreamt of being a famous actor and she became obsessed with making me a star," she told People in 2021. "I wanted to make [her] happy."
"I don't want to f**king act anymore, I'm done," McCurdy said in her podcast "Empty Inside," back in March (via E! News). "My experience with acting is, I'm so ashamed of the parts I've done in the past ... And I imagine there's a very different experience to be had with acting if you're proud of your roles." 
Although McCurdy, who recently turned 30, may be done with acting, she continues to be a force in the creative world, having written and starred in her tragicomedy one woman play, "I'm Glad My Mom Died," which ran in New York and LA in early 2020 until production was halted due to the COVID-19 pandemic. She also wrote a memoir of the same name, which is set to be released in August. No doubt McCurdy's creativity will continue to blossom, and we will surely see much of her — or her works — in the public eye for years to come. 
If you or anyone you know has been a victim of sexual assault, help is available. Visit the Rape, Abuse & Incest National Network website or contact RAINN's National Helpline at 1-800-656-HOPE (4673).