What's The Real Meaning Of City Of Gods By Fivio Foreign, Kanye West, & Alicia Keys? Here's What We Think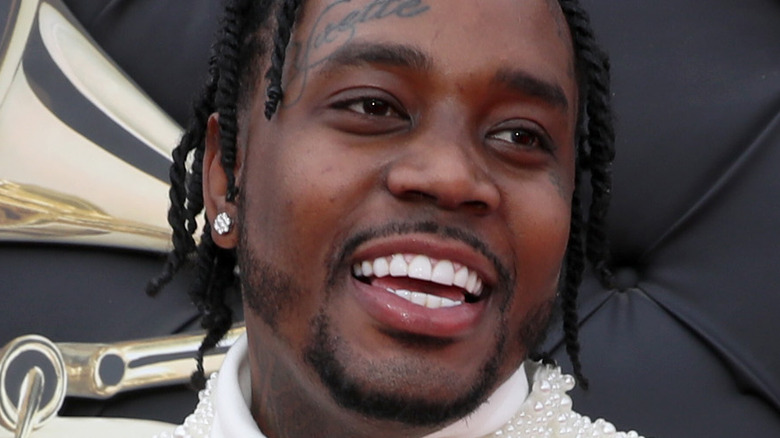 Johnny Nunez/Getty Images
Fivio Foreign's collaboration "City of Gods" with artists Kanye West and Alicia Keys was influenced by Keys' song with rapper Jay-Z "Empire State of Mind," per NYS Music. The New York born-and-raised rapper has collaborated with Nicki Minaj on a song called "We Go Up." Foreign and West have collaborated before (per Rolling Stone), as Foreign can be heard in West's "Off the Grid."
"I think it's great that Fivio is still staying true to the sound that made him a star," Jessica McKinney of Complex said about the rapper's latest collaboration with West and Keys, which dropped in February. "He has consistently incorporated the drill sound into his newer music, but it sounds like an updated version."
Keys looked to Instagram to share her excitement about the collaboration, as well as the release of the music video. The song "City of Gods" pays homage to New York, but also mentions the cultural issues in the city, making it a heartfelt and passionate ode to the Big Apple.
City of Gods is a love letter to New York
Alicia Keys is back singing about the "concrete jungle," as she opens the song "City of Gods" with "New York City, please go easy on me tonight / New York City, please go easy on this heart of mine," and later singing, "'Cause I'm losing my lover to the arms of another / New York City, please go easy on me" (via Genius). Keys' choruses are simple, but reveals a relationship between the singer and the city. It's as if she is praying for New York to heal after she was cheated on and she's looking to the city for comfort.
Both Keys and Fivio Foreign are from New York, and the city is referred to as the "City of Gods" as each of the verses and choruses are a personal love story to the Big Apple, per Song Meanings and Facts. Foreign raps about growing up in the city, as well as pays homage to some of the biggest cultural dance trends, such as the Milly Rock and Shmoney Dance.
According to Song Facts, Kanye West — who is originally from Chicago — shouts his hometown out in his verse, but quickly says that his "home" is now New York. West says "I'm from the Chi' but I'm always New York / The city that treat me like Jesus is walkin'" in the song, which references one of his other songs and states that in New York, people tend to treat him well.
City of Gods mentions some not-so-great things about the city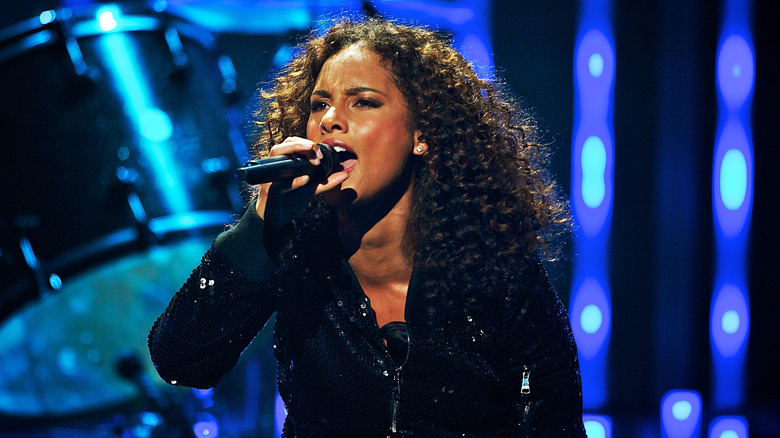 Brian Friedman/Shutterstock
Although this song seems like a love letter to New York City, "City of Gods" also seems to touch on another huge topic in today's society — racism. Fivio Foreign, Kanye West, and Alicia Keys, who are all Black, talk about the living situation in the city as people of color. Foreign first says in his verse, "Yeah, look, this is the city of money and violence / Everything you do is gon' come with a challenge." The rapper also mentions that while the city is known for many great things, it is also known for its gangs. And even if they are usually non-violent, they still end up on the news for something, per Song Meanings and Facts.
Meanwhile, West mentions how his celebrity status can contribute to how he is treated, by saying, "They act like they love you, they don't even like you," per Just Random Things. The fact that West is a celebrity serves as protection in a way. West also spits out the lyrics, "When you Black and you rich, they sayin' you psycho (What?) / It's like a cycle," directly making a statement about how he's sometimes treated as a successful Black man in the music industry. It's also likely a nod to how he frequently makes headlines tied to speculation about his mental health struggles.