The Real Meaning Behind Kanye West's 'Off The Grid' Featuring Playboi Carti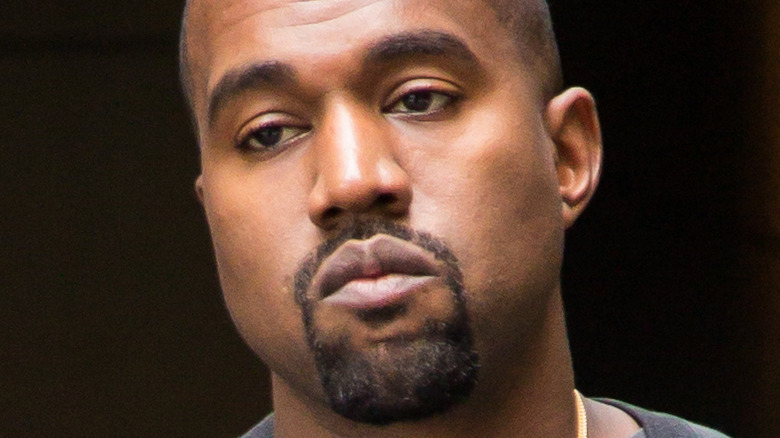 Liam Goodner/Shutterstock
The moment Kanye West fans have been patiently waiting for is here. The music artist finally released his highly anticipated album, "Donda," on streaming services on August 29. The 26-track record dropped on both Apple Music and Spotify on Sunday morning, just three days after the rapper's latest listening party in Chicago. The official Twitter account for Spotify was one of the first to announce the news, tweeting, "FINALLY @kanyewest just dropped #Donda."
Leading up to the long-awaited release, West held a series of three listening parties beginning in late July, per BuzzFeed News. At the events, he performed wild stunts, including lighting himself on fire, according to the New York Post. During his latest, he was joined by controversial stars Marilyn Manson and DaBaby, both of who are included on the album. As Rolling Stone reported, Manson has credit as a co-songwriter on the song "Jail," which initially featured a verse by DaBaby, but later had Jay-Z added to it.
With a total of 26 songs on the record, West featured countless other artists, such as Ty Dolla $ign, Lil Yachty, Baby Keem, the Weeknd, Jay Electronica, the Lox, Young Thug, Travis Scott, Lil Baby, Kid Cudi, Lil Durk, and more. The Grammy-winning artist also collaborated with another well-known rap superstar, Playboi Carti, on a track titled "Off The Grid." To find out the meaning behind the song, keep scrolling. 
Kanye credits his honesty and transparency for his success as a rapper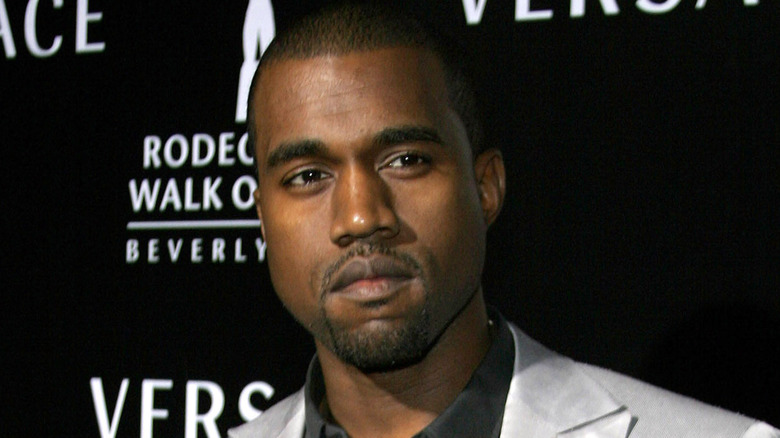 Tinseltown/Shutterstock
Kanye West is known for pouring his emotions into his art, and he did exactly that in his new song "Off the Grid." The tune is the eighth track on the rapper's new and 10th album "Donda" and features vocals from Playboi Carti, as well as Fivio Foreign. In the song, West reflects on living his life in the public eye, saying he often goes "off the grid" for the sake of his mental health and family, as JustRandomThings reported.
In the first verse, West sings about how he overcame hardships as a child growing up in Chicago and paved a career as one of the most successful musicians in the industry. Crediting his honesty and transparency as an extremely outspoken artist, he believes he's been able to attract so many fans because of how he speaks his mind. The lyrics read (via Genius): "Everything we did, how we live. (What?) All this smoke got a scent. (What?) Everything I spoke, what I meant. (Ah) Never disguise my intent, lines outside the event. Brought my life out the trench."
The second verse follows with Playboi Carti, who seemingly sings about reconciling with his son, Onyx Kelly, whom he shares with ex Iggy Azalea, and getting a new tattoo in his honor. Carti says, "I just tatted my kid, Onyx."
'Off the Grid' suggests Kanye's quiet life in Wyoming is for his kids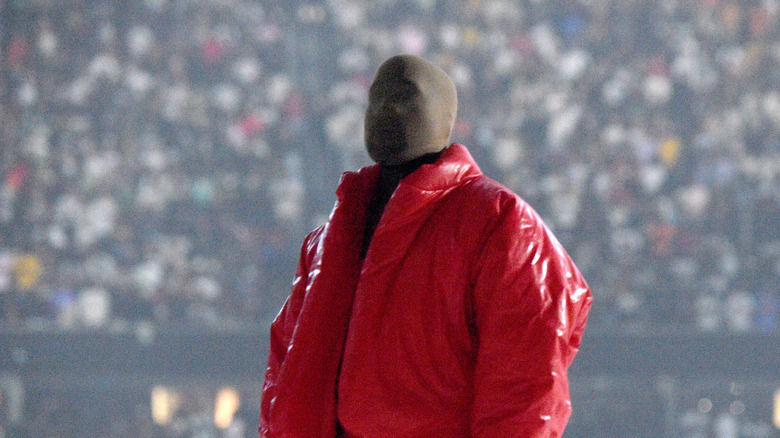 Kevin Mazur/Getty Images
Aside from looking back on his rise to superstardom, Kanye West sings about his private life in Wyoming in the chorus of his song "Off the Grid." Throughout 2018 and 2019, West relocated to the rural state from Hidden Hills, California, initially to work on his music. After buying a $14 million ranch in September 2019 and falling in love with the quiet way of life, TMZ reported he was approved to build a 52,000-square-foot home and two underground garages on the property. 
In the lyrics of "Off the Grid," West suggests the move was for his kids — North West, Saint West, Chicago West, and Psalm West, whom he shares with estranged wife Kim Kardashian. "We off the grid, grid, grid. This for my kid, kid, kid, kid. For when my kid's kid kids have kids. Everything we did for the crib" (via Genius). West's chorus is followed by the third verse featuring Fivio Foreign, who sings about the time he spent in jail.