The Stunning Amount Of Money Garth Brooks Lost In His Divorce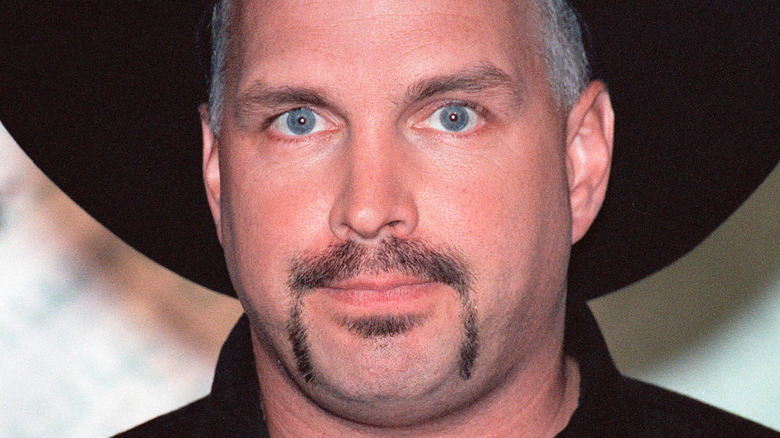 Featureflash Photo Agency/Shutterstock
There's one massive mistake that country music superstar Garth Brooks made during his career that he likely regrets — and it isn't that weird Chris Gaines album nobody asked for. Brooks isn't known for making mistakes; rather, he's known as an unstoppable machine capable of delivering catchy hits that dominate the country music charts. Brooks is so good at his craft that he's managed to eclipse the likes of Elvis Presley, Madonna, and Adele to become the No. 1 selling solo artist in U.S. history, with 157 million albums sold. To date, he stands as the only artist in history to have nine albums certified diamond, although his confusing rock crossover — Garth Brooks in... The Life of Chris Gaines — didn't quite make the cut.
These days, Brooks is known for his high-profile marriage to fellow country crooner Trisha Yearwood, and the two are widely considered as country music's reigning power couple. Long before he exchanged vows with Yearwood, he wed songwriter Sandy Mahl. Not only was Mahl by her husband's side as his record sales padded his bank account, but after their divorce, she walked away with a good chunk of it, too.
Garth Brooks and Sandy Mahl married before he was famous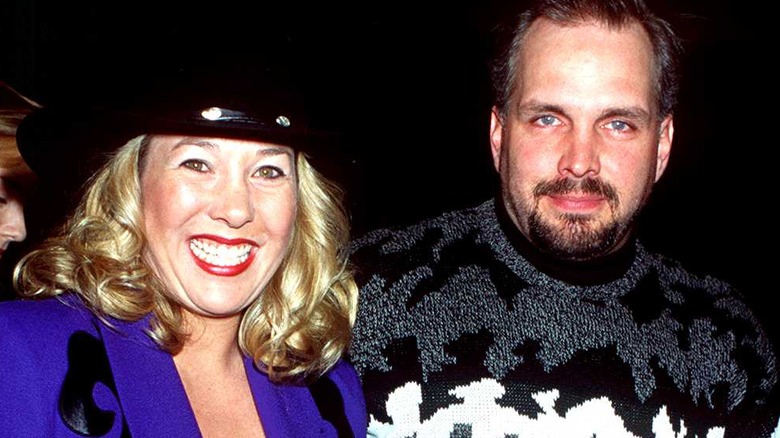 Tammie Arroyo/Getty Images
As the tale goes, Garth Brooks met Sandy Mahl in the midst of a brawl at a bar he worked at in Oklahoma. The two lovebirds hit it off and exchanged vows in 1986, just three years before the singer's eponymous debut hit the charts and made him a household name. They remained together for more than a decade, with Mahl by her husband's side as his career reached unfathomable heights during the '90s. The "Friends in Low Places" singer can attribute some of his success to his wife. The single "Unanswered Prayers" from his sophomore effort "No Fences" is based, at least partly, on the true story of Brooks and Mahl. The song — a fan favorite — is credited for keeping the album atop the charts for 30 weeks.
Unfortunately, success ended up being a double-edged sword for Brooks, as his wife blamed it for the breakdown of their marriage. "He'd be gone eight to 10 weeks at a time. He'd come home, [and] there would be number-one parties, or shows, or CMAs, or ACMs, American Music Awards, so it was constantly going. But we both grew apart really, really quickly," she explained during A&E's "Garth Brooks: The Road I'm On," per The U.S. Sun.
Garth Brooks and Sandy Mahl's divorce was incredibly costly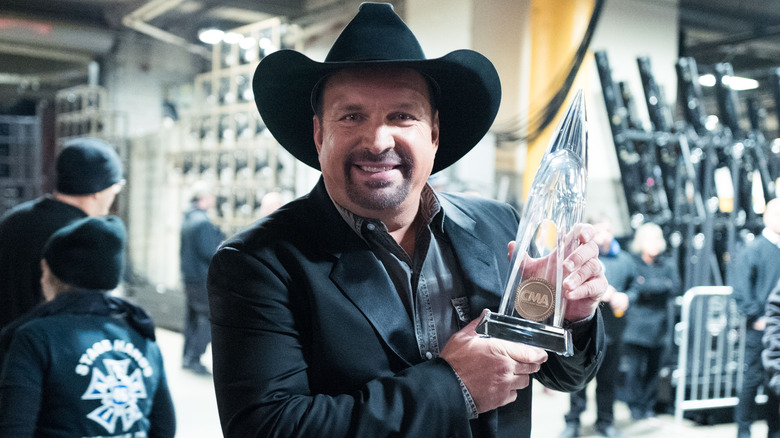 John Shearer/Getty Images
Garth Brooks and Sandy Mahl announced their separation in March 2000, citing irreconcilable differences. Although their split was considered amicable, it still became one of the most expensive celebrity divorces of all time. The pair officially ended their marriage on December 17, 2001, and Mahl walked away with a staggering $125 million divorce settlement, according to Country Thang Daily. The "If Tomorrow Never Comes" singer may have lost a fortune during the divorce, but it's water under the bridge for the king of country. Brooks shifted his focus to raising his daughters, whom he and Mahl shared through joint custody, after the divorce. "If you did what was right for the kids, you were going to do what was right for you. It was simple," Brooks told Tennessean.
While his $125 million divorce settlement is no chump change, it pales in comparison to the hefty payout that Jeff Bezos had to pay. For what it's worth — the country crooner still tops Yahoo's list of the 30 richest country music stars, with a fortune worth valued at $330 million.